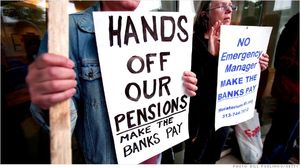 The Detroit bankruptcy case, which will conclude with a federal judge's November 7 ruling on the city's restructuring plan, has brought to light once again the anti-working class character of the trade unions.
In their closing arguments before the federal bankruptcy judge, Steven Rhodes, on Monday, the representatives of the city and the state gloated that they had so quickly wrapped up the largest municipal bankruptcy in US history. The "radical" restructuring plan, said Jones Day attorney Bruce Bennett, had not been "watered down." Indeed, the
final proposal includes savage attacks on the working class - including pension cuts in violation of the state constitution and the virtual elimination of retiree health benefits.
Michigan's special attorney general, Steven Howell, told the court the "Chapter 9 filing had not been popular." Nevertheless, the initial objectors "were now supporters," he said, singling out the unions as examples of the "new spirit of cooperation" in Detroit.
Howell was acknowledging that the unions have played a critical role in the conspiracy to rob workers of basic social rights - a conspiracy involving the Democratic mayor and City Council, the Republican governor, the Obama administration, Judge Rhodes and Emergency Manager Kevyn Orr. The "spirit of cooperation" is directed against the widespread anger of workers throughout the Detroit area over the measures that are being implemented on behalf of the banks and large bondholders.
Throughout the bankruptcy, the
unions have acted not as defenders of the workers, but as creditors with some of the biggest claims on the city's assets. The token opposition that the unions presented early on was aimed at securing a better deal for the wealthy executives who run them.