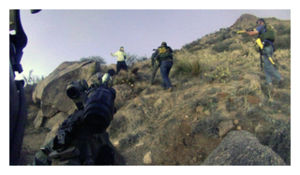 It might be a good time for the homeless, or teenagers, or Latinos, or African-Americans, or...actually, shit, pretty much everybody in Albuquerque to get out of town because about 500 cops from across the nation and beyond are set to descend on New Mexico's largest city to play with their guns.
In one of the more shockingly tone-deaf events in recent memory, the shooting scandal-plagued Albuquerque Police Department and the National Rifle Association are gearing up for the Albuquerque Police Pistol Combat Tournament and National Police Shooting Championship in September.
Albuquerque Mayor Richard Berry says that they are thrilled to host the event - but the angry families of the many, many victims of recent police shootings in Albuquerque are calling the event "insulting" both to them and their city.
According to the Albuquerque Journal
, armed security guards actually locked the doors to Mayor Berry's City Hall office on Wednesday after a small group of protestors - mostly the families of police shooting victims - attempted to personally deliver a letter condemning the event.
The guards promised to deliver the letter to the mayor, but refused to allow them into his office to meet with him in person.
According to the NRA (PDF)
, in addition to target and speed shooting tournaments, one of the main event programs, "incorporates competitive based skill and scenario courses of fire to allow you to practice and evaluate your skills using your duty firearms and gear in hypothetical police related encounters and solve the challenges presented according to your own tactics. Just bring your duty guns, gear, ammunition, and a desire to learn and have fun."
Don't have a Patrol Rifle or Patrol Shotgun? We have ones you can use, just bring your own ammunition.
There will also be a number of vendor booths set up, where visiting police officers - when they're not having fun competitively pretending to kill people in "skill and scenario courses of fire" - can learn all about the latest weaponry and tactical gear available to their departments back home.
Any way you look at it, Albuquerque seems a blatantly antagonistic location for a law enforcement shooting competition - especially given that there have been an awful lot of people shot and killed by the Albuquerque Police Department since just 2010 alone - 40 shootings, 26 of them fatal.