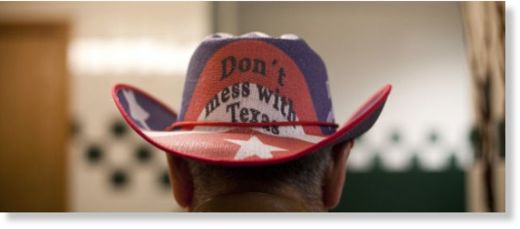 It seemed like a typical congressional meeting for the Republic of Texas. Senators and the president gathered in the center of a Bryan, Texas, meeting hall, surrounded by public onlookers, to debate issues of the national currency, develop international relations and celebrate the birthday of one of their oldest members.
But this wasn't 1836, and this would be no ordinary legislative conference.
Minutes into the meeting a man among the onlookers stood and moved to open the hall door, letting in an armed and armored force of the Bryan Police Department, the Brazos County Sheriff's Office, the Kerr County Sheriff's Office, Agents of the Texas District Attorney, the Texas Rangers and the FBI.
In the end, at least 20 officers corralled, searched and fingerprinted all 60 meeting attendees, before seizing all cellphones and recording equipment in a Valentine's Day 2015 raid on the Texas separatist group.
"We had no idea what was going on," said John Jarnecke, president of the
Republic of Texas
. "We knew of nothing that would warrant such an action."
The raid was a response to legal summons sent by Republic of Texas members to a Kerr County judge and bank employee, demanding they appear in the Republic's court at the Veterans and Foreign Wars building in Bryan the day the officers stormed in. Jarnecke's group, the subject of a
half-hour YouTube documentary
, maintains a small working government, including official currency, congress and courts.