This is humankind's most grievous cancer, for its cells infect conflicts in every corner of the world. We fail as humankind if we do not devise a coming-together.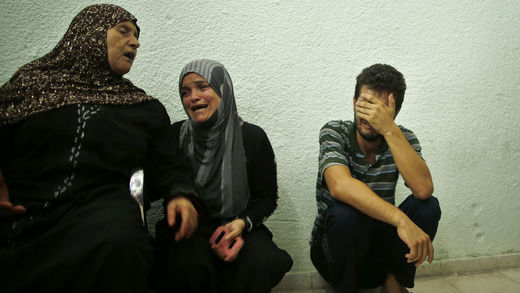 She lay in my arms. Just weeks old, a tiny baby. Her Palestinian father had just handed her to me at the infernal steel border building at the exit of
Gaza
into Israel. She did not cry. She just looked at me with her beady, dark eyes.
Her father was trying both to open her pram, and steady his wounded wife in her wheel chair. Their luggage was scattered at the final entry gate as if just thrown through it.
We shared no common language, it had just seemed inevitable that as the only other able-bodied human in this absurd transit room, I should care for the baby.
I know not their story, nor how, alone seemingly, they were the only Palestinians, in that brief half-hour of Israeli aerial ceasefire, to have been allowed across.
But holding this girl baby connected me again to the wardfuls of
small children so brutally smashed by this odious war
. Connected me too to the ever-present reality that the average age in Gaza is 17 and that a quarter of a million are children are, like the babe in my arms, small children.