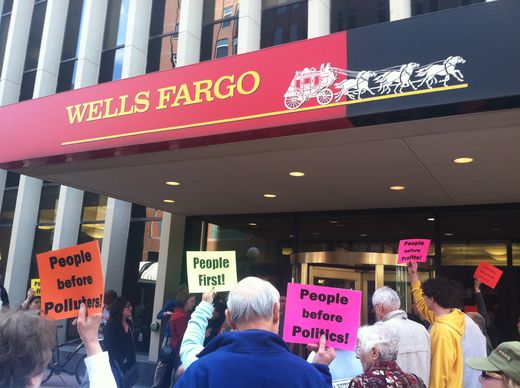 Add ten more Americans to the list of non-CEOS who've gone to jail since the start of the financial crisis. On Monday afternoon, police arrested ten protesters at the office of Wells Fargo in downtown Des Moines, Iowa, among them a former Methodist minister, a Vietnam veteran, several unemployed Iowans and at least a couple of family farmers.
Former minister Stephanie Simmons, who was arrested Monday, explained her actions shortly after her arrest: "I love democracy and my concern, among other things, is the outrageous salaries and bonuses the bank executives are making when there are people just hanging on by their fingernails."
Simmons lives in Guthrie Center, Iowa (population ca. 1,500). Her congregation of about 130 people supports twenty-seven families with food and other supplies every month.
"Our food banks have run short. Giving in the congregation is at an all-time low because people just don't have the money. Children are short of school supplies." Wells Fargo CEO John Stumpf needs to take a look, said Simmons. "Take a look at what you're doing.
If

you have a conscience at all
, you need to take a look."
Des Moines, Iowa, is the national headquarters of Wells Fargo's Home Mortgage division. "Wells Fargo's mortgage office here in Iowa is making billions in profits every year by kicking hardworking families out of their homes and they aren't even paying taxes on their ill-got wealth," said Kenn Bowen, a Vietnam veteran and retired communications worker from Winterset, Iowa, another arrestee. "That ain't right. Wells Fargo should be broken up into smaller, community banks that will put people before profits."