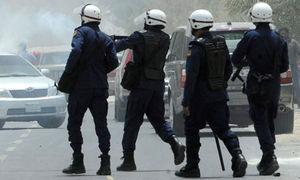 Formula One race subject to mounting global outcry after discovery of body of protester allegedly abducted from village by military
Bahrain's Formula One grand prix will go ahead despite a growing international outcry about the staging of the race in the Gulf state that intensified on Saturdayfollowing the discovery of the body of a protester allegedly abducted from a village by security forces.
According to the opposition party Wefaq, the body of 36-year-old Salah Abbas Habib Musa, a father of five, was found on a rooftop in the Shia village of Shakhoura the day before the race.
With dozens of armoured personnel carriers guarding the main route to the circuit, the decision by F1 and the Sunni minority royal family to push ahead with the event - partly to help convince the world of Bahrain's return to normality - appeared to be degenerating into a human rights and PR catastrophe.