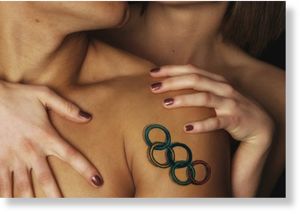 Let the games - and the wild, drunken sex and debauchery - begin!
In the run-up to the 2012 Summer Olympics, which kick off July 27, a new book reveals just what goes on at Olympic Villages worldwide - and no matter the host country, it's always a struggle keeping booze and condoms in strong supply.
According to the anonymously authored exposé
The Secret Olympics
- written by a former British competitor - organizers supplied 70,000 condoms to athletes at the 2000 Summer Olympics in Sydney, Australia. The stockpile ran out in a week.
While alcohol and drugs are banned at Olympic Villages, competitors often fill water bottles with booze and smuggle in weed and doping agents.
"When I'm there, I'm in two different gears," says one female US Olympian, who spoke to
The Post
on the condition of anonymity. "I'm so focused that I see nothing else, or I'm partying my butt off."
While officials don't condone such behavior, they don't condemn it, either - the only thing that matters, say those who spoke to
The Post
, is that the image of the Olympics remain unsullied.
Or, as the anonymous author writes: "What happens in the Village stays in the Village."