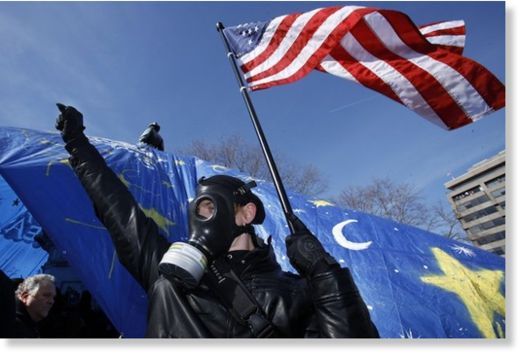 If liberal demonstrators try to crash
this year's Conservative Political Action Conference
, the largest annual gathering of conservatives, attendees here say they'll be ready.
For weeks before the conference, conservative activists donned old jeans and hooded sweatshirts and went "undercover" at Occupy DC's downtown encampment. They sat in on meetings where Occupiers discussed plans to disrupt CPAC. Each day, the infiltrators posted what they heard to a private Google group of CPAC attendees and bloggers. Those who attended the meetings said they heard plans to cause "mayhem" at the upcoming conference and even threats of physical violence. Lachlan Markay of the conservative Heritage Foundation
documented the reports
and now conference attendees and organizers say they have made preparations to absorb any demonstrations.
At the Marriott Wardman Park Hotel, where the conference is running until Saturday, security agents are stationed across the campus. Each entrance is manned by guards wearing ear-pieces, with others outside near the metro station.
"Let's just say we've adapted to everything," CPAC Security Director Floyd Resnick told Yahoo News Thursday, adding that he was not able to provide details about the conference security. Mark Indre, a spokesman for the hotel, confirmed that Marriott was taking security precautions.