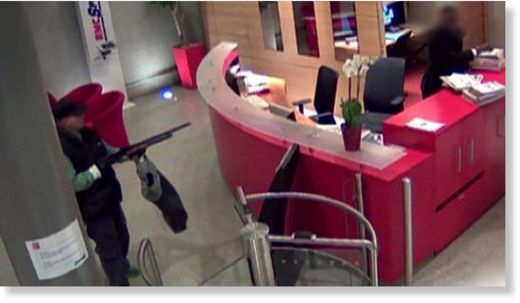 A manhunt is continuing in Paris after a gunman attacked offices of the newspaper Liberation and fired outside the HQ of the Societe Generale bank.
A photographer, 27, was critically hurt at Liberation. The gunman later forced a motorist to drive him to the Champs Elysees before allowing him to go.
Police are looking for the same man who broke into the Paris offices of the 24-hour news channel BFMTV on Friday.
Police have now been stationed outside all the main media offices in Paris.
At a news conference, investigators held up two images, one of the suspect in a street and another taken from BFMTV surveillance cameras on Friday.
Paris prosecutor Francois Molins said the "most likely possibility" was that a lone gunman was behind the three attacks and the hijacking. He said the suspect had not yet been identified and the motive was still unclear.
The man is said to be between 35 and 45 years old, between 1.7m and 1.8m tall (5ft 6" and 5ft 10"), with stubble and greying hair.
Mr Molins said the suspect was wearing a black vest, a cap and white-soled green shoes.