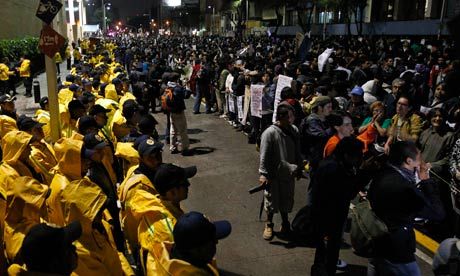 Some brought tents and blankets and a few hugged guitars, but by far the most common accessory seen at the 24-hour siege of the broadcasting giant Televisa that began on Thursday were banners accusing the network of trying to "impose" Enrique Peña Nieto as president.
"Televisa: factory of lies," read one held up amid the rows of protesters that faced a wall of police officers around the building. "Weapon of mass manipulation" said another bearing a picture of a television. "Don't let Televisa put you to sleep," a third warned.
Mexico's student movement sprang up 10 weeks ago to thrust the issue of alleged media bias in favour of Peña Nieto to the centre of the presidential campaign.
The candidate won anyway, putting the revamped Party of Institutionalised Revolution (PRI) en route to regaining the power it had held from 1929 to 2000, and the students refocused their energies on rejecting the result of a poll they say was unfair.
But the sense that they are riding a new tide capable of shaking up the political and media establishment has begun to ebb away, and the palpable excitement that infused the early rallies is being replaced by expressions of frustration, anger and impatience.