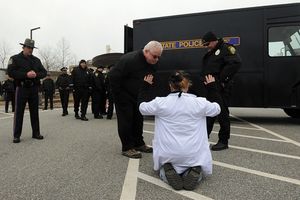 Groton - Eight people from the local Occupy movement, including a Stonington woman, were arrested Wednesday outside the main gate of Pfizer Inc. when they allegedly crossed police lines and refused to leave the company's Eastern Point Road property.
Seven of the protesters linked arms just outside the pharmaceutical giant's entrance and refused to move, telling a Pfizer contractor that they wanted to talk to a company official about its membership in the American Legislative Exchange Council. ALEC is an organization that brings legislators and corporations together to write new laws that protesters say favor corporations over working people.
"Unfortunately, as usual, we didn't get a response," Jason Morris of New London said.
Chanting slogans such as "Hey, Pfizer, what's the news - we just want to talk to you," the seven protesters were ushered peacefully into a van by state and Groton City police as the Occupy group yelled, "The whole world is watching," harkening back to language of the 1970s peace movement.