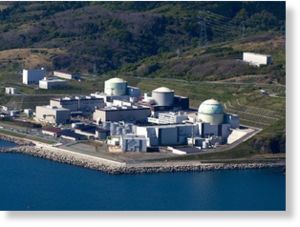 The last working reactor in Japan is to be switched off Saturday, leaving the country without nuclear power just over a year after the world's worst atomic accident in a quarter of a century.
As technicians ready to close down the No. 3 unit at Tomari in Hokkaido, the debate over whether Japan needs nuclear power has been reignited, amid increasingly shrill warnings of summer power blackouts.
Hokkaido Electric Power, which runs the plant, said they would at 5pm (0800 GMT) begin inserting control rods that would halt the chain reaction and bring the reactor to "cold shutdown" some time on Monday.
The shuttering will mark the first time since the 1970s that resource-poor and energy-hungry Japan has been without nuclear power, a technology that had provided a third of its electricity until meltdowns at Fukushima.
The tsunami-sparked disaster forced tens of thousands of people from their homes in an area around the plant -- some of whom may never be allowed to return.
It did not directly claim any lives, but has devastated the local economy, leaving swathes of land unfarmable as radiation spewed from the ruins.