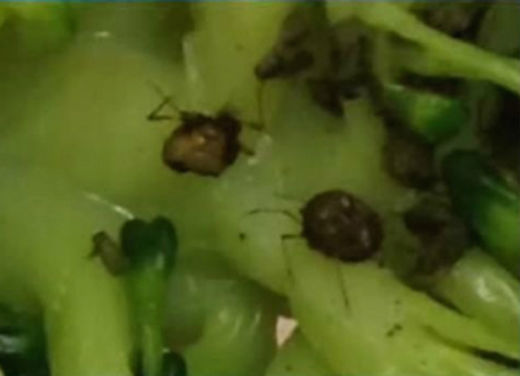 Parents knows it can be difficult to get kids to eat their greens, but after an incident at a Texas high school some students may never eat vegetables again.
"There's no way they could've missed (them), picking up a handful of broccoli like they do with their gloves on and not seen these ginormous bugs," Melissa Evans, mother of Caney Creek High School junior Falyn Evans, told
Click2Houston
.
Falyn Evans and her friend were served the
bug-infested broccoli for lunch Monday and the two almost ate the insects before they realized they were there
.
"It was kind of strange and gross that we had actually seen it and that it happened to us," she said.
KFOR
reports school officials acknowledged the problem in an email to parents that provided very few details.
Officials were "notified this morning of complaints regarding food in the cafeteria," according to the statement Monday.
"Any concerns are taken very seriously and Conroe (Independent School District's) Child Nutrition Department is addressing the situation."
Food inspectors went through the cafeteria food Tuesday and discovered more bugs - the district contends they're aphids - in a batch of frozen broccoli, and believe the infestation was limited to the one batch, KFOR reports.