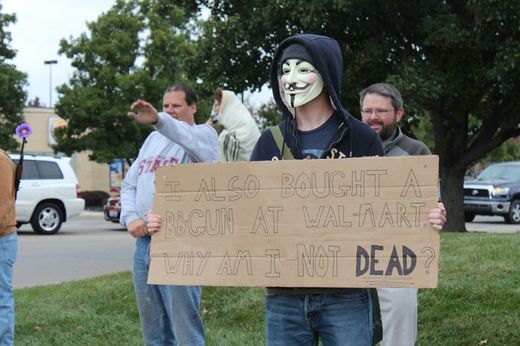 John Crawford was gunned down by Beavercreek Police officer Sean William while Crawford shopped in Wal-Mart. He was holding a BB gun from the store's shelves and talking on the phone when he was ambushed and killed by who were responding to a bogus 911 call. During the one-sided gunfight, Beavercreek PD killed another innocent person who suffered a heart attack during the commotion.
Weeks of
protests
and
occupations
followed from citizens of all political beliefs, and the department has decided to do nothing. The killer won't stand trial. He won't be punished by the department. The caller who made the bogus call won't be brought up on charges. They won't even be reviewing the policies that led to the deaths of two innocent people.
Anonymous launched #OpJohnCrawford
with the demands to correct the situation or face cyberattacks and real world protests. The first real world protest for the campaign is on October 25th at the Beavercreek Wal-Mart where Crawford was killed at 1pm. Through the organization's
Facebook page
The Fraternal Order of Police of Ohio called the operation,
"a very serious threat"
They then went on to ask their subscribers to
"Imagine what happens to our legal system if a mob could overrule the rule of law."
Please do that. Imagine a legal system where the citizens could demand that killers be held accountable for their actions. In the comments section of the post, the Fraternal Order's posters let their feelings about anyone who questions their right to kill innocent people be known.
"Bring back the night stick and use it judiciously."
And
"Justice / law enforcement ... is best left in the hands of qualified individuals . In my opinion has zero place in civilian setting ."
In essence, the idea of civilian oversight of a department that is killing innocent civilians is just plain silly; time to beat them so they know their place.