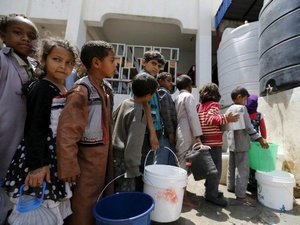 Yemen's humanitarian and human rights catastrophe continues to worsen, according to new UN figures which put the number of killed since late March at more than 5,700.
Speaking to reporters in Cairo by video conference, the UN's humanitarian coordinator for Yemen Johannes Van Der Klauww said that 830 of the dead were women and children. UN officials had earlier put the total number of civilians killed at more than 2,600.
As the death toll in the conflict pitting Saudi-led coalition forces against Shia Houthi rebels and their allies continues to rise, humanitarian conditions have only grown more dire, said the coordinator. 21.2 million people in the country - 82 percent of its entire population - are in need of some sort of humanitarian assistance.
"We currently estimate that over 14 million people lack sufficient access to healthcare," said Van Der Klauww. "3 million children and pregnant or lactating women require malnutrition treatment or preventative services and 1.8 million children have been out of school since mid-March."
320,000 children, he added, were acutely malnourished.
The UN's special envoy for Yemen, Ismail Ould Cheikh Ahmed, has announced that peace talks will take place in the coming weeks, but observers of Yemeni affairs regard the talks with skepticism. Meanwhile, fighting continues to rage, with neither side able to make a decisive breakthrough.