MSF calls for State activation of the International Humanitarian Fact-Finding Commission to investigate Afghanistan bombing
Speech delivered by Dr Joanne Liu, MSF International President, Palais des Nations, Geneva, Switzerland
On Saturday morning, MSF patients and staff killed in Kunduz joined the countless number of people who have been killed around the world in conflict zones and referred to as 'collateral damage' or as an 'inevitable consequence of war'. International humanitarian law is not about 'mistakes'. It is about intention, facts and why.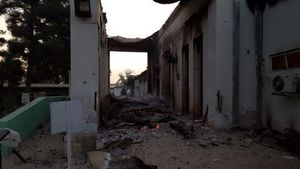 The US attack on the MSF hospital in Kunduz was the biggest loss of life for our organisation in an airstrike.
Tens of thousands of people in Kunduz can no longer receive medical care now when they need it most. Today we say: enough. Even war has rules.
In Kunduz our patients burned in their beds. MSF doctors, nurses and other staff were killed as they worked. Our colleagues had to operate on each other. One of our doctors died on an improvised operating table - an office desk - while his colleagues tried to save his life.
Today we pay tribute to those who died in this abhorrent attack. And we pay tribute to those MSF staff who, while watching their colleagues die and with their hospital still on fire, carried on treating the wounded.