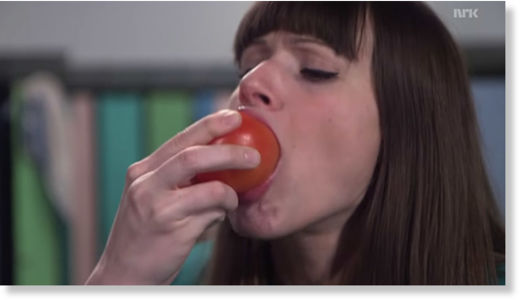 Puberty
, a new program on the Norwegian state-funded channel NRK, in which the presenter penetrates a latex vagina with a plastic penis, draws diagrams on naked people, and shows children how to French-kiss, has provoked a mixed reaction.
"We would have betrayed our series on puberty if we had not touched on topics such as sex and masturbation," Line Jansrud, the presenter, who is pregnant, and plans to be filmed giving birth as part of the
program
, told NRK.
As the
weekly
episodes of the educational program, named
Newton
, chronicle the changes of the human anatomy through the teenage years, the hands-on presented never misses a chance to illustrate her point. The light-hearted, low-budget feel of the show is reminiscent of old-fashioned children's television, and is based on
The Body
, a Norwegian series broadcast in the early 1980s, which explored similar themes - without quite going this far.
In the episode on the penis, Janstrud holds one as she talks about pubic hair and foreskin, before studying a sperm sample. In the one on the vagina, she pulls back the labia of a filmed participant in a close-up shot, to illustrate the location of the clitoris, before describing the pleasurable sensations that can result from stimulating it.