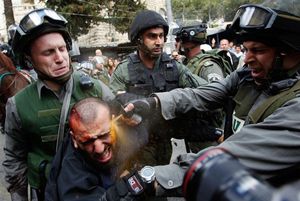 There are moral red lines. Why do we keep crossing them?
I only knew
Gaza from the stories
. It was the military zone for which the Givate Brigade was responsible, but we all knew the stories about how they managed to kill several militants in one ambush. Honestly, we were a bit jealous. I was drafted into the Israeli Defense Forces (IDF) at the end of the Second Intifada into a special operations unit of the paratrooper brigade. From the start of my service I knew that Nablus and Jenin would be the areas for which we were responsible. Child's play, seemingly, compared to the stories that came out of Gaza - but my child's play. I'll never forget the first time that I was shot at, the first Palestinian corpse I ever saw, and the fear and adrenaline during my first military operation.
My first mission involved the seizure of a Palestinian home. I had never before had the opportunity to be inside a Palestinian home, and my squad was surprised for a moment by the fact that within the home lived an entire family - spanning three generations. We woke everyone up, and took over the house. We put everyone in one room - women, men, children, and the elderly. One of the guys was stationed at the door to ensure that they didn't get out. In the meantime, we took care of our business. I remember asking myself: what do they think about all of this? What would I do if soldiers broke into my home? But I immediately repressed these questions and carried on with the mission. As time passed, fear turned into boredom, adrenaline stabilized, and my doubts about the extent of the operational logic and its justification would return to gnaw at me. But the next day there were already new operations. This was our daily routine, and as a result, the next time I didn't really think about how the family whose home we entered felt. My personal red moral line blurred very quickly. Every time I would tell myself - this is still okay. But it's in the nature of red lines to move along an imaginary scale. I wasn't bothered when we destroyed entire homes during search operations, and when my squad accidentally shot an innocent woman, and we quickly buried the incident and moved on. Today I know that my ability to distinguish whether a particular action crosses the line, didn't really exist back then.