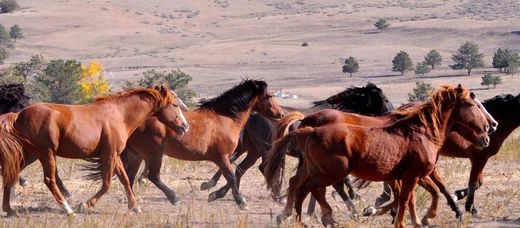 The Bureau of Land Management is clearly having an image problem. As the outrage over its intimidating show of force during last week's showdown at the Bundy Ranch in Nevada proved, the federal agency is now caught up in a controversy originating in Wyoming.
According to recent
reports
, agents herded a large group of wild horses in the state before ceding control of the majestic animals to state authorities. At that point, Wyoming officials sold them off to a slaughterhouse in Canada.
Obviously, this development outraged countless advocates already incensed by accusations that BLM officers gunned down multiple cows at the Bundy Ranch.
Paula Todd King, a wild horse advocate with Colorado's Cloud Foundation, said it would have taken "very little to do this in a more effective way so that horses are not just sent off to slaughter indiscriminately."
Though wild horses, which have roamed throughout the American West for hundreds of years, are protected by federal law, the BLM contends these animals do not qualify for such protection. Instead, agency spokesperson Sarah Beckwith contends they are strays descended from rodeo horses from four decades ago.