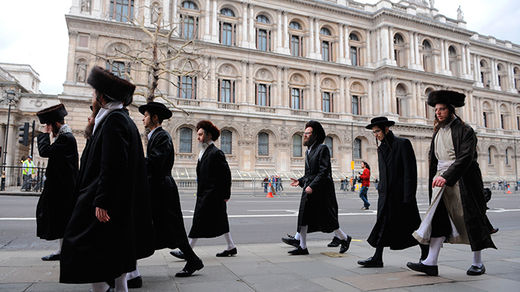 Jews in the UK are suffering a stark rise in discriminatory abuse in the wake of Israel's military assault against Hamas, with police and community groups noting
a fifty percent increase in anti-Semitic acts over the past month
.
Bomb threats, vandalized synagogues, racist banners and assaults are just some of the anti-Semitic hate crimes plaguing the UK since the Israel-Gaza crisis began several weeks ago. A large proportion of this discriminatory abuse is being carried out by young Muslim males, according to the
Sunday Times
.
Over 1,000 Palestinians - many of whom were innocent children - have lost their lives as a result of Israel's on-going military offensive in Gaza. In response to this bloodshed, an alarming increase in anti-Semitism is apparent in the UK, according to the Community Security Trust (CST).
The CST is a charity that monitors and fights anti-Semitism throughout Britain.
According to the CST's officials,
roughly 100 hate crimes have occurred in the UK in the past month alone
- over double the number the organisation would usually expect.
"This is well over double what we would normally expect to see and most of the incidents are linked to what's going on in Israel and Gaza," a CST spokesman said. Britain has not seen such a stark escalation in anti-Semitic hate crimes
since the Gaza War in 2009
, during which almost 1,400 Palestinians lost their lives, he continued.