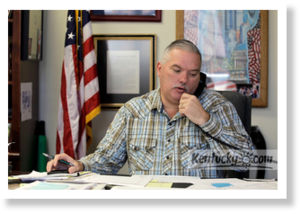 The top elected official in an Appalachian county ravaged by a tornado nearly two years ago was arrested Monday on charges of
mail fraud, theft and conspiring to launder money
in an alleged scheme to steer work to a construction contractor in exchange for kickbacks.
An indictment against Morgan County Judge-Executive Tim Conley included a charge that he misused his position to ensure the contractor received excessive payments to clean up storm debris in the aftermath of the deadly tornado that hit the area March 2, 2012.
As the county's chief executive officer, Conley became the public face behind recovery efforts after the tornado leveled much of downtown West Liberty, the county seat, and damaged other areas. The storm killed six people in Morgan County, part of an outbreak of tornadoes that killed 25 people statewide.