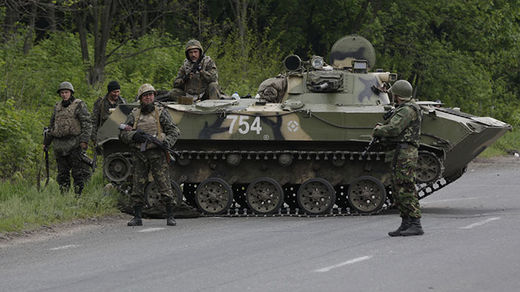 A town in the Lugansk region has come under attack by Kiev's APCs, while in the Donetsk region Ukrainian troops have seized four polling stations, self-defense forces claim. This comes as autonomy referendums kick off in the country's southeast.
"Around 15 APCs have come near Novoaydar," Aleksey Chmilenko said. "Our self-defense guards are trying to stop the attack and prevent the vehicles moving farther in the direction of Lugansk."
Novoaydar election commission was reportedly evacuated by self-defense activists, after it had been attacked by National Guard troops.
At the same time, representatives of another Lugansk region self-defense group, based in Krasny Luch, told
RT
that they have seen APCs in the region, but have not heard any fighting yet.
Reports of sightings of Ukrainian APCs in various towns and villages in Lugansk region have been coming in throughout the day. One report said that as many as 45 APCs and two helicopters were moving from the Kharkov region in the direction of Lugansk.