Emergency crews battle fire after tanker cars carrying crude oil and petroleum gas leak following derailment in Alberta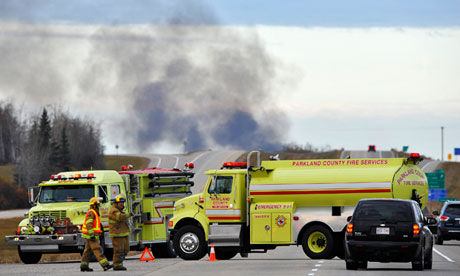 Emergency crews battled a massive fire on Saturday after a Canadian National tanker train carrying oil and gas derailed west of Edmonton, Alberta, overnight. No injuries have been reported so far.
A Canadian National spokesman, Louis-Antoine Paquin, said 13 cars four carrying petroleum crude oil and nine loaded with liquified petroleum gas came off the tracks around 1am local time in the hamlet of Gainford, about 50 miles from Edmonton. The entire community of roughly 100 people was evacuated.
Paquin said three cars containing gas were leaking and on fire. Local officials feared there could be an explosion and declared a state of emergency.
"It's still a risky situation so we need to contain as much as possible and keep people far away," said Carson Mills, spokesman for Parkland County, which includes Gainford.
A resident described hearing a series of crashes moments before a huge fireball shot into the sky. "The fireball was so big, it shot across both lanes of the Yellowhead [Highway] and now both lanes of the Yellowhead are closed and there's fire on both sides," said a witness identified only as Duane.