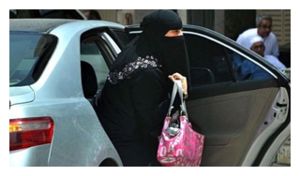 A Saudi cleric sparked a wave of mockery online when he warned women that driving would affect their ovaries and bring "clinical disorders" upon their children.
The warning came ahead of an October 26 initiative to defy a longstanding driving ban on women in the ultra-conservative kingdom.
"Physiological science" has found that driving "automatically affects the ovaries and pushes up the pelvis," Sheikh Saleh al-Luhaydan warned women in remarks to local news website Sabq.org.
"This is why we find that children born to most women who continuously drive suffer from clinical disorders of varying degrees," he said.
His comments prompted criticism on Twitter, which has become a rare platform for Saudis to voice their opinions in the absolute monarchy.
"What a mentality we have. People went to space and you still ban women from driving. Idiots," said one comment.
"When idiocy marries dogma in the chapel of medieval traditions, this is their prodigal child," wrote a female tweeter.