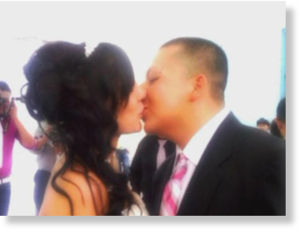 A man is on the run from police and a dog is under quarantine at the Denver Animal Shelter after a shocking attack at a wedding party last weekend.
So far it's not clear why the man police say is Joel Neveraz, a wedding guest, encouraged his pit bull to attack the bride and also attacked the woman himself.
Neveraz allegedly got upset about something at Brittany Schults' wedding on Saturday in North Denver. He then left and came back later with his pit bull.
Schults told CBS4 Neveraz suffers from several mental illnesses and at one point spent time in a mental hospital.