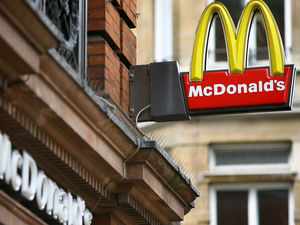 Carlos Hernandez Sonseca studied six years for a bachelor's degree and couldn't find a job near his home outside Madrid when he graduated in 2011. Last year, he took an increasingly well-worn path to the U.K.
The 27-year-old journalist now washes and chops vegetables eight hours a day at the Vital Ingredient salad bar in London's financial district, making 260 pounds (US$418) before taxes in a 40-hour week. Thirteen other Spaniards are among a workforce of 17, said manager Francisco "Chico" Baumle, a Brazilian.
U.K. fast-food jobs and other low-wage roles have been dominated by Poles and others who arrived after the European Union expanded eastward in 2004. Now they're joined by young Spaniards who can't find work at home, where unemployment hit 25% last year. In the financial year to April, 30,370 Spaniards registered to work in the U.K., up 25% from the previous year, and more than double the 2009-10 levels, according to data from the Department for Work and Pensions.
"We are a lost generation, for sure," Hernandez Sonseca said. "Spain has nothing to offer us, so we go abroad and we work as salad makers and kitchen porters. They are losing money and they are losing skilled people."
The newest workers have it toughest in Spain's labour market, where the jobless rate among adults under 25 reached 52% in the third quarter of 2012, according to the most recent data from Spain's National Institute of Statistics.