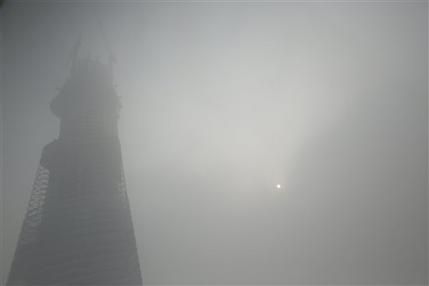 Shanghai authorities ordered schoolchildren indoors and halted all construction Friday as China's financial hub suffered one of its worst bouts of air pollution, bringing visibility down to a few dozen meters, delaying flights and obscuring the city's spectacular skyline.
The financial district was shrouded in a yellow haze, and noticeably fewer people walked the city's streets. Vehicle traffic also was thinner, as authorities pulled 30 percent of government vehicles from the roads. They also banned fireworks and public sporting events.
"I feel like I'm living in clouds of smog," said Zheng Qiaoyun, a local resident who kept her 6-month-old son at home. "I have a headache, I'm coughing, and it's hard to breathe on my way to my office."