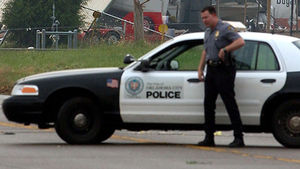 A Valentine's Day outing turned tragic for one Oklahoma family who claims five police officers beat their father to death during a confrontation outside a local movie theater.
The death is currently under investigation, and three police officers have been placed on administrative leave as the probe unfolds.
The incident occurred February 14 in Moore, Oklahoma, when an argument erupted between Nair Rodriguez and her daughter Lunahi. Nair slapped her daughter during the dispute and ended up leaving the theater. When Luis Rodriguez chased after his wife in a bid to stop her, law enforcement officials intervened and asked for his identification.
According to NewsOK, police claim that Luis Rodriguez attempted to fight with police and that led to a physical altercation. Nair and Lunahi, however, told local media outlet News9 that allegation is false, and that Luis simply tried to bypass officers to keep his wife from driving off in anger.
As the confrontation escalated, five police officers allegedly beat Luis Rodriguez beyond recognition, a situation captured on a video by Nair's cell phone.
"
They jumped on him like he was some kind of killer or drug dealer and beat him up," Lunahi Rodriguez said to NewsOK. "He never fought the officers, they beat him on the head and that's how he lost his breath."
"When they flipped him over you could see all the blood on his face, it was, he was disfigured, you couldn't recognize him," she added to News9.