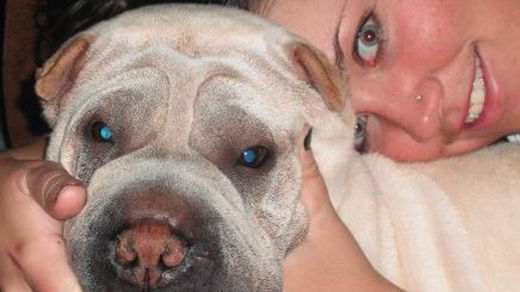 A Baltimore police officer is facing felony animal cruelty charges for slitting the throat of a restrained dog, and another has been suspended for helping. Officer Jeffrey Bolger also threatened to gut the dog, witnesses said.
"I'm going to [f--king] gut this thing,"
witnesses heard Bolger say as he got out of the police vehicle, according to the charging document.
The dog, a 7-year-old shar-pei named Nala, had escaped from owner Sarah Gossard's yard on Saturday through an open gate after Gossard had let her out. Nearby resident Sandy Fleischer found Nala and tried to check the dog's tags, but Nala nipped her, causing a superficial wound.
"The dog was more scared of not knowing where it was and being thirsty and disoriented. The dog bit me out of fear because I tried to touch it, which was my fault,"
Fleischer told told
WBAL-TV
. The dog was not aggressive, she added.
Fleischer then called police, and officers from the Southeastern District responded and corralled the dog in an empty lot. The officers captured Nala with a long dog-control pole.
Then Bolger pulled out a knife and slit Nala's throat as Officer Thomas Schmidt held her down.
But even before officers killed Nala, they were being cruel, Fleischer said.
"One police officer said, 'Let's get the noose on the dog,' and you could see the police officer twisting and hurting the dog, bringing it to the ground to the point where the dog's face is on the ground. You could hear the dog screaming and crying in pain,"
she said.
"I did see one officer that had been extremely aggressive that did have his knee into her chest that was tightening the noose. It seemed (they were doing it) relentlessly and unnecessarily."
Police agreed the killing was unnecessary, as the dog was contained.