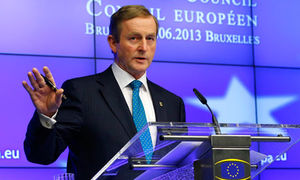 Irish politicians will spend a second day debating divisive laws that will legislate for the first time for abortion in limited circumstances.
A vote on the landmark laws, which enshrine a woman's right to a termination if her life is at risk, including from suicide, had been expected to pass at about 5am on Thursday morning.
But as discussions rumbled into dawn with no sign of an end, the Dáil was adjourned with plans for the debate to resume late this afternoon.
The laws will be supported by the vast majority of the country's politicians, but a junior minister who has shown signs of joining a small backbench revolt is likely to lose her job.
Despite the widely anticipated rebellion by Lucinda Creighton, the minister for European affairs, the laws are likely to pass comfortably.
The Protection of Life During Pregnancy Bill 2013
was drawn up following the death of Savita Halappanavar, an Indian dentist who died in an Irish hospital in October last year after being denied an abortion as she miscarried 17 weeks into her pregnancy.