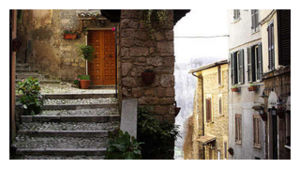 Subiaco - A gruesome discovery was made recently in an isolated house in Subiaco, Italy. A man's elderly father had died in August 2011 and he hid the body in a sealed room in his house in order to continue collecting his father's pension.
Giampiero Di Tullion
, the man's unemployed, 44 year-old-son has now been arrested by the police.
His father, Domenico Di Tullio was a former typesetter working at the Vatican. He passed away on August 4, 2011 at the age of 85. His son wished to continue collecting his pension of between 1300 and 1400 euros per month, as they both used to live on the money. He walled his father's corpse up in his small bedroom off the living room of the house, and sealed the doorway with silicon.
Son Giampiero was a former drug addict and was involved in drug dealing. Due to his history, and the fact that his father owned weapons, police were making a routine check of the house.
When they arrived at the house, they asked to speak to the father, and at first the son told them that his father was seriously ill and was under the care of his brother in Rome.
Roma Today
(Italian) reported that the police became suspicious, however, and officers, led by Captain Alessio Falzone, entered the house. When they got no answer at the bedroom door in the living room, they broke in through the sealed door. Not finding anything initially in there, they continued investigating, and discovered a double wall, a kind of niche made of bricks and cement, behind which he had concealed the body of his dead father.
According to police, the body was wrapped in tape, similar to a mummy. On investigating further, police found blood stains and they did not, at first, exclude the possibility that the man could have been murdered.
Giampiero was arrested on the charge of concealing a corpse, along with aggravated fraud. He did, however, manage to escape the charge of voluntary manslaughter, as the autopsy showed that his father died of natural causes.