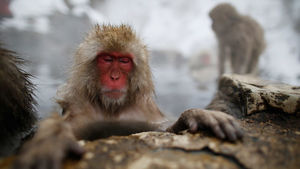 Monkeys living in the wild in the Fukushima region have tested positive for blood abnormalities linked to radioactive fallout from the 2011 nuclear power plant disaster, according to a new report.
The wild monkeys, Japanese macaques popularly known around the world for their habit of bathing in the country's hot springs, have demonstrated blood abnormalities that could leave them vulnerable to infectious diseases, reported
the Guardian.
Specifically, the monkeys in the region which was impacted by fallout from the stricken Fukushima Daichii nuclear facility, were
found to exhibit low white and red blood cell counts, along with low hemoglobin levels
. The study examined a 61 monkey community living 44 miles from the disaster site to 31 monkeys almost 250 miles away, in the Shimokita Peninsula. The former community tested positive for radioactive caesium, linked to caesium in the soil of their habitat.
The
macaques feed on tree buds and bark where caesium can accumulate in high concentrations during winter
, according to professor Shin-ichi Hayama of the Nippon Veterinary and Life Science University in Tokyo, who spoke to The Guardian.