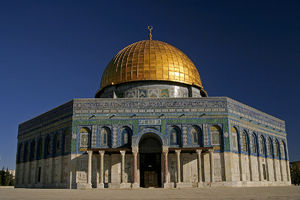 Israeli police arrested 16 Palestinians at one of Jerusalem's most revered and politically sensitive holy sites on Sunday as they dispersed protesters opposed to any Jewish attempts to pray there.
A police spokesman said officers used stun grenades to disperse dozens of rioters, who threw rocks and firecrackers at them at the site revered by Muslims as the Noble Sanctuary and by Jews as the Temple Mount, in Jerusalem's walled Old City.
Two officers were slightly injured and treated at the scene in the brief clash, the spokesman added. Five Palestinians were also slightly hurt, a Muslim clergyman said.
Police spokesman Micky Rosenfeld said the plaza near the al Aqsa mosque had remained open to visitors during the clash, which was confined to a small area. Police did not enter the mosque, he said.