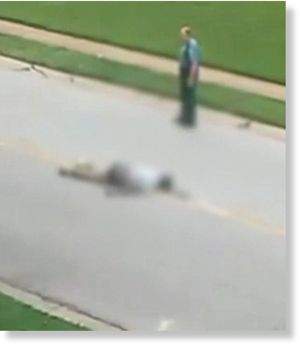 A woman who claims she saw a police officer shoot dead Michael Brown has released video of his lifeless body in the street as the cop who killed him paces back and forth.
Piaget Crenshaw lives in an apartment with a balcony overlooking the street in Ferguson, Missouri where the 18-year-old was killed on August 9.
She said today that she waited until now to release the video as she feared for her safety and the officer's name had not been released.
On the cellphone footage, Ms Crenshaw can be heard saying: 'God bless his soul, police shot this boy outside my apartment.'
She told
CNN
today that she had recorded the incident because she believed that something was wrong.