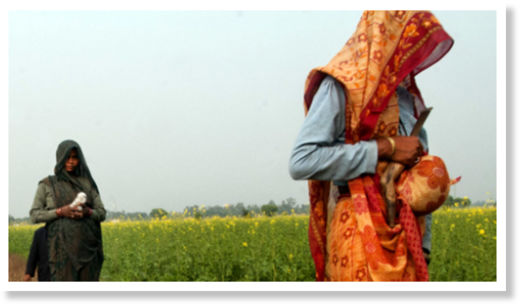 Over 60,000 people signed an Amnesty International UK's petition demanding the government intervene in the case of two Indian sisters sentenced to rape and humiliation for their brother's deed by a local council dominated by a higher caste.
An unelected all-male council from a village in India's Baghpat district handed down the ruling on July 30,
ordering Meenakshi Kumari, 23, and her sister, 15, to be raped as well as paraded naked with blackened faces.
The council deemed this an appropriate punishment for their brother's elopement with a married woman from the higher Jat caste. The brother, known as Ravi, is reportedly from the Dalit caste, which is India's lowest, formerly known as the "untouchables." He ran away with his beloved despite fears of retribution.
"Nothing could justify this abhorrent punishment. It's not fair. It's not right. And it's against the law. Demand that the local authorities intervene immediately," Amnesty International said, calling on people worldwide to sign their petition to persuade the Indian government to intervene.
Fearing for their safety, both sisters fled their village along with their family back in May. Their house was looted soon thereafter.
The Jat caste is very powerful in the village, Amnesty quoted Sumit Kumar, another of Meenaksh's brothers, as saying. "The Jat decision is final."
Amnesty UK's Urgent Action Coordinator, Rachel Alcock, told the
Mirror
that
such "disgusting" punishments are common in the villages all over India.
"These Khap courts routinely order vile sexually violent punishments against women. India's Supreme Court has rightly declared such orders illegal."