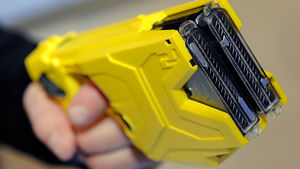 Home Secretary Theresa May has ordered an inquiry into police use of Taser stun guns, after it emerged the weapons were increasingly and disproportionately used against black Londoners and the mentally ill.
On Thursday, May said she wanted to see clear data on the reasons why officers deployed Tasers in specific incidents. The weapons were introduced to UK police forces in 2004.
"
Taser is an important operational tactic which can protect the public, but we are right to demand transparency," the Home Secretary said.
"So I have asked the national policing lead and Home Office officials to conduct an in-depth review of the publication of Taser data and other use of force by police officers.
"This will present options for publishing data on how police officers are deploying these sensitive powers, who they are being used on and what the outcome was. Just as with 'stop and search', we need to bring proper transparency to these powers by improving data reporting."