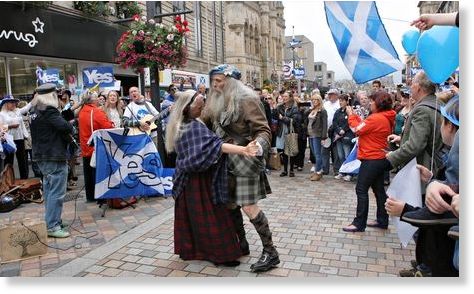 The mood in the capital of the Highlands was downbeat after the independence vote - but there were pockets of approval
The makeshift sign at the roundabout on the outskirts of the Highland capital of Inverness has all the jaunty optimism of a referendum race still to be run: "Happy Thursd-aye," it declares. Except it's now Friday morning and the result is not aye but naw. Round the corner in the city's bus station, 25-year-old Mark MacKenzie makes a disconsolate figure in his kilt, trainers and full ginger beard, dreadlocks tied up in a ponytail. "I am devastated," he says. "I have lost faith in the Scottish people."
Comment:
It's not the Scottish people who should be blamed, but rather the Powers That Be who
rigged the referendum
so that no matter how many Yes votes were cast, the end result would be no independence. They just could not allow the people to choose, to set an example that other countries would follow. It's too dangerous.
Inverness was a yes city. The Highlands has a population of 233,000 and covers a third of
Scotland
's land mass, including some of the most remote and sparsely populated terrain in Europe. The area as a whole rejected independence by a margin of 53% to 47%.
But in the capital, it was hard to find anyone in the 80,000 population who admitted to voting no.
Inverness has a maverick political past with a strong tradition of independent councillors and, before boundary changes, was once the only four-way marginal in the UK, split between Labour, Conservative, Lib Dem and SNP. It is now the constituency of the chief secretary to the Treasury, Danny Alexander.
It's a long way from Westminster. MacKenzie, who works in events, feels so disaffected he has never voted before. Not that he didn't make the effort: he always spoiled his ballot papers.
Independence offered an alternative to London-centric politics. "But it's not anti-English," MacKenzie said. "It's anti-establishment. The ruling classes are privately educated. I'm not saying they're bad people but they don't have a clue what it's like to live in Inverness."