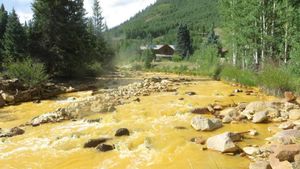 Congress is slamming the Environmental Protection Agency for withholding documents pertaining to the enormous amount of toxic chemicals it sent into the largest source of drinking water for the western part of the United States.
"It is disappointing, but not surprising, that the EPA failed to meet the House Science Committee's reasonable deadline in turning over documents pertaining to the Gold King Mine spill," said Rep. Lamar Smith (R-TX).
"These documents are essential to the Committee's ongoing investigation and our upcoming hearing on Sept. 9. But more importantly, this information matters to the many Americans directly affected in western states
, who are still waiting for answers from the EPA."
The House Science, Space and Technology Committee gave the EPA until Tuesday morning to hand over documents surrounding the agency's clean-up effort. The EPA failed to produce a single document.