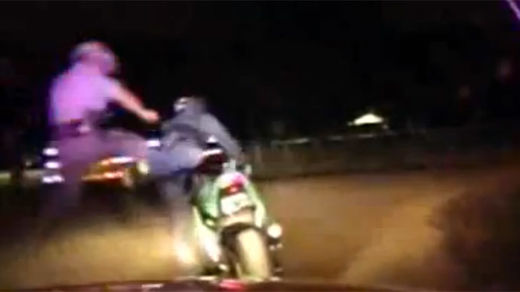 In researching the Texas Department of Public Safety's history of using excessive force, the
Austin American Statesman
stumbled across
footage of a high-speed police pursuit
that lasted 38 miles and ended when the cop shot the suspect and forced him off his motorcycle with what the
New York Daily News
colorfully describes
as a "leaping karate kick."
Just past midnight on December 23, 2012, in unincorporated Chambers County, Texas, 25-year-old Steven Gaydos ran a stop sign on his Suzuki 750. DPS Trooper Abraham Martinez, who happened to be waiting in a nearby parking lot, pulled out in his cop car in pursuit of the scofflaw motorcyclist.
But Gaydos didn't stop. And neither did Martinez. Hitting speeds of up to 130 miles an hour, Martinez followed Gaydos through nearly 40 miles of east Texas highway, and finally pulled alongside his target and, from the window of his vehicle,
fired his .357 handgun four times. One of the bullets penetrated Gaydos' right thigh
.
Injured, Gaydos finally pulled over and sat on his motorcycle to wait for police. Gaydos had been driving with a suspended license, and he hadn't wanted his motorcycle confiscated by police, but Gaydos' ability to flee had suddenly become more limited, what with the cop firing at him and the gunshot wound in the leg.
Martinez approached Gaydos on foot and launched an aerial kick directly into Gaydos' back, knocking the wounded motorcyclist onto the ground. Martinez promptly called for medical assistance, but the officer did receive
three days of unpaid probation
from DPS for violating excessive use of force regulations.