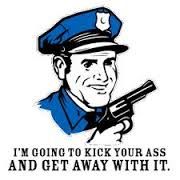 "Keep your hands out of your pocket or I'll pop a bullet in ya!" "I will hurt you!"
Psychopathy or sociopathy is traditionally defined as a personality disorder characterized by enduring antisocial behavior, diminished empathy and remorse, and disinhibited or bold behavior.
The Federal Bureau of Investigation reports that psychopathic behavior is consistent with traits common to some serial killers, including sensation seeking, a lack of remorse or guilt, impulsivity, the need for control, and predatory behavior.
In this raw footage below, officer David Marcinik of the Palm Bay Florida Police Department, comes up on two teenagers parked in a gravel drive.
Over the course of the next 20 minutes Marcinik exhibits several of the traits of a psychopath. He clearly has a lack of remorse for his actions, zero empathy, he's impulsive, and displays a sickening predatory behavior.