America's wealth-takers are all too ready to abandon people when they aren't useful.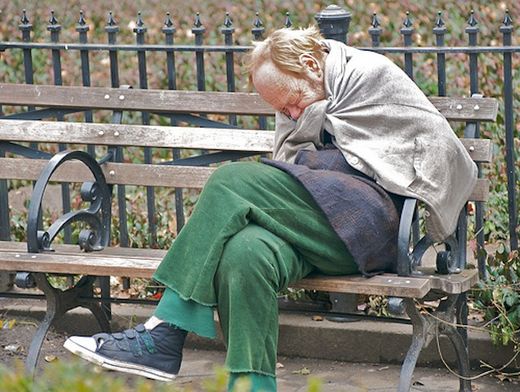 One of the themes of the writing of
Henry Giroux
is that more and more Americans are becoming "disposable," recognized as either commodities or criminals by the more fortunate members of society. There seems to be a method to the madness of winner-take-all capitalism. The following steps, whether due to greed, indifference or disdain, are the means by which America's wealth-takers dispose of the people they don't need.
1. Deplete Their Wealth
Recent
analysis
has determined that
half
of America is in or near poverty. This is confirmed by researchers
Emmanuel Saez and Gabriel Zucman
, who point out: "The bottom half of the distribution always owns close to zero wealth on net. Hence, the bottom 90% wealth share is the same as the share of wealth owned by top 50-90 families - what can be described as the middle class."
The United States has one of the
highest poverty rates
in the
developed world
. It's much worse since the recession, especially for
blacks and Hispanics
.
From 2008 to 2013 the stock market, which is largely
owned
by just 10% of Americans, gained
18% per year
. Well-to-do stockholders get capital gains tax breaks, including a carried interest subsidy
Robert Reich
calls "a pure scam."
The bottom half of America, relying on regular bank accounts,
earn about
one percent
on their savings
.
2. Strip Away Their Income
Earnings due to workers for their years of productivity have been withheld by people in power. Based on inflation, the minimum wage should be nearly
three times
its current level. An investor report from J.P. Morgan
noted
a direct correlation between record profits and cutbacks in wages.
We hear occasional news about job growth, but
low-wage jobs
($7.69 to $13.83 per hour), which made up just one fifth of the jobs lost to the recession,
accounted for nearly three-fifths of the jobs regained during the recovery. And it's getting worse
. Nine out of 10 of the fastest-growing
occupations
are considered low-wage, generally not requiring a college degree,
including
food service, healthcare, housekeeping, and retail sales.
Among rich countries, according to OECD data, the U.S. is
near the bottom
in both
union participation
and
employee protection
laws.