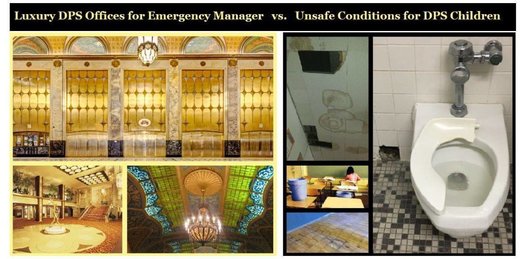 Detroit's students are trying to learn while breathing in black mold and sitting in classrooms filled with buckets catching toilet water leaking through the ceiling. And that's not even the worst part.
Republican Governor Rick Snyder is not only using the financial emergency management laws to poison children in Flint; he's doing the same thing in Detroit via the public school system, which the state has controlled for the last seven years. Darnell Earley, the same emergency manager who oversaw the changes in Flint's water system, is currently in charge of Detroit's public schools.
The same thinking that poisoned children in Flint is working to put children in danger from fire and explosion caused by an unmanned boiler.— Detroitteach (@teachDetroit) January 16, 2016
The people of Flint
wanted the world to see
the pictures detailing their horrifying conditions. But now, teachers and parents want the world to see these
images
from Detroit Public Schools under the direction of Gov. Snyder's emergency management to get a better, broader idea of how Snyder ignores children for the sake of the bottom line:

Comment: What we see below is what happens when psychopathic politicians favor war and profit over infrastructure and caring for its citizenry. Detroit gives us an excellent example of what our 'leaders' intend for the rest of the country, and the world, if they have their way.