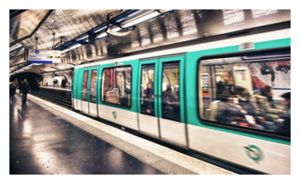 France's High Council on equality has penned a report urging the government to crack down on sexual harrassment on public transport, after a survey it carried out returned shocking responses from Parisian women.
The High Council for Equality between Women and Men (HCEfh) sent the report to France's Health Minister on Thursday asking for the issue to be addressed, and promptly.
The study found that a full 100 percent of the 600 women in Seine-Saint-Denis and Essonne, two areas in the outer suburbs of Paris, said they had experienced at least some form of gender-based sexual harrasment in their life while riding the train.
The Council defined "gender harrassment" as "the imposition of any kind of words of behaviour that are intended to created a situation that is intimidating, humiliating, degrading, or offensive". It added that these kind of actions aren't usually physical, and hence aren't punishable by law.
It added a raft of measures for how France could address the issue, including education programmes to let women know how to identify harassment, and how to react if they are a victim. It also suggested other measures like letting bus drivers stop at undesignated stops along the route to allow women to get off closer to home, and printing the number for a complaint hotline on transport tickets.
Health Minister Marisol Touraine acknowledged that the report was of a "high quality", telling French channel iTV that the government would "take action" in the coming weeks.