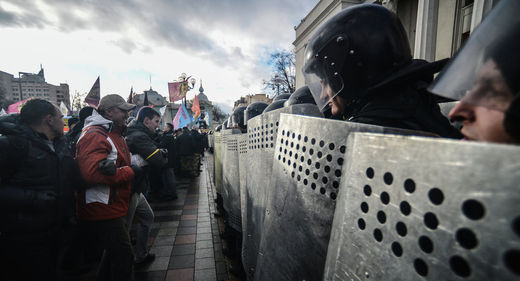 Demonstrators gather outside Ukrainian parliament to protest government measures to arrest the country's financial crisis.
A crowd of thousands gathered on Tuesday outside the parliament building in Kiev to show their opposition to cost-cutting measures proposed by the government of Ukraine.
"First of all, they want to pass a budget, with which the majority of people gathered here today are dissatisfied, and they want to extend the powers of the National Security and Defense Council of Ukraine," Vitaly Yahno, the coordinator of the protest told the Ukrainian
UNN
news website. "And our task - is to ensure that the laws are passed, which we submitted."
"The 'Financial Maidan' is demanding the passing of legislation which has already been registered, but they [the authorities] don't want to put them on the agenda," Yahno explained.
The protest site on Tuesday stretched from the immediate boundary of the parliament building to the nearby Mariinski Park, and also blocked traffic on the road between the park and parliament building. According to a correspondent from RIA Novosti, on Tuesday afternoon around two and a half thousand protestors were assembled in largely peaceful protest, while the perimeter of the parliament building was guarded by several hundred security officers, including those of the National Guard.