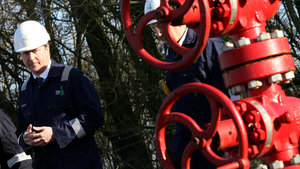 The UK plans to
allow fracking companies to drill under people's land without their agreement, despite public opposition.
The Department of Energy and Climate Change (DECC) said it will press ahead with proposals to simplify underground access for oil and gas developers despite the objection of 99 percent of respondents to a consultation.
The UK-wide plan would give companies the right to drill at depths of 300 metres or more under private land without negotiating a right of access.
The UK government argued that the current ability for people to block shale gas development under their property would lead to significant delays and that the legal process by which companies can force fracking plans through was costly, time-consuming and disproportionate.
Comment:
Translation: The oil companies control the government and they have no intention of letting the public's concern for
health
,
safety
and the
environment
get in the way of rampant greed.