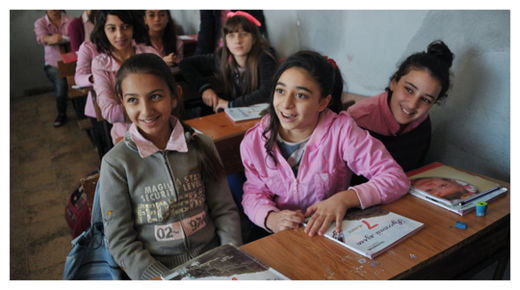 Grateful for Russia's support in the fight against the jihadists, Syrians are now flocking to learn Russian, RIA Novosti reports.
With a second foreign language compulsory for study in Syrian schools, RIA Novosti has found that Russian, introduced as an option in some parts of the country a year ago, is quickly gaining popularity, especially in the coastal province of Latakia, where the Russian military contingent assigned to assist the Syrian armed forces is based.
The country's school system, with 11 grades plus a 12th grade for those wishing to go to college or university, features mandatory English-language instruction in the first seven grades. From seventh grade on, the children choose a second foreign language.
Until recently, most chose French; Syria has a historical connection with France, having served as its colony for much of the first half of the 20th century following the collapse of the Ottoman Empire in the First World War. Since last year, young Syrians now have the choice of choosing Russian instead.
Many have, especially in the country's northwest province of Latakia, home to the Russian airbase at Hmeymim. Mohammed Kazak, the Head of the Department of Education of the Latakia Governate, told RIA Novosti that "from September of this year, about 4,500 students have chosen to study Russian in our province."
According to the official, Russian has become particularly popular in the city of Latakia itself, as well Jableh, a city in the province's south.