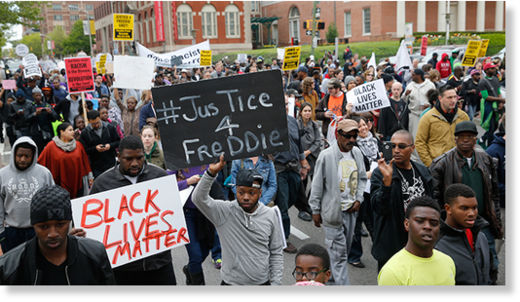 Comment: As the citizens of the U.S. watch as their leaders go around the world invading countries and murdering their inhabitants all in the name of power, money, and control, it should not be surprising to see the rest of the country following suit and behaving the same way towards each other.


A surge of fatal shootings in Baltimore, Maryland over Memorial Day weekend has propelled the number of murders so far in May to 35, making it the deadliest month in the city since 1999.
In the midst of a wave of violence that has anything but waned in the weeks since riots unfolded across Baltimore, city officials say the tally of homicides so far in 2015 stands at 108 as of Tuesday morning.
The Baltimore Police Department told local network
WJZ News
that 28 people were shot over Memorial Day weekend this year. This included nine fatalities.
With the death toll for May now pushing three dozen, officials say the city is currently experiencing its most violent month since 1999.
"It's deplorable," City Councilman William "Pete" Welch told the
Baltimore Sun
. "The shootings and killings are all over the city. I don't think any part of the city is immune to this. I've never seen anything like it."