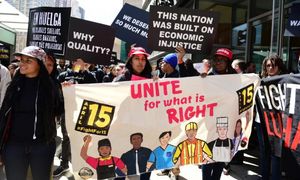 Workers in Atlanta, Boston, New York, Los Angeles and more than 200 cities across the US walked out on their jobs or joined marches and protests on Wednesday during what organisers claimed was the largest protest by low-wage workers in US history.
Some 60,000 workers took part in the Fight for $15 demonstrations, according to the organisers. The protests are calling for a minimum wage of $15 an hour in the US, more than twice the current federal minimum of $7.25.
By late afternoon on the east coast no arrests had been reported, a marked contrast to last May's action when more than 100 people were arrested during a protest outside McDonald's Chicago headquarters.
The demonstrations were the latest in a series of strikes that began with fast-food workers in New York in November 2012. The movement has since attracted groups outside the restaurant industry: Wednesday's protesters included home-care assistants, Walmart workers, child-care aides, airport workers, adjunct professors and other low-wage workers. It also sparked international support, with people protesting low wages in Brazil, New Zealand and the UK.