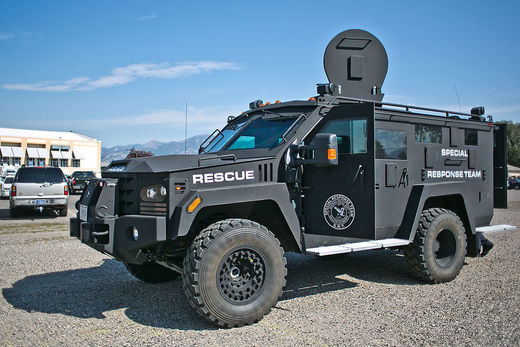 Bozeman Police Captain Steve Crawford showcases the department's armored rescue vehicle on Tuesday, Sept. 23, at the Gallatin County Law and Justice Center in Bozeman. The Bozeman Police Department received the vehicle in May.
Mayor Jeff Krauss isn't the only one fired up over news that the city owns a new armored vehicle.
In the hours after Monday night's City Commission meeting, where City Manager Chris Kukulski admitted he
made a mistake by never bringing the grant application for the vehicle before the commission
, the public lashed out online against the police department's new 17,000-pound Lenco BearCat G3.
Some commenters went to the police department's Facebook page, usually known for its campy morning posts, and chastised the department for getting such a vehicle. Others hurdled criticism over the department
sidestepping the usual process to get it
.
The hashtag #senditback was used by some. A satire Facebook page titled "Send in the Rescue Vehicle" was created.
Critics say it's unnecessary and points to the
militarization of local police
. But police say it's a regional asset that will protect officers and residents.
The BearCat, which stands for Ballistic Engineered Armored Response Counter Attack Truck, was paid for by the Homeland Security Grant Program. Its base price was $188,793. After add-ons, which included things like a diesel engine and a four-wheel off-road package upgrade, it ended up costing $248,537.
A purchase agreement between the city of Bozeman and Lenco dated Nov. 26, 2013, for a $248,537 armored vehicle.