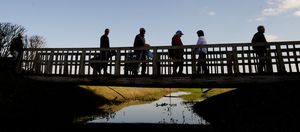 Fewer Americans now favor the death penalty, but support is still strong among religious whites and Republicans. According to a Pew Research Center
survey
, 55 percent of adults support the death penalty for convicted murderers, while 37 percent oppose it. Whites remain the only racial group in the United States where a majority support the death penalty.
A sharp drop in violent crime, greater media attention given to wrongful convictions, and reports of inhumane and prolonged executions are some of the reasons for a shift in public opinion away for supporting the death penalty since the mid-1990s, Pew reports.
Across the nation's religious groups, support and opposition varies dramatically.
67 percent of white evangelical Protestants favor the death penalty.
64 percent of white mainline Protestants do.
58 percent of black Protestants oppose the death penalty, making them the group most strongly opposed to it (33 percent support it).
54 percent of Hispanic Catholics oppose it, while 37 percent support it.