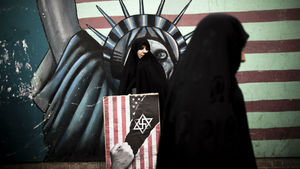 Despite recent signs of a thaw in relations between Washington and Tehran, Iran is going ahead with a 34-year-old November ritual: anti-U.S. demonstrations to commemorate the takeover of the U.S. Embassy in Tehran.
With each passing year, the impact of the annual protests has diminished. But the anniversary still symbolizes tensions and mistrust at the center of the U.S.-Iran relationship, and hard-line conservatives are calling for "death to America" chants to be a key part of Monday's event.
Now under the control of the hard-line Student Basij Organization, the old embassy grounds remain known here as the "Den of Espionage,'' and anti-American propaganda fills the walls inside and outside the compound.