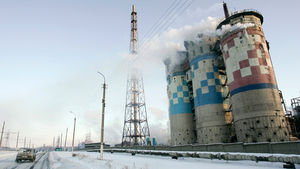 Ukraine is at risk of an environmental disaster as Kiev's army continues to bomb the Donestk region, nearly hitting its largest chemical plant that stores lethal agents, the plant's spokesperson warned.
The minimum impact zone would be at least 300 km.
For the past three weeks, the Ukrainian army has been intensely shelling Gorlovka, located in Ukraine's Donetsk region - home to the nation's largest chemical plant, Stirol.
"
Due to the irresponsible actions of the Ukrainian army, citizens of Ukraine, Russia, and Belarus are exposed to a deadly threat from an ecological disaster on a daily basis, the size of which cannot be predicted," Pavel Brykov, a spokesman for the plant, said in a
YouTube message
on Sunday.
According to Brykov,
an accident at the plant could cause a toxic leak of nitrochlorobenzene - a lethal substance which, if it enters the human body, affects the liver, heart, and bone marrow, causing death.