"The U.S. worked hard to create the American dream of opportunity. But today, that dream is a myth."
Economist Joseph Stiglitz, Financial Times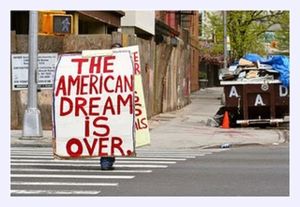 If you follow the financial news, you already know that the American people are on an epic downer. Just check out some of these headlines I pulled up in a five minute Internet search and you'll see what I mean:
"Gloom and doom? Americans more pessimistic about future" Las Vegas Review

"U.S. Standard of Living Index Sinks to 10-Month Low; Expectations for future standard of living drops more than current satisfaction" Gallup

"Americans Still Pessimistic About Economy - Almost 70 percent think the economy is in bad shape" Time Magazine

'Slipping behind': Are we becoming a nation of pessimists?" NBC News

Income Inequality in the United States Fuels Pessimism and Threatens Social Cohesion" Center for American Progress.
And here's my personal favorite:
"NBC/WSJ poll: 60 percent say fire every member of Congress" NBC News