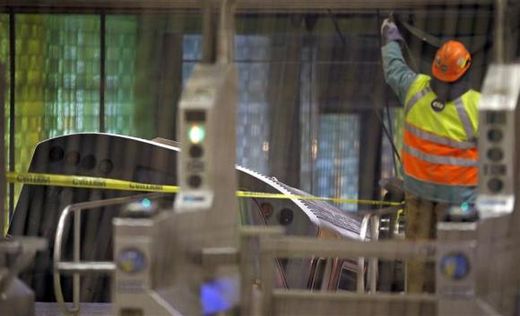 Thirty-two people were injured after a Chicago Transit Authority train derailed and hit a platform at O'Hare International Airport early on Monday, with its front car landing on an escalator and stairs, a city fire official said.
It was not immediately clear how fast the train was moving, but authorities were looking at speed as a possible factor, said transit authority spokesman Brian Steele.
"It's evident the train was going faster than it should," he said at the scene.
The female train operator was among those hurt, though neither she nor any of the passengers faced life-threatening injuries, said Chicago Fire Department spokesman Larry Langford.
"Fortunately nobody was on the staircase," he said. "Anybody on the staircase probably would have been killed."
Langford said the eight-car train jumped a bumper at the end of the line just before 3:00 a.m. Chicago time.