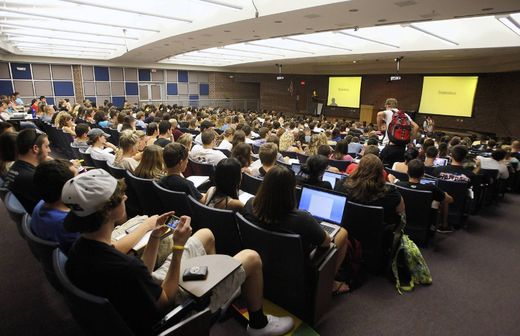 The student loan industry is booming, saddling over 37 million college students and graduates with $1.08 trillion in loans in 2013, even as President Barack Obama and lawmakers work to rein in the crippling debt young people face in the US.
The average cost of a Bachelor's degree at a private college or university is $45,000, according to The College Board's
Trends in Higher Education
. Students attending public schools in their home state pay just under $23,000 on average, while those paying out-of-state tuition can expect to pay more than $36,000 a year. In 2012, The College Board says the average student carried over $6,000 student loans for the academic year.
Of the nearly 20 million Americans who attend college each year, about 12 million borrow, according to the Almanac of Higher Education. Estimates show that the average four-year graduate accumulates $26,000 to $29,000 in loans, and some leave college with debt totaling in the six figures. Those students who continue on to graduate school, especially law and medical school, see their debt balloon.