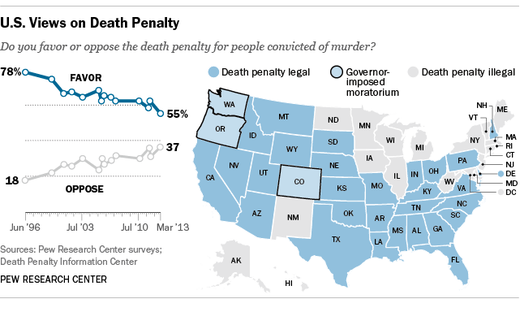 Washington state Gov. Jay Inslee announced Tuesday that his state
will not use the death penalty
while he's in office. In neighboring Oregon, Gov. John Kitzhaber
made a similar move
in 2011, and last year, Colorado Gov. John Hickenlooper
issued an executive order
halting an impending execution, and said there was "a legitimate question whether we as a state should be taking lives."
While a majority of Americans (55%) favor the death penalty for persons convicted of murder, according to a
2013 Pew Research survey
, that number has declined significantly over the last two decades. In 1996, about three-quarters of the U.S. public (78%) favored capital punishment. Meanwhile, the share of those saying they oppose the death penalty has risen from 18% in 1996 to 37% in 2013.