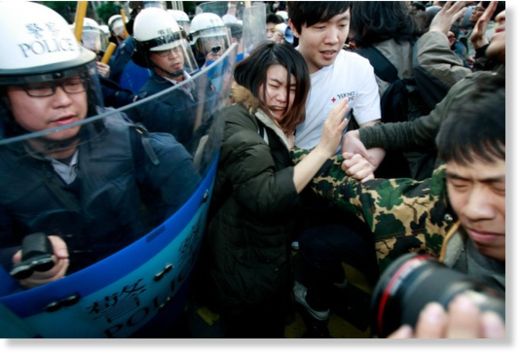 Dozens of people were detained in Taipei late Sunday after violent clashes erupted between police and protesters, following the Taiwanese president's refusal to scrap a contentious trade agreement with China.
Hundreds of protesters who had been staging a demonstration against the trade pact pushed past riot police in full gear to storm the government headquarters, before the crowd was dispersed shortly after midnight.
Tensions exploded into the open on Tuesday when around 200 demonstrators, mostly young students, broke through security barriers and took over parliament's main chamber, the first such occupation of the building in the island's history.
President Ma Ying-jeou moved Sunday to denounce the "illegal" occupation of parliament by students opposed to the trade agreement's ratification.
Local TVBS news network showed protesters pulling down barbed wire barricades surrounding the government building, with some using ladders to break into offices on the second floor of the building.