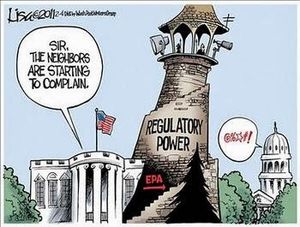 A Wyoming family is being threatened with massive fines for building a stock pond on their eight-acre farm.
Andy and Katie Johnson built the pond in 2012. They stocked it with trout, ducks, and geese.
Of course, the government is why we can't have nice things. Naturally, the EPA has found a reason to come around and harass the Johnsons and prevent them from enjoying their property.
Johnson said the EPA has engaged him in a power play and is threatening him with massive civil and criminal penalties over the pond, which they claim is actually a "dam."
Fox News
reports:
The agency claims Johnson violated the Clean Water Act by building a dam on a creek without a permit from the Army Corps of Engineers. Further, the EPA claims that material from his pond is being discharged into other waterways. Johnson says he built a stock pond - a man-made pond meant to attract wildlife - which is exempt from Clean Water Act regulations.