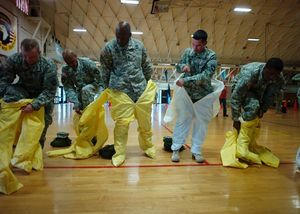 The federal government has announced that thousands of
additional
US soldiers are being sent to Liberia. General Gary Volesky said the troops would "stamp out" ebola. The official story is that
combat troops
are being sent to build treatment structures for those infected with ebola.
Why combat troops? Why not send a construction outfit such as an engineer battalion if it has to be military? Why not do what the government usually does and contract with a construction company to build the treatment units?
"Additional thousands of troops" results in a very large inexperienced construction crew for 17 treatment units. It doesn't make sense.
Stories that don't make sense and that are not explained naturally arouse suspicions, such as: Are US soldiers being used to test ebola vaccines and cures,
or more darkly are they being used to bring more ebola back to the US?
I understand why people ask these questions. The fact that they will receive no investigative answer will deepen suspicions.