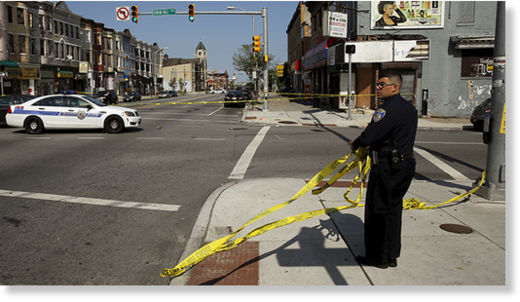 Comment: It's hard not to read this and say, so what? Eric Garner's murder by police was caught on video, and it didn't change anything. Police will continue to find excuses for their brutality towards the population, and the authorities will continue to support that brutality.


In the wake of protests over Freddie Gray, whose death from injuries sustained in police custody in April provoked unrest in several US cities, Baltimore has pledged to install cameras in police vans for a "more complete record of what occurs there."
Mayor Stephanie Rawlings-Blake told reporters on Wednesday that the city of Baltimore has been"working through a process that will place cameras with recording capabilities in the backs of all our police vans."
In fact, the van in which Freddie Gray was transported on April 12 did have a camera that the driver could use to monitor the passengers, but it was reportedly not working at the time
.

Comment: How convenient for Gray's murderers. So the reaction of Baltimore's leaders is to install more cameras that can conveniently fail to operate. Great idea, Mayor!


Gray, 25, suffered a severed spine while being transported in the police vehicle and passed away on April 19, his tragic death striking unrest in Baltimore, Washington DC, Boston and New York, just to name a few cities. The next day after his death police officials said that Gray had actually requested an inhaler while in police custody, but admitted that calls for medical assistance were not made for over 40 minutes.
By the time Gray arrived at the hospital, he slipped into a coma and died. On top of that, according to Baltimore City State's Attorney Marilyn Mosby, Gray was not secured in the van with a seatbelt, which is against police regulations. He was handcuffed instead and placed in leg irons. This led to his injuries most likely caused by a sudden slowing of the police van, the investigation has found.
During one of the stops police officers checked on Gray only to find that he was unresponsive, but failed to take any actions. Gray's death has been declared a homicide by the state attorney.