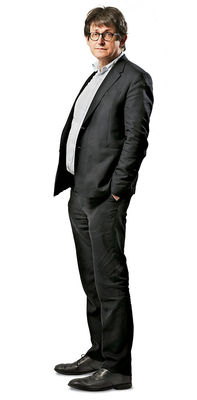 You've played piano since you were a child, and you've written about parallels between this pursuit and digital news. Can you explain that?
Amateur music-making used to be very commonplace and was valued in its own right. When recorded sound came along, most people became the passive receivers of other people's music. I do think that mirrors something that's going on in journalism at the moment, which is that anybody can blog, anybody can tweet, anybody can write and publish.
You've said you want to make The Guardian a platform as well as a publisher. Is this an effort to tap into that?
Absolutely. For years, news organizations had a quasi monopoly on information simply because we had the means of distribution. I think if as a journalist you are not intensely curious about what has been created by people who are not journalists, then you're missing out on a lot.
But you also have to maintain The Guardian's credibility.
Yes, obviously. But as long as the reader can see for themselves which writer is ours and which is not, then I think it's fine. Glenn Greenwald is an interesting voice. He is not a Guardian reporter, but what he writes is interesting. If we hadn't have hired him, we wouldn't have gotten Edward Snowden. Small things lead to big things.