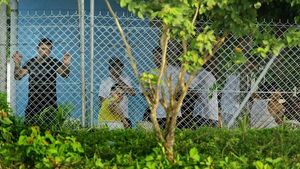 Papua New Guinean nationals employed as security guards on Manus Island attacked asylum seekers at the detention centre more than 24 hours before Iranian Reza Barati died in a night of shocking violence, new footage shows.
The footage, obtained by Fairfax Media, shows the security guards attacking a group of asylum seekers who had absconded from the centre after being told they had no prospect of being settled outside PNG if their claims for refugee status were eventually recognised.
There are also images that show no action was taken to rope off the scene of Mr Barati's killing before evidence was either compromised or completely cleared away, including the rock that witnesses say made sure he was dead.
The footage and images raise new questions about what was done to reduce the risk of violence at the centre and the adequacy of the subsequent investigation.
The morning after the violence, Immigration Minister Scott Morrison reported that the centre would resume "normal operations" and maintained: "G4S utilised personal protection gear but no batons or other weapons were in situ and were in control of the centre for the entire period."