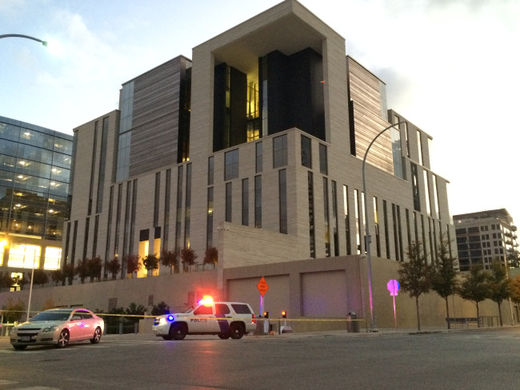 A gunman opened fire at four different buildings, including APD headquarters along 8th St. and the I-35 frontage road, the Mexican Consulate, the Federal Courthouse and a downtown bank early Friday morning. An officer about to get off duty saw the suspect near APD HQ and opened fire on the suspect who fell to the ground.
The suspect is dead, however, it's not clear yet if he took his own life or was killed by the officer's bullet. An autopsy has been ordered to determine which bullet(s) killed the suspect.
The very latest:
SWAT officers swarmed the shooter's home on Hollow Creek. Nearby homes and apartments were evacuated as officers searched for any potential explosives. The SWAT team left just before 11 a.m.
Sources tell KXAN the officer who shot the suspect is Sgt. Adam Johnson.
The suspect is a 50-year-old white male who police say has an extensive criminal history. His name has not been released.
As officers tended to the injured suspect, they noticed what appeared to be an improvised explosive device in his car. The officers dragged the man away from the car and determined he was wearing a suspicious vest. Officers then retreated and called in the bomb squad. During a news conference Friday morning, Austin Police Chief Art Acevedo said the suspect's car was searched and cleared by the bomb squad.
The first reports of shots fired came in at 2:21 a.m., for the next 10 minutes, Police say approximately 100 rounds were fired around downtown. At 3:31, the suspect was contained by an officer.
Chief Acevedo said the officer was a member of the mounted patrol unit who was putting two horses up when he heard the shots fired. He had the reins to two horses in one hand when he fired with the other. APD has identified that officer as Sgt. Adam Johnson.