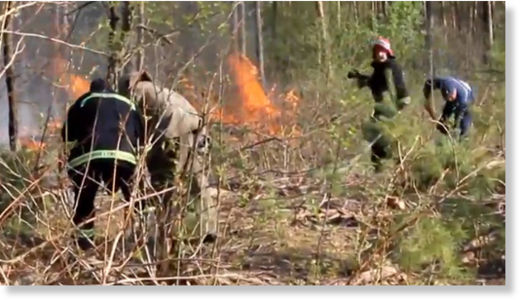 Smoke from burning forests in the Chernobyl exclusion zone is capable of spreading contaminants across great distances, even after the fire has been stopped, ecology experts told RT.
The forest fire near the crippled Chernobyl nuclear power plant started on Tuesday and triggered an emergency alert, with police and National Guard mobilized to bring the flames under control.
By Wednesday, the country's Emergency Ministry, as well as the prime minister, who went to the affected area, said the spread of the fire had been stopped and firefighters were containing the remaining flames. Later on Wednesday, Ukrainian TV reported the flames in areas containing radioactive waste have been put out. New hot spots were discovered, but they are outside the exclusion zone.
The fire occurred within 30 kilometers of the Chernobyl power plant, inside the exclusion zone which was abandoned and cordoned off almost 30 years ago. In 1986, an explosion and fire in Chernobyl's Reactor 4 caused a release of radioactive particles into the air, which contaminated the surrounding area and caused an increase in radiation levels in Russia, Ukraine, Belarus and across Europe. It was the worst ever nuclear disaster in terms of casualties and clean-up costs. The crippled reactor itself was sealed under a sarcophagus of reinforced concrete.
Although the sarcophagus remains untouched by the fire, decades-old contaminants could still be released and travel far and wide, borne aloft by the smoke, nuclear safety expert John H. Large told RT: