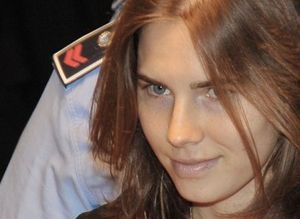 The narcissism and the nonchalance are both indicators, says The First Post's psychoanalyst
Through 11 months of court appearances in Perugia, Amanda Knox's behaviour ranged from composed to flamboyant. Only after Judge Giancarlo Massei read out the
jury's decision
late on Friday night, and sentenced her to 26 years in jail for murdering her housemate Meredith Kercher, did she show signs of distress, shouting out, "No, no, no!" as she was led to the prison van by her guards.
There is considerable dispute about the
strength of the evidence
presented against Knox and about the prosecution's insistence on highlighting Knox's sexual history. An entry from the American girl's diary listed seven sexual partners, three of whom she met after she had moved to Italy, excluding her co-defendant, Rafaelle Sollecito. She had had sex with one of the men on the train as she was travelling to Perugia.
After inviting Knox, a Jesuit-educated student, to live with her and two other English students in their cottage, Meredith Kercher soon began having reservations about Knox, particularly about her bringing "strange men" to the house.