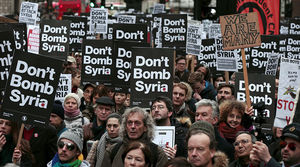 Mass protests have taken place in London and many other cities across the country urging the government not to conduct airstrikes in Syria.
'Don't Bomb Syria'
signs were plentiful, as thousands of protesters took to the streets of the British capital to make their voices heard, in a rally organized by the Stop the War coalition.
The demonstration in London started outside Prime Minister David Cameron's residence at 10 Downing Street. The rally was against a planned vote in Parliament about whether to support a motion for the UK to starting bombing Islamic State (IS, formerly ISIS/ISIL) militants in Syria.
"We are very much opposed to David Cameron's plans to have a vote in Parliament to bomb Syria. The bombing has already been going on for more than a year by other forces. ISIS is as strong as it was before the bombing started and also we have the record of 14 years of bombing,
and every single country we have bombed, the wars are still going on there,
" said Lindsey German, of Stop the War, during the demonstration.