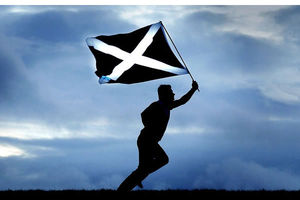 This week's referendum in Scotland could result in the U.K. losing almost one-third of its landmass, and 8 percent of its population, and, very likely, its present prime minister. In a summer rich with shocks, the breakup of a United Nations Security Council member suddenly seems more likely than the long-predicted fracturing of Iraq.
Most people I spoke with when traveling through Scotland last month expected the battle for independence waged by the Scottish Nationalist Party to have been lost.
Recent opinion polls, however, show that almost half of Scottish voters hope to break free of their London masters on Thursday.
Their disaffection was not the work of a day. It has been in the making for at least three decades. Jason Cowley, editor of Britain's leading political weekly, the New Statesman, correctly points out that Britain's Conservative prime minister in the 1980s,
Margaret Thatcher, did more for Scottish independence with her regime of privatization, deregulation and unfair taxation than any Scottish nationalist. By some estimates, the deindustrialization that Thatcher presided over had more devastating effects in Scotland than in England.
That's why Thatcher's Conservative Party is almost extinct in Scotland, and its current leaders, David Cameron, George Osborne and Boris Johnson, evoke a visceral hostility and scorn. This isn't just class hatred for privately educated and plummy-accented Tories, or for the axis of Eton College, Rupert Murdoch's News International and the City of London that they embody.