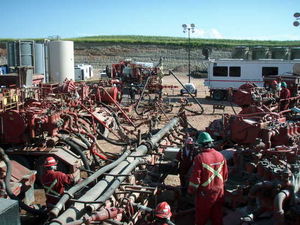 Another day,
another toxic spill thanks to fracking
:
About 25 families in eastern Ohio have been unable to live in their houses for the past three days because of a natural-gas leak at a fracking well that crews cannot stop.

Bethany McCorkle, a spokeswoman for the Ohio Department of Natural Resources, the state agency that regulates oil and gas, said crews lost control of the Monroe County well on Saturday. [...]

The well is not on fire, but the gas could be explosive.
Ohio has had its share of fracking accidents this year. In May, a blowout
resulted in an oil spill into an Ohio river tributary
. And then
this happened the following month
:
On the morning of June 28, a fire broke out at a Halliburton fracking site in Monroe County, Ohio. As flames engulfed the area, trucks began exploding and thousands of gallons of toxic chemicals spilled into a tributary of the Ohio River, which supplies drinking water for millions of residents. More than 70,000 fish died.
In October, a well ruptured in eastern Ohio, spreading natural gas and methane, and
resulted in the evacuation of over 400 families
.
[This] incident was the third in three days tied to fracking operations in eastern Ohio. On Sunday, a worker at a fracking site in Guernsey County was burned in a fire. On Monday, a pipeline carrying natural-gas condensate ruptured in Monroe County, igniting several acres of woods.
Explosions resulting in frequent evacuations, leaks into drinking-water supplies, earthquakes - but don't worry, folks. Fracking is perfectly safe.