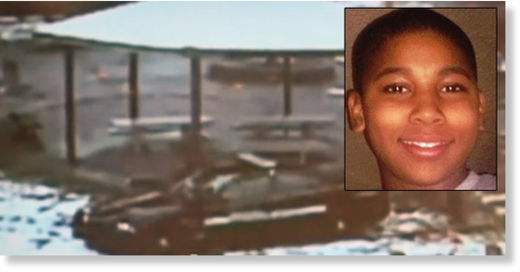 The police officer who fatally shot a 12-year-old boy carrying a pellet gun fired within 1½ to two seconds of pulling up in his cruiser, police said Wednesday. During those few moments, he ordered the youngster three times to put up his hands, they said.
The city released a surveillance video that shows the shooting of Tamir Rice, who was carrying an airsoft gun that shoots non-lethal plastic pellets.
Much of the footage shows what appears to be a bored kid alone in a park on an unseasonably warm November afternoon. Tamir is seen pacing, occasionally extending his right arm with what appears to be a gun in his hand, talking on a cellphone and sitting a picnic table with his head resting on his arms.
The gun wasn't real. It can be bought at sporting goods stores for less than $20. Tamir's was lacking the bright orange tip that is usually put on such weapons to indicate they're not real guns.
The patrol officer who shot Tamir was identified Wednesday as Timothy Loehmann, a 26-year-old rookie who began his career in Cleveland on March 3. He previously spent five months in 2012 with a department in the Cleveland suburb of Independence, but four of those months were in that city's police academy.
Loehmann's partner that day was identified as Frank Garmback, 46. He has been with the department since 2008. Both are on paid administrative leave pending a decision by the Cuyahoga County prosecutor's office whether to pursue any criminal charges.