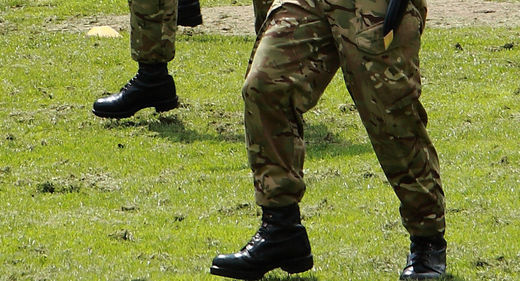 Shocking footage has been released showing two British soldiers -
including one Buckingham Palace guard
- brutally knocking one man unconscious and
repeatedly pummelling another
after a night of heavy drinking.
The two soldiers, Shaun Smith and Jason Collins, were caught on camera assaulting the two innocent men in April last year, while they were stationed at Catterick garrison in Northern England.
Today, the pair walked free from court with suspended sentences
after the judge said he wanted them to continue their careers in the army.

Comment: This is exactly the type of 'human' the world's militaries need: violent sadists with a lack of impulse control.


The alcohol-fuelled incident shows the soldiers punching one man, leaving him knocked unconscious and lying in the middle of the road, before brutally attacking another innocent victim with a barrage of kicks and punches.
Smith, 25, was caught on security footage
kicking one of the victims 18 times
, while 21-year-old Collins threw countless punches at him
as he tried to escape the beating
, with police officials saying it was lucky that the victims didn't suffer brain damage or were killed in the brutal assault.
Despite the damning video footage, the soldiers claimed
they feared they were going to be attacked
and therefore
wanted to "disable" the threat
.

Comment: Seriously?! This is just too perfect a microcosm for the Western militarism. Better beat them them to within an inch of their lives, because we have 'solid' intelligence that they're going to attack! Where have we heard that before?