Update
: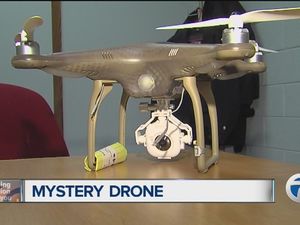 Allen Park Police say the owner of the Drone came forward Friday morning, after seeing this report.
The device has been returned to him.
Officers say the owner is from Lincoln Park, and got the Drone as a gift. He put it in the air from a local school, and lost it in the trees. His daughter was taking a live feed of what the on-board camera was displaying, but its not believed anything was recorded, nor was he trying to intentionally invade anyone's privacy.
Original Story:
A mystery drone is the talk of Allen Park, as a family there watched the flying device land in their backyard. The operator--nowhere to be found.