The Ebola outbreak in Liberia demands global help, says an aid worker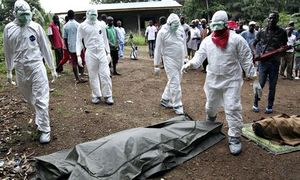 I wake up each morning - if I have managed to sleep - wondering if this is really happening, or if it is a horror movie. In decades of humanitarian work I have never witnessed such relentless suffering of fellow human beings or felt so completely paralysed and utterly overwhelmed at our inability to provide anything but the most basic, and sometimes less than adequate, care.
I am supervising the suspect tent, which has room for 25 patients who are likely to have
Ebola
- 80-90% of those we test have the virus. We administer treatment for malaria, start patients on antibiotics, paracetamol, multivitamins, rehydration supplements, food, water and juice while they wait for their results. Sometimes people have arrived too late and die shortly after arriving.
In one afternoon last week I watched five seemingly fit, healthy, young men die. I gave the first a bottle of oral rehydration solution and came back with another for the second. In the half a minute or so in which I had been away the first man died, his bottle of water spilt across the floor. The four others followed in quick succession.