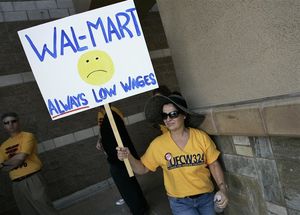 A groundbreaking report reveals that Walmart has built a vast, undisclosed network of 78 subsidiaries and branches in 15 overseas tax havens, which may be used to minimize foreign taxes where it has retail operations and to avoid U.S. tax on those foreign earnings.
These secretive subsidiaries have never been subject to public scrutiny before. They have remained largely invisible, in part because Walmart fails to list them in its annual 10-K filings with the U.S. Securities and Exchange Commission (SEC).
Walmart's preferred tax haven is Luxembourg, dubbed a
"magical fairyland"
for corporations looking to shelter profits from taxation.
The report,
The Walmart Web: How the World's Biggest Corporation Secretly Uses Tax Havens to Dodge Taxes
, is the first-ever comprehensive documentation of the company's use of tax havens. The full report
is available here,
and for the report's Key Findings, click
here.
Key Findings
Most people know that Walmart is the world's biggest corporation. Virtually no one knows that Walmart has an extensive and secretive web of subsidiaries located in countries widely known as tax havens. Typically, the primary purpose for a corporation to set up subsidiaries in tax havens where it has little to no business operations and few, if any, employees is to pay little, if any, taxes and to maintain financial secrecy.
Walmart has established a vast and relatively new web of subsidiaries in tax havens, while avoiding public disclosure of these subsidiaries.