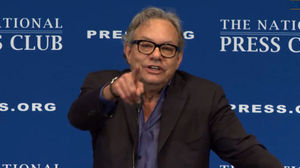 Comedian Lewis Black on Monday explained why he considered himself a socialist, and mocked those who accused President Barack Obama of being one.
"I do say that I'm a socialist, and I am a socialist, and that is about as powerless a position as you can be in the United States," he
said at a National Press Club luncheon
in Washington, D.C.
"And I really just wanted to start with that because the idea of calling anyone, outside of maybe Bernie Sanders, a socialist - to call Obama a socialist, you have got to be out of your godd*mn mind. There are seven socialists left in the country, and if you really want to see the leadership of the socialist party you can go to cemetery and find them."
"We have no effect," Black said. "As a matter of fact, when I was a kid you actually read about them, and I can't imagine in many of the history books, which have also kind of forgotten evolution is a real thing, that socialism is even really discussed historically."