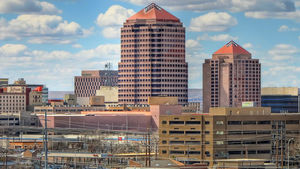 Protesters filled Albuquerque City Hall on Monday evening, forcing the city council to clear its legislative agenda and turn the podium over to citizens furious with police over a spiking number of fatal shootings.
City Council President Ken Sanchez told the
Albuquerque Journal
that more police officers would be assigned to make sure the meeting was peaceful, and that the meeting would be adjourned if tempers flared, but said the council is mulling legislation that would create more oversight over the department.
"We need to make some dramatic changes," he said. "We're confronting a crisis situation at this time."
Tensions have been building between police and the public for years. Wynema and Michael Gonzagowski told Cindy Carcamo of the
Los Angeles Times
that, upon moving to Albuquerque, friends warned them to avoid the police. They did not take those warnings seriously until they watched police fatally shoot their neighbor, Alfred Lionel Redwine on March 25.
"I've never been scared of cops, but out here, the cops terrify me," said Michael, age 39. "They treat you like you're out looking to cause trouble every time they talk to you."