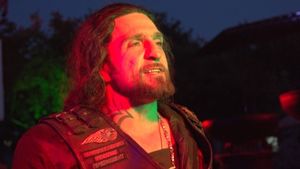 Meet the Russian Hell's Angels who have Putin's back...
There haven't been too many times in my life when I can say without much fear of contradiction that I am the envy of the Vladimir Putin.
But sitting on the back of a colossal motorbike as the engine revs and roars I reckon the President of Russia would for a moment swap places with me.
I am riding with the gang of hairy bikers Putin call his brothers and who have become outriders for his fiercely patriotic vision of a nation made great again.
They're known as the Night Wolves, and as evening falls I have been invited to their lair - a dark and forbidding place on the outskirts of Moscow where the bikes are loud and the Russian heavy metal music louder still.
I am for a rare meeting with the leader of the pack. Alexander Zaldostanov does not disappoint. He is a leather clad mountain of a man who in the fading light resembles a latter day tattooed Rasputin lookalike of the road.