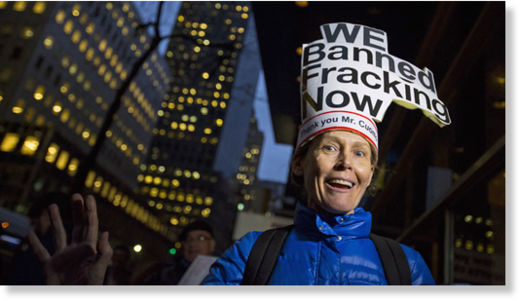 New York State officially banned fracking for natural gas by issuing its final environmental impact statement, concluding a seven-year review. The environmental agency said fracking posed risks to land, water, natural resources and public health.
The release of the environmental impact
statement
on Monday concluded seven years of analysis by the state Department of Environmental Conservation (DEC). It first issued a moratorium against fracking in 2008.
The agency received a staggering 260,000 comments over various drafts of its environment impact statement. In 2009, more than 13,000 public comments were made on its draft. A revised draft issued in 2011, which involved four public hearings around the state, received another 67,000 comments, and the second draft, with regulations over permit conditions, received an additional 180,000 comments.
"After years of exhaustive research and examination of the science and facts, prohibiting high-volume hydraulic fracturing is the only reasonable alternative," said DEC Commissioner Joe Martens in a
statement
.
"High-volume hydraulic fracturing poses significant adverse impacts to land, air, water, natural resources and potential significant public health impacts that cannot be adequately mitigated. This decision is consistent with DEC's mission to conserve, improve and protect our state's natural resources, and to enhance the health, safety and welfare of the people of the state."