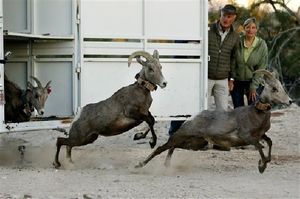 A bighorn sheep escaped from the Los Angeles Zoo at Griffith Park on Saturday and dashed around the hills in the park for hours before it ended up on a residential street where it was struck by a car and died, a zoo spokeswoman said.
The sheep got free from its enclosure and darted through an area where zoo visitors were gathered. It escaped the zoo, probably by jumping a fence, and scampered around the hills of the park
, said zoo spokeswoman April Spurlock.
The animal was loose for about three hours before it was struck by a car on a residential street near the Greek Theatre, she said. The concert venue is about 2 miles southwest of the zoo, on the other side of Griffith Park.