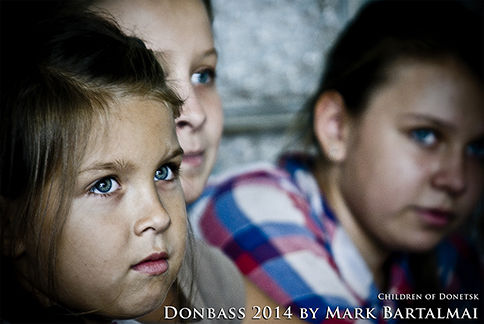 Three girls sitting in front of my camera. Shy you might think. But this
shyness is something else - they are traumatized
.
From a war that does not exist actually, if you would believe the western and German media
. A war in Europe that no one sees. Because it does not take place in the media. Because it is hidden and hushed up. And though it exists here in Donetsk in southeastern Ukraine, where I live since over 2 months. In the middle of a metropolis that is heavily bombarded daily by the Ukrainian army.
The war is here among us, it is in the midst between us, between me and these three girls - Paulina, Nastya and Katya. It is in their eyes, their voices, burned into their souls. And they recognize me, because I also now live in this war like them.
It is mid-September 2014 and we are sitting together in a bare room of a refugee house in Donetsk. It took us some time to get this interview.
The people in Donbass no longer believe in the West, in Europe, in Germany. For the West, they say, "they have forgotten us, they let us down". The West knows nothing about the dead civilians, the bombing demand here every day
. "
The West does not care about us. Assists even the junta in Kiev, which kills us here
." I always swallow when they tell me - I know that they are right. No one in Germany knows that children like Paulina, Nastya and Katya have no home, that it was bombed away. Just like their school and the kindergarten there in the northwest of Donetsk, close to the airport. Just as the homes of more than 100 other children and their families solely in this house of refuge. And there are many of these refugee camps and homes in and around Donetsk.