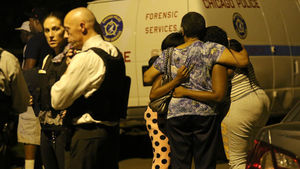 At least 12 people have died and 13 others have been wounded in separate shootings in Chicago between late Tuesday and early Thursday, including the accidental shooting of an 11-year-old boy, police said.
In the latest fatal shooting, a 39-year-old man was killed and a 52-year-old man was wounded in a shooting around 5:10 a.m. Thursday in the Bronzeville neighborhood on the South Side, said Officer Janel Sedevic, a Chicago Police Department spokeswoman.
The two were inside a building in the 4700 block of South King Drive when they were shot.
The 39-year-old was struck in the head and was pronounced dead at the scene, Sedevic said.
The other man, wounded in the left knee and shin, was taken in fair condition to Northwestern Memorial Hospital.