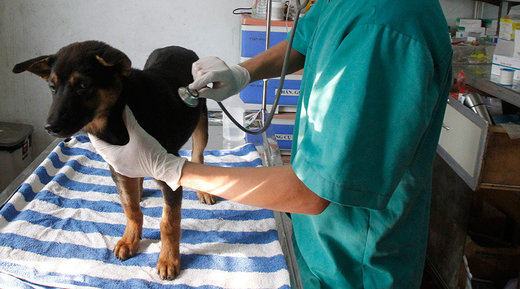 The Flint water crisis is expanding again. This time, however, the devastation is affecting man's best friend, as two dogs in Genesee County, Michigan have tested positive for lead toxicity, according to the state veterinarian.
The two dogs, both crossbreeds, are still alive, said Dr. James Averill, state veterinarian and Animal Industry Division Director for the Michigan Department of Agriculture and Rural Development. One dog is a pet, while the other is a stray.
The lead-toxicity test results were confirmed in October 2015 and January 2016, but state officials declined to release further details about the cases, including whether either or both of the pups live in Flint, the
Detroit Free Press
reported.
"The confidentiality of the owners is like medical information in humans," Averill said.
The two dogs are the first confirmed cases of lead toxicity in canines in the past five years, the
Free Press
reported citing state records.
It is unknown if the dogs drank Flint water, which has been contaminated since city officials sought to save money by switching the water source from Lake Huron to the Flint River ‒ now known to contain high levels of chloride ions ‒ in April 2014.
Soon after, Flint residents started complaining about their drinking water, and the city issued a number of boil notices that summer, following fears that fecal coliform bacteria was present in the water supply.