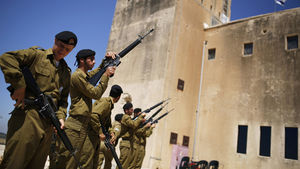 A group of Israeli teenagers has sent an open letter to Prime Minister Netanyahu declaring their opposition to being drafted into the military because of Israel's policies surrounding West Bank settlements, which they view as "human rights violations."
The letter was signed by 50 teens and published on the Facebook page of an Israeli pacifist group called Yesh Gvul, which means
'There is a Limit.'
"The main reason for our refusal is our opposition to the occupation of the Palestinian territories by the army," the teenagers wrote, as quoted by AFP.
The teenagers pointed out that the army plays a huge role in what Israel does in the West Bank, adding that it has a negative effect on both Palestinians and Israeli society.
"There are actions that are considered war crimes according to international law on a daily basis such as assassinations - extrajudicial killings, building of settlements on the Palestinian territories, administrative detentions, torturing, collective punishment and unequal distribution of resources such as water and electricity," the teens wrote.
"The problem in the military system is not limited to the confines of its effect on the Palestinian society, but seeps into the daily lives of the Israeli society as well."