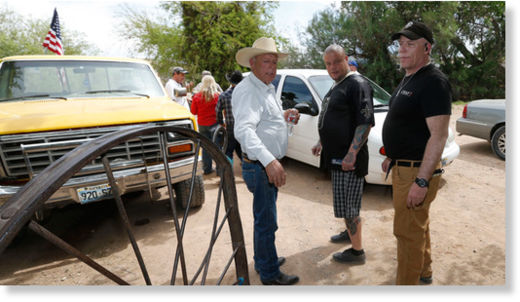 Members of the Oklahoma Militia have come out in support of Nevada rancher Cliven Bundy, who recently found himself in a standoff with hundreds of armed federal agents over land rights related to his cattle ranch.
Earlier this month, a weeklong confrontation between the two parties began when armed federal officials under the US Bureau of Land Management attempted to seize nearly 1,000 of Bundy's cattle, as authorized by a court order. As RT
reported
previously, the BLM claims Bundy owes the government about $1 million since he stopped paying the fees associated with allowing his cattle graze on federal land in the early 1990s.
Bundy, meanwhile, argues the land his cattle graze on has belonged to his family since the 1870s, and that he's not obligated to pay the government anything.
"I don't believe I owe one penny to the United States government," Bundy said earlier this month. "I don't have a contract with the United States government."