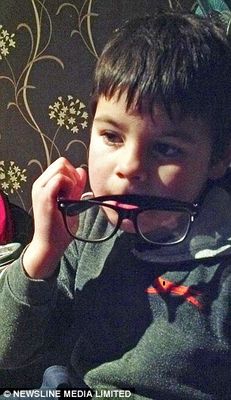 Emergency crews called to the scene in Aberdeen shortly before 2pm
Relative claims Preston Flores and his friends were playing with a petrol canister from the back on a van parked on the street
Boy is believed to have lived on street with mother and four other children
A seven-year-old boy was last night fighting for his life in hospital after being turned into a human fireball.
Preston Flores ran into the street 'on fire' near his home in Aberdeen after his clothes became doused in petrol and ignited.
The youngster, who is thought to have suffered 80 per cent burns, may have been deliberately set on fire - or been the victim of a prank gone wrong.
Last night, he remained in a 'serious' condition in hospital, with his mother Luisza at his bedside.