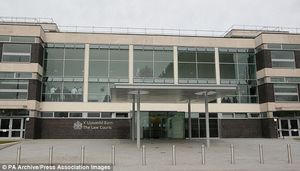 A boy of ten raped a classmate in the toilets of his primary school as he 'acted out' scenes from online pornography, a court was told.
The jury heard that he approached a fellow pupil during an English lesson and asked if he wanted to have sex with him. Thinking he was joking, the other boy replied: 'No way.'
But after the lesson the alleged victim went to the toilets and, as he went to leave, the defendant was said to have walked in and grabbed him.
The court heard the boy then pushed him over a sink and raped him.
The victim, also 10, told him to stop and after about 10 seconds the alleged attacker pulled away, and apparently said: 'Oh come on, the party's just starting.'
Yesterday Mold Crown Court in North Wales was told the schoolboy had carried out the rape after watching pornography online. Karl Scholz, prosecuting, said: 'It is almost certain that in this case what was being done was to act out what had been seen in pornographic material.'