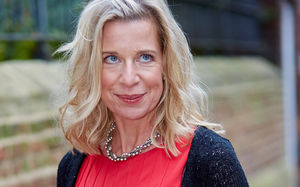 Video shows Brunel University students give controversial columnist a frosty reception at beginning of debate on welfare state
A video has emerged of
students at Brunel University giving the rest of the world a masterclass in how to deal with the Daily Mail columnist Katie Hopkins: don't silence her, or threaten her -

just turn your backs on her.
The former Apprentice contestant turned professional troll - who once called drowning Mediterranean migrants "cockroaches" for daring to try to find a place of safety - was booked as a panellist at the university's 50th anniversary debate on the future of the welfare state.
The university lecture hall was packed ahead of the rightwing columnist's appearance on Monday night. As she made her opening comments, however, students stood and turned their backs on her before filing out in protest.
The inclusion of Hopkins on the west London university's debate panel was met with widespread outcry from the student body. But the union did not want to undermine the principle of free speech by calling for her to be banned from the event. Instead, they came up with the ultimate show of peaceful disapproval: organised back-turning.