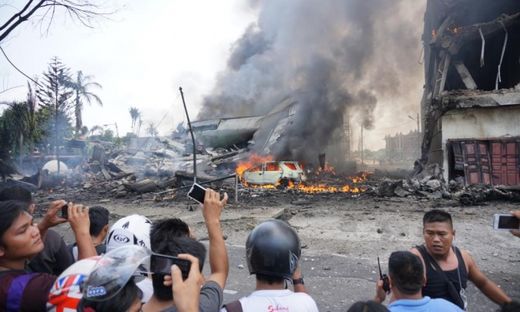 Death toll could rise, officials say, after Hercules aircraft crashed into hotel and houses in city of Medan on Sumatra island
At least 30 people have been killed after an Indonesian military transport plane crashed shortly after take-off into a city on Sumatra island, exploding in a ball of flames in a residential area.
The Hercules plane hit a hotel and houses in the northern Sumatra city of Medan on Tuesday, an official said.
"The latest information we have is that 30 have died.... The number could go up," Hisar Turnip, a spokesman for Indonesia's search and rescue agency, told Reuters.
It was not immediately clear how many of the victims were in the plane or on the ground.
The plane was on its way from an air force base in Medan to the remote Natuna islands and crashed a few minutes after takeoff.
Dramatic pictures on social media showed large crowds and emergency services gathering around the flaming wreckage, with the fuselage of the aircraft visible among thick plumes of black smoke. Buildings in the vicinity of the crash zone were also clearly damaged.