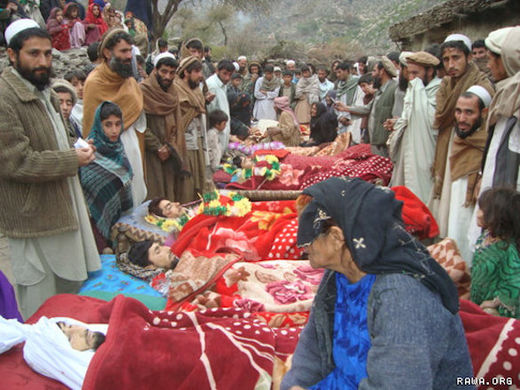 A group of international physicians' organizations has published a study concluding
US-led wars in Iraq, Afghanistan and Pakistan have killed more than 1.3 million people
.
The Nobel Prize-winning International Physicians for the Prevention of Nuclear War, along with Physicians for Social Responsibility and Physicians for Global Survival have released a report titled
"Body Count: Casualty Figures after 10 Years of the 'War on Terror.'"
The study examined
direct and indirect deaths caused by more than a decade of US-led war in three countries, Iraq, Afghanistan and Pakistan
,
but did not include deaths in other countries attacked by American and allied military forces, including Yemen, Somalia, Libya and Syria
.
The study noted that while the United States closely monitors casualty figures for allied troops—4,804 coalition deaths in Iraq; 3,485 in Afghanistan,
the number of civilians and enemy combatants killed by US and allied forces is "officially ignored."

Comment: Even allied troop deaths are most likely highly sanitized.


The IPPNW investigation, which scoured the results of individual studies and data published by United Nations organizations, government agencies and non-governmental organizations, concluded the ongoing war "has, directly or indirectly,
killed around 1 million people in Iraq, 220,000 in Afghanistan and 80,000 in Pakistan
."