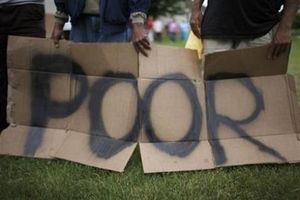 Earlier this month
we learned
that in 21 out of the 26 OECD member countries that have a minimum wage, working 40 hours per week at the pay floor would not be sufficient to keep one's family out of poverty. That rather stunning revelation comes as Democrats in the US push for a $12 minimum wage by 2020 and as pressure grows on companies like McDonald's to raise wages for its lowest-paid employees.
Of course rising minimum wages can also have the rather counterintuitive side effect of harming those they're meant to help because after all, when the cost of labor goes up, employers may simply fire people or, as we saw yesterday when McDonald's pledged to reduce the number of company-owned restaurants by 10% over the next several years, resort to other measures aimed at getting around pay floor hikes.
So while one can debate pros and cons of addressing abysmal wage growth by legislating a non-market-driven solution, what is not up for debate is this:
it's getting harder and harder to subsist above the poverty line for low-income workers
.
In fact, as the following map shows,
in no state can a minimum wage worker afford a one bedroom apartment.