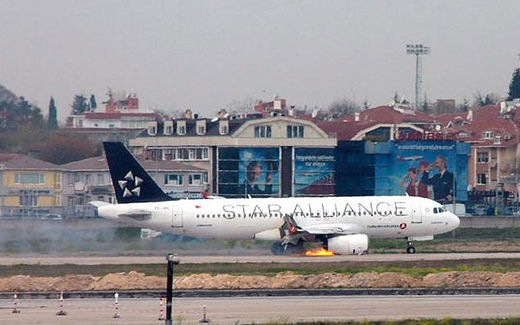 A plane travelling to Milan has made an emergency landing after one of its engines caught fire
A Turkish Airlines plane returning from Milan made an emergency landing in Istanbul on Saturday after one of its engines caught fire.
Footage on NTV television showed smoke and flames coming from plane's right engine as firefighters rushed to meet the Airbus 320 as it touched down.
It was the latest in a string of such incidents in recent weeks that have forced Turkey's national flag-carrier to make emergency landings or divert flights
.
"All 97 passengers have been taken to the terminal with no health issues. The reason for the incident will become clear after the investigation," Turkish Airlines spokesman Ali Genc wrote on Twitter.
It was not clear whether the plane had caught fire as it landed or mid-air
.
The NTV broadcast conversations between the control tower and the plane revealing that the pilot remained calm throughout the emergency.