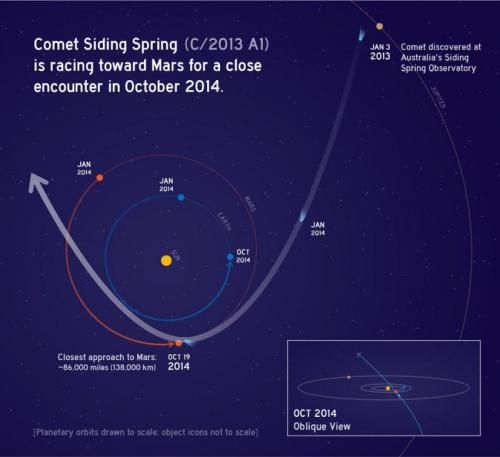 Like a runner rounding third base on his way to home plate, comet
Siding Spring
will sprint past Mars this October while making a beeline for the Sun. Siding Spring's buzz of the red planet will afford us not only an unprecedented peek at a fresh comet, but also front-row seats for a historical look back at the ancient Solar System.
"Comets like this one, which formed long ago and remained for billions of years in the icy regions beyond Pluto, still contain the primeval building materials of our solar system in their original state," said Dr. Dennis Bodewits, lead researcher on the UMD astronomy team that used NASA's Swift satellite to estimate the comet's size and activity.
Siding-Spring is a new comet coming from an old place: the
Oort cloud
. The Oort Cloud, named for the astronomer who predicted its existence, is a spherical shell of icy bodies that dwell between five thousand and 100 thousand AU from the Sun. One AU is equivalent to the distance between the Sun and the Earth.
"Comets formed early in the evolution of the solar system," Bodewits told
Astrobiology Magazine
, "while material was accreting to form planets. When proto-planets became large enough, a population of comets was dynamically ejected into the Oort cloud, where some remain stored until today."