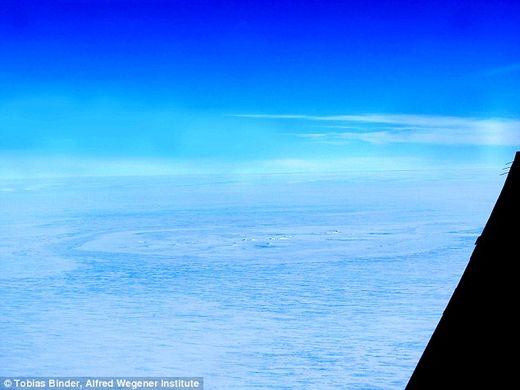 German scientists spotted the 2km (1.24mile) ring on a routine survey flight
The scar of broken ice was found in Antarctica's King Baudoin Ice Shelf
Scientists believe it was made by a 7-10 m wide meteorite that hit in 2004
Researchers in Antarctica at the time reported seeing dust left in the sky
They estimated it had exploded with the force of 12,000 tonnes of TNT
Infrasound stations also picked up the explosion and matched the location
An enormous impact crater thought to have been created by a meteorite the size of a house smashing into Earth has been discovered in the Antarctic ice sheet.
Scientists conducting a routine aerial research flight above East Antarctica noticed a strange ring-like structure in the normally flat and featureless ice.
It appeared to be a series of broken 'icebergs' surrounded by a 2km (1.24 miles) wide circular scar, surrounded by a few other smaller circular scars in the ice.