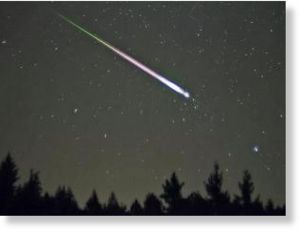 Hundreds of witnesses have described the magnificence of watching a meteor flash across the New Zealand sky last night.
Seen from all different parts of the country, most eye witness accounts describe a fast moving green light with a white tail flying over the sky between 6pm and 7pm.
"Wife and I saw a bright blue/greenish light with white tail as we were crossing the Auckland harbour bridge into the city around 6:25pm. We initially thought it was fireworks but was puzzled as it came out of nowhere from the sky and flew near-horizontally before it vanished. It appeared pretty close, as if it was flying just over Freemans Bay," James commented to Weather Watch.
Did you see the meteor and manage to get a photo? Send to
[email protected]
Stardome Observatory educator Tim Jessop confirmed the siting to Weather Watch.