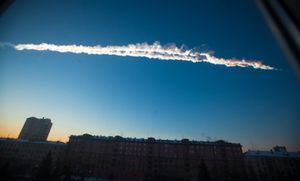 A scientific team from Colombia was able to trace back the explosive space rock's origins using "simple trigonometry."
It's been nearly two weeks since a blazing meteor suddenly appeared over Russia's Ural region, and exploded seconds later over the city of Chelyabinsk. The destruction it caused is
well documented
: $33 million in estimated damage, 1,500 injured, and zero fatalities - amazing, considering the fireball detonated with 30 times the force of the atomic bomb dropped on Hiroshima.
But where in heaven's name did the the thing come from to begin with?
Poring over crowd-sourced footage, researchers Jorge Zuluaga and Ignacio Ferrin from the University of Antioquia in Medellin, Colombia, were able to use "simple trigonometry to calculate the height, speed, and position of the rock as it fell to Earth,"
says
BBC News.
More importantly, the duo was able to find out where Russia's most famous meteor was likely born.
Using astronomy software developed by the U.S. Naval Observatory, Zuluaga and Ferrin gathered enough data to trace the meteoroid's origins in outer space. The information included the meteor's relative angle to the horizon, the shadows it cast, and video timestamps of the rock's screaming descent.