People across Banbridge district and beyond have reported seeing a large meteor shooting across the night sky.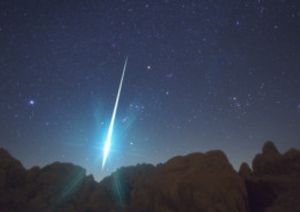 It was seen breaking up into pieces on the evening of Wednesday January 15, with sightings reported across the Banbridge district, Lurgan, Moira, Belfast and Dublin.
People took to Twitter to report the sightings including Mark Kendall @annadale0 who posted to @ArmaghPlanet "Noticed a meteorite I think, (it was still alight) flying through the air above Banbridge about 6.30pm was an amazing sight!".
Many people described seeing a bright fireball moving across the sky with a large tail.
Armagh Observatory received many telephone and internet reports from members of the public reporting sightings of the meteoroid. Reports of the fireball can be viewed as a link from the Armagh Observatory website.