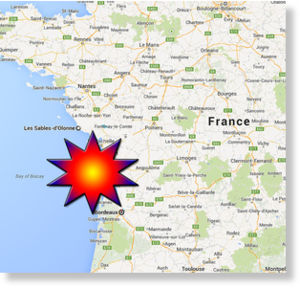 An explosion heard on Sunday May 4th at around 2pm from Bordeaux to Les Sables d'Olonne in the Vendée region was the result of a fighter jet crossing the sound barrier, according to the French Air Force.
On social networks, people of the Gironde, Vendée and Poitou-Charentes regions,
an area with a radius of at least 100 miles
, were wondering about the source of the massive boom that shattered the tranquility of their Sunday afternoon.
Within hours, the French Air Force claimed that the boom was caused by a French fighter jet that crossed the sound barrier as it went to
intercept an American Airlines flight
that was having "communication problems" as it entered French airspace.
According to an Air Force spokesperson, the jet took off from Mont de Marsan, East of Bordeaux, and then proceeded up the Western coastline. Because the situation involved a possible "security threat", the pilot was given permission to go "supersonic" in order to intercept the commercial airliner in the shortest possible time.
The French Air Force
claimed
that 70 similar incidents had occurred in 2013, although few, if any, such booms were heard on those occasions. The question remains, therefore, why, on this occasion, a "possible emergency situation" was declared and the pilot of the jet permitted to "go supersonic", allegedly creating the loud boom.