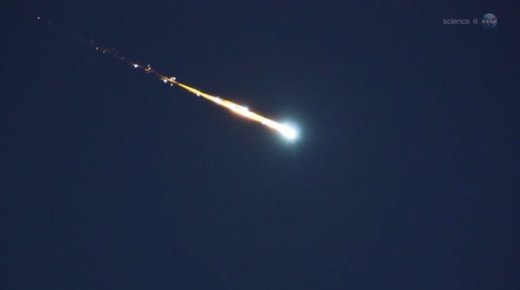 Tina Robertson was just trying to catch a stray cat out in front of her property when she heard it.
"It freaked me right out," she said.
Then she looked up to see a "big ball of fire."
"It was moving like hell," she said. "It was big, but not as big as that one in Russia."
What she and other witnesses as far afield as Seattle and Nanaimo seem to have seen around 6:50 p.m. Friday night was a type of meteor known as a bolide. Bolides are as bright as a full moon; they're a meteor that doesn't just burn up as it travels through the atmosphere, it explodes.
(Hat tip to Seattle
Twitter user Reb Roush
for pointing us all to the term.)
Robertson's partner Wilf Krickhan was loading up fire wood in a bobcat behind the house when he saw the
blue-green bolide flash across the sky
.
"It had an orange streak behind it,"
he said.
The couple live on a farm about 25 kilometres up Chilliwack Lake Road. From their vantage point, it looked like the meteor flashed out up the slopes of Mount McGuire, in direction of Vedder Road and the site of the former CFB Chilliwack.
Friday was the start of the Geminid meteor shower, so keep your eyes peeled at the sky for the next two weeks. The peak period will be on Dec. 13 and 14.