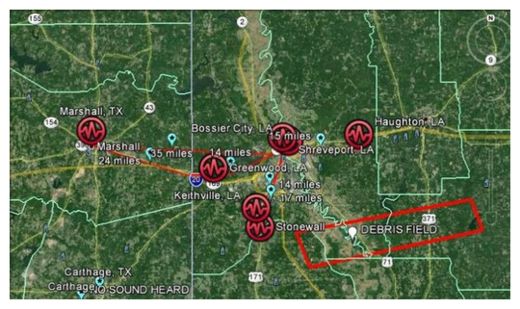 Residents of northeastern Louisiana were rattled Monday when a still-unexplained (as of this post) loud boom cracked the sky, and now the National Weather Service has confirmed that whatever it was has left a debris field.
At about 4:27 P.M. local time on Monday, residents of the area colloquially known as ArkLaTex (that is, the region that includes Northwest Louisiana, Southwest Arkansas, and Northeast Texas) were jolted by a loud boom, that according to some reports shook the ground, according to
WLOX
(Biloxi). One area resident said the boom was so loud, she thought her house might collapse.
"My couch came up off the floor a little bit, my back wall felt like it was going to cave in, it was so loud!"
The area is dotted with oil refineries and pipelines, and there are some military installations in the area, but
KSLA
(Shreveport)
says
that their investigation has turned up nothing amiss at any refineries or military installations in the area. Although there was precipitation in the area at the time,
WLOX
Meteorologist Jeff Castle says that any source of thunder would have been too far away. And the United States Geologic Survey denies any seismic activity in the region that day.