A huge meteor was seen in Puerto Rico in the early evening of Tuesday, February 18th. The space rock was filmed at the moment it penetrated the atmosphere.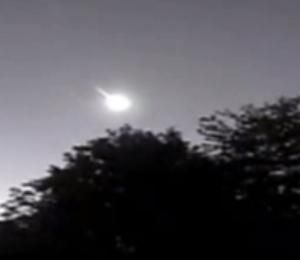 The
Sociedad de Astronomía del Caribe
(SAC) released information that shortly after 7:02 p.m., it had received witness reports from different Puerto Rican towns describing a "greenish fireball that left a trail as it traveled down from the sky."
The SAC explained that the green color many witnesses saw suggests that the meteor contained nickel, a mineral frequently present in space rocks, since they are highly metallic and contain iron.
The SAC pointed out that those who had seen the meteor fall with their own eyes would have perceived it as bigger than it shows in video footage, since cameras use a lens with a wide angle, which zooms out away from the visible objects in order to cover a wider area in the sky.
Even though the video shows that it occurred at 6:58 p.m., the SCA explained that the cameras were 4 minutes behind. Therefore, the event is determined to have taken place at 7:02 p.m.