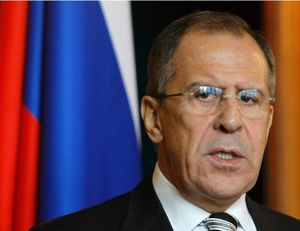 Comment: Lavrov continues Putin's policy of gentlemanly comment on the actions taken against Russia by her adversaries and their lackeys. Russian has answered every aggressive step with calm language that gives opportunities for climbing down from extreme positions. Any reasonable person would welcome the opening. But the psychopathic elite, living in their fantasy world, simply can't go there.


The NATO military alliance is not Moscow's enemy, Russian FM Sergey Lavrov told French media that suggested the opposite. Lavrov also expressed disappointment over the fact that Russia had overestimated EU's independence from the US.
Speaking to
France 24
in Moscow, Lavrov stated that the military doctrine of the country never mentioned that NATO is Russia's enemy, even though the French media suggested that there is such an impression in the Western world.
"What [Russia's military doctrine] says is that
the security risks for Russia, among other things, are NATO expansion to the East and the movement of military infrastructure of NATO closer to the Russian borders -

not NATO itself,
but its militarized movement to the East is considered by the Russian military doctrine as a security risk and threat for Russia," he said.
Lavrov said that, due to Russia's stance in the Ukrainian crisis, NATO had cut off all ties with Russia, "severed all practical cooperative mechanisms, including on Afghanistan, including on counter-terrorism, some other specific things."