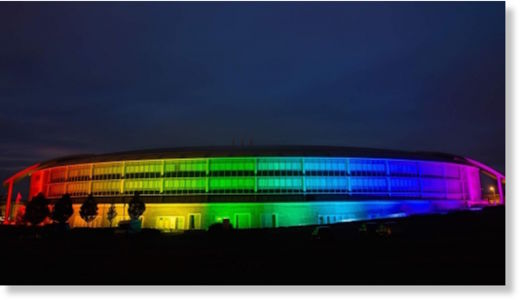 Over the weekend, the British surveillance agency GCHQ — the
most extremist and invasive
in the West —
bathed its futuristic headquarters
with rainbow-colored lights "as a symbol of the intelligence agency's commitment to diversity" and to express solidarity with "International Day Against Homophobia, Transphobia and Biphobia." GCHQ's public affairs office proudly distributed the above photograph to media outlets. Referring to Alan Turing, the closeted-and-oppressed gay World War II British code-breaker just memorialized by
an Oscar-nominated feature film
, Prime Minister David Cameron's office
celebrated
GCHQ's inspirational lights:
This is so very moving. Gay Brits are now just as free as everyone else to spy on people, covertly disseminate state propaganda, and destroy online privacy. Whatever your views on all this nasty surveillance business might be, how can you not feel good about GCHQ when it drapes itself in the colors of LGBT equality?
This is all a stark illustration of what has become a deeply cynical but highly effective tactic. Support for institutions of militarism and policies of imperialism is now manufactured by parading them under the emotionally manipulative banners of progressive social causes.