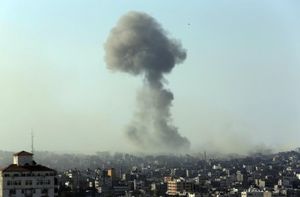 The United States evacuated its embassy in Libya on Saturday, driving diplomats across the border into Tunisia under heavy military escort after escalating clashes broke out between rival militias in Tripoli.
Security in the Libyan capital has
deteriorated following two weeks of fighting between brigades of former rebel fighters who have pounded each other with rockets and artillery fire in southern Tripoli near the embassy compound.
The violence is the
worst seen in Tripoli since the 2011 fall of Muammar Gaddafi.
Western governments fear Libya is teetering toward becoming a failed state just three years after the NATO-backed war ended his one-man rule.
Three F-16 fighters provided air support and Osprey aircraft carrying Marines flew overhead the U.S. convoy as a precaution, but there were no incidents during the five-hour drive from Tripoli to Tunisia, U.S. officials said.
"Security has to come first. Regrettably, we had to take this step because the location of our embassy is in very close proximity to intense fighting and ongoing violence between armed Libyan factions," a U.S. State Department spokeswoman Marie Harf said in a statement.