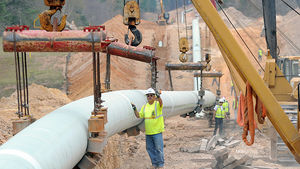 This post originally appeared on
The Huffington Post
and was produced in collaboration with
Climate Desk
.
TransCanada Corp., the company seeking to build the Keystone XL pipeline, has teamed up with the world's largest public relations firm to promote a proposed alternative pipeline that's entirely in Canada.
Greenpeace Canada obtained documents that the US public relations firm Edelman drafted for TransCanada that outline a campaign to promote
Energy East
, the company's proposed 2,858-mile pipeline that would transport crude oil from the Alberta tar sands
to the east coast of Canada
. The company
filed an application
to build the Energy East pipeline last month - a project that
has been described
as an "oil route around Obama" amid
political wrangling
over Keystone XL in the United States.
Greenpeace says the documents show a company increasingly concerned about the fate of Keystone XL, which would connect the tar sands with Gulf Coast refineries. TransCanada's Energy East also faces
increasing opposition
, as does a proposed pipeline to the west, Enbridge's Northern Gateway. Enbridge got
approval from the Canadian government
to build Northern Gateway,
but work has been delayed
, in large part because of opposition from First Nation communities along the pipeline route.
"TransCanada has been saying,
'If you don't let us build Keystone, we will build to the east,'"
said Keith Stewart, the climate and energy campaign coordinator for Greenpeace Canada. "These documents show that they're clearly worried about the Energy East pipeline as well. It's going to face just as rough a ride as Keystone or Northern Gateway."
The Energy East documents outline plans to create a "grassroots" advocacy campaign on behalf of TransCanada, recruit outside voices backing the company, and investigate environmental groups seen as threats to the project.
Stewart said the documents show Edelman and TransCanada "systematically organizing what we'd call a dirty tricks campaign" typical in the US, but not in Canada. "We're nice, we don't do things like that," Stewart said.