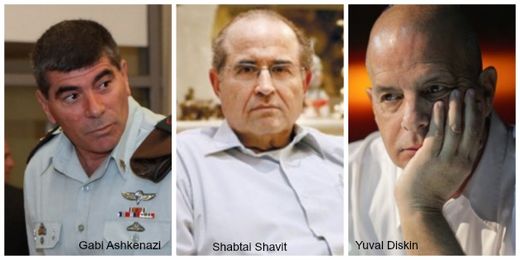 Three of Israel's most senior ex-defense officials came out last week, almost simultaneously, with blistering attacks on the security policies of the Netanyahu coalition. Appearing in separate forums, the three - former Mossad director Shabtai Shavit, former Shin Bet director Yuval Diskin and former IDF chief of staff Gabi Ashkenazi - each charged that the government is endangering Israel's future by allowing right-wing extremists to sabotage prospects for a two-state solution, putting the country on a path toward a single, binational state that will be plagued by continuing ethnic strife.
Two of the attacks appeared as op-ed essays in last Friday newspapers. One, by Diskin, appeared in the mass-circulation
Yediot Ahronot
. Titled "What lies ahead for Israel" (in English
here
), it argues that the current "Jerusalem intifada" is a "microcosm" of what awaits Israel if it does not resume serious peace negotiations with the Palestinian leadership.
Diskin is particularly critical of the "inflammatory propaganda" and "brainwashing" that depicts Palestinian leader Mahmoud Abbas as an obstacle rather than a partner, when in fact, he writes, Abbas is strongly opposed to terrorism and maintains a "clear policy" of security cooperation with Israel.
The second, by Shavit, appeared in the liberal-leaning
Haaretz
. Titled "Blindness, Stupidity, Cause for Concern" (
here
, Hebrew only), it worries about the "haughtiness and arrogance" among "central factors in religious Zionism,"
together with more than a bit of the messianic thinking that rushes to turn the conflict into a holy war. If this has been, so far, a local political conflict that two small nations have been waging over a small and defined piece of territory, major forces in the religious Zionist movement are foolishly doing everything they can to turn it into the most horrific of wars, in which the entire Muslim world will stand against us.

I also see, to the same extent, detachment and lack of understanding of international processes and their significance for us. This right wing, in its blindness and stupidity, is pushing the nation of Israel into the dishonorable position of "the nation shall dwell alone and not be reckoned among the nations" (Numbers 23:9).