Judges have thrown out a case that accused the partner of President François Hollande of misusing public funds.
It was brought by the Casino supermarket heir Xavier Kemlin, who claimed that,
because there was no legal link between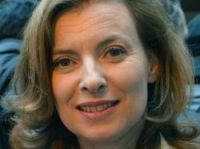 Valérie Trierweiler, who is
neither married, nor
pacsed
with the president, she had no legal right to benefits that come with the position of France's First Lady.
Mr. Kemlin filed his case in April, but was only heard on November 13, by the Doyen des Juges d'Instruction at the Tribunal de Grande Instance in Paris. Yesterday the judge refused to accept the case. "She cannot therefore be considered first lady, let alone housed, fed and looked after by six full time employees," he said.
A Facebook page backing his case received more than 9,000 likes.