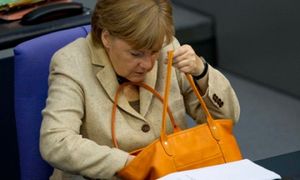 As the military situation in Ukraine grinds to a stalemate, the still more desperate economic plight comes to the fore, laying bare the culpable folly of European diplomacy
.
In an earlier posting we had suggested that the unification of Germany could serve as a benchmark for the potential cost of any attempt to keep the implicit promise to Ukraine of EU accession, tossing out a guesstimate of
one-half trillion Euros - an obviously impossible sum in the context of a European continent sliding into renewed recession.
In a recent paper, Carnegie's always incisive Dmitri Trenin has suggested that the actual cost of the reunification of Germany was closer to E1.5 trillion, albeit over a period of 23 years. While this latter number is almost certainly closer to the mark, given the realities it is no more than a substantial rounding error; Mr Poroshenko's trip to Washington - from which he returned with a generous $52 million - suggests that
the likelihood of Ukraine receiving anything like either number is identical - precisely nil.