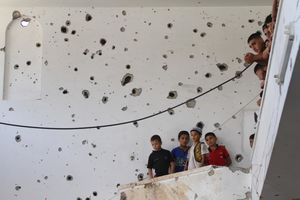 Israel killed and injured more civilians with explosive weapons than any other state in the world in 2014 due to its military assault on Gaza. This is according to a new
report
by Action on Armed Violence (AOAV), an organization that tracks the global impact of explosive weapons on civilians.
The report defines explosive weapons as "munitions such as air-dropped bombs, mortars, improvised explosive devices and artillery shells" which cause
"deaths, injuries and damage by projecting explosive blast, heat and often fragmentation around a point of detonation.
"
While both state and non-state groups contributed to civilian casualties in 2014, states were responsible for 28 percent of civilian injuries and deaths, a sharp 17 percent rise from the previous year.
This was due in large part to Israel's military assault on Gaza, which accounted for 44 percent of all explosive violence in 2014.