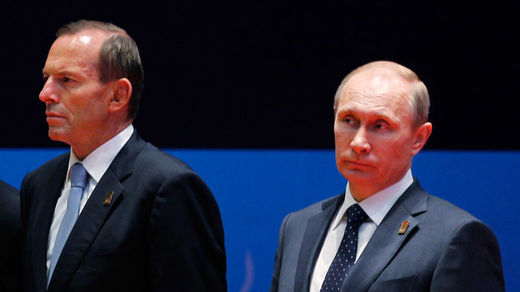 The prime minister of Australia, currently presiding over the G20, has hinted the Russian president could be dropped from the next summit in Brisbane over the MH17 crash in Ukraine. This came even before international investigators made it to the scene.
"
We take a very, very dim view of this and the idea that Russia can wash its hands of responsibility because this happened in Ukrainian airspace just does not stand serious scrutiny. We all know what's happening in the Ukraine
,"
Tony Abbott said at a press conference on Saturday.
It was
"
Russian-controlled territory, Russian-backed rebels, quite likely a Russian-supplied weapon. Russia can't wash its hands of this,
"
Abbott reiterated on Sunday.
The Malaysian Airlines MH17 flight went down crashed in Ukraine Thursday. Among the 283 passengers and 15 crew members on board the perished were 28 Australians.
The Australian government
"
takes a very dim view of countries which facilitate the killing of Australians, as you'd expect us to,
"
Abbott said.
International investigation of the MH17 flight incident has not started yet, but Kiev has already attempted to present questionable evidence against the eastern self-defense forces, accusing them of taking down the Boeing.