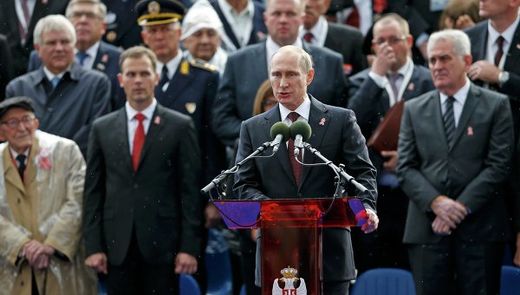 President Putin's visit to Serbia has received a sour reception from the EU. Though official comment has been muted (it is not as if there is anything to complain about), commentary in European media clearly expresses EU annoyance.
Why should this be so?
Why should European leaders be upset that a Russian leader attends a ceremony in celebration of his country's liberation of a European capital from fascism?
In fact Putin's visit strikes on European nerves with a host of issues, warranting the European reaction.
At its most basic, the reminder of Russia's central role in the defeat of fascism and the liberation of Europe from Hitler's yoke is unwelcome to the leaders of certain EU states (e.g., Poland, Romania, the Baltic States) who have spent an inordinate amount of time denying or minimizing the fact and drawing false parallels between Nazism and Communism. That a European country, such as Serbia, celebrates without qualification its liberation by the Soviet army, explodes this false narrative.
Beyond this, there are more immediate political considerations linked to the Ukrainian and Yugoslav crises.