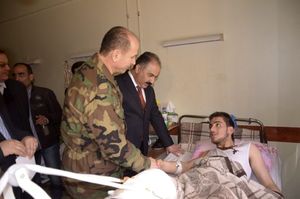 Britain and France have informed the United Nations that there is credible evidence that Syria used chemical weapons on more than one occasion since December, according to senior diplomats and officials briefed on the accounts.
In letters to U.N. Secretary General Ban Ki-moon, the two European powers said soil samples, witness interviews and opposition sources support charges that nerve agents were used in and around the cities of Aleppo, Homs and possibly Damascus, the officials said, speaking on the condition of anonymity because of the sensitivity of the matter.
The European accounts are in part aimed at countering accusations by the Syrian government that opposition forces had fired chemical weapons during fighting in the town of Khan al-Asal near Aleppo on March 19, killing 26 people, including Syrian troops.
European diplomats acknowledge that Syrian forces may have been exposed to chemical agents during the attack, but they say it was a "friendly fire" incident in which the troops were hit when a government shell missed its opposition target.
The Syrian government has seized on the incident to make its case that opposition forces have introduced chemical weapons into the civil war.
A day after the alleged attack, Syria's U.N. ambassador, Bashar Jaafari, invited the world body to send an "impartial" technical team to the country confirm the opposition's use of chemical weapons. Russia strongly endorsed the Syrian request.
The U.N. chief agreed to establish a fact-finding team, but the effort has since been bogged down over a dispute about the scope of the investigation, with Russia backing the Syrian request for a limited probe into the Aleppo incident, and key Western powers, including Britain, France and the United States, proposing a broader investigation that examines the possible use of chemical weapons throughout Syria.
U.N. inspectors have not yet been permitted into the country.
President Obama has warned that the use of chemical weapons in Syria would be a "game changer" for the United States. After the Aleppo incident, Obama said that the United States would "investigate thoroughly exactly what happened" and that he had "instructed my teams to work closely with all other countries in the region and international organizations and institutions to find out precisely whether this red line was crossed."
But diplomats say the United States has responded more cautiously. The United States, said one Security Council diplomat, has been "less activist on this" than Britain and France.
James R. Clapper Jr., director of national intelligence, told a Senate panel Thursday that accusations that the Syrian regime has used chemical weapons are still being evaluated.
"The increasingly beleaguered [Syrian] regime, having found that its escalation of violence through conventional means is not working, appears quite willing to use chemical weapons against its own people," he said. "We receive many claims of chemical warfare use in Syria each day, and we take them all seriously, and we do all we can to investigate them."