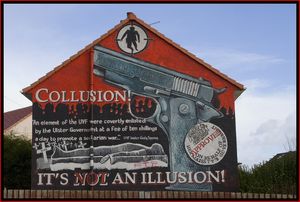 Collusion is a special feature length television documentary commissioned and funded by RTÉ.
In a first television interview, a member of the gang linked to the Dublin Monaghan bombs and many other atrocities reveals that their intent was to foment a civil war - and in that event, they were confident they could "crush the other side".
Taoisigh Jack Lynch and Liam Cosgrave were met with flat denials when they raised collusion with their British counterparts. The film will reveal that the British were well aware of it.
Supported by archive evidence and interviews with senior Irish and British officials of the period, the film reveals that the British Army decided early on it could not fight a war on two fronts and concentrated its efforts on "destroying" the Provisional IRA, while at the same time saying publicly it was dealing with the conflict in an even handed way.
Such was the extent of collusion in the eighties, the film will also reveal that an RUC Special Branch officer tipped off a UDA brigadier about an informer. It could easily have led to the man's murder. Northern Ireland's Police chief George Hamilton confirms a police officer could face serious charges.