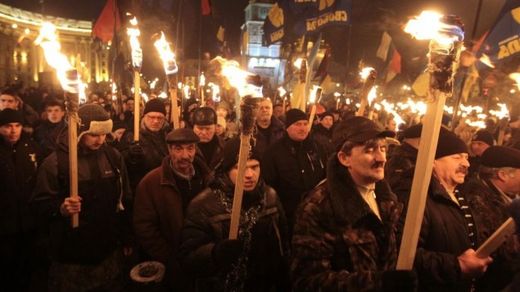 Stepan Bandera's Organization of Ukrainian Nationalists encouraged locals to 'destroy' Jews and Poles in the 1940s
About 15,000 people marched through Kiev on Wednesday night to honor Stepan Bandera, glorified by some as a leader of Ukraine's liberation movement and dismissed by others as a Nazi collaborator.
The march was held in Ukraine's capital on what would have been Bandera's 105th birthday, and many of the celebrants carried torches.
Some wore the uniform of a Ukrainian division of the German army during World War II. Others chanted "Ukraine above all!" and "Bandera, come and bring order!"
However, many of Bandera's followers sought to play down his collaboration with the Germans in the fight for Ukraine's independence as the leader of the Organization of Ukrainian Nationalists, Ukraine's foremost nationalist organization in the first half of the 20th century.