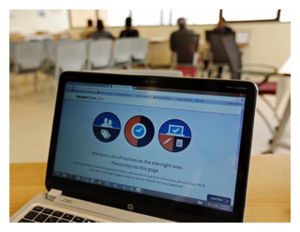 The on-going disaster of the Affordable Care Act otherwise known as Obamacare is undoubtedly the most poorly planned implementation of any government program in American history. This law which forces people to buy health insurance or face a fine is one of the dumbest ideas ever conceived but it is the implementation of it that has been even dumber. The implementation has been so horrible that one has to question if this was done intentionally to plunge the entire healthcare system into chaos.
This might sound counterintuitive but it really isn't. The reason for the Obama regime to do something like this is that it would give them the pretext to justify a complete government takeover of America's healthcare system. This would be presented as the false solution to a problem that they created in the first place. If this wasn't part of a broader conspiracy, the only other explanation for the piss poor implementation is that the Obama regime put mentally retarded criminals in charge of its drafting, planning and execution.
There are so many facets to this but the Affordable Care Act should really be called the Unaffordable Care Act because it
is actually increasing the cost for existing insurance policies
. The amount of regulations, taxes and fees the law requires insurance companies to comply with forces them to pass on additional costs to customers. Both individuals and businesses have been severely impacted by this. Since the law has gone into effect
it has caused businesses to hire more part time workers and less full time workers
. This is because the law only forces businesses to provide health insurance for full time workers but not part time workers. By mandating that businesses shell out more money to provide health insurance for full time workers it discourages them from bringing on more full time help. Many businesses simply can't afford these additional costs and especially not with Obamacare dramatically increasing the cost of health insurance.