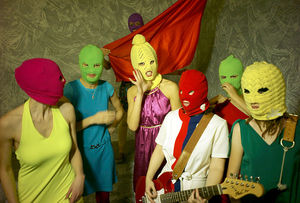 When the US government sanctioned the beating and arrest of US citizens for
swaying from side to side
in the Jefferson Memorial a couple of years ago, it provoked no response from the Western media (and therefore the Western zombie-citizens who rely entirely on the media for their 'opinions'). Yet the Russian government, sorry, 'Putin' (because everyone knows Putin is a dictator, right?) is broadly denounced as a 'tyrant' by these same Western zombies (again because their 'outraged opinion' was deftly inserted into their brains by the Western media) for putting a stop to the ugly spectacle of deranged Russian women
sticking chickens up their vaginas in supermarkets
,
daubing outlines of phalli on bridges
,
staging 'orgies' in a museum
and
defiling the peace and tranquility of Russian Orthodox churches
as part of their three year long international attack on the Russian government.
Disconnect? For sure, but, like I said, don't expect any logic from the collective mind of the citizens of Western zombie nations. All you can hope to do is understand the psychopathic logic of Western governments and the way it infects the minds and manipulates the emotions of Western citizens.
'Pussy Riot', or 11 Russian women between the ages of 20-33, has
received direct moral support from the US State Department
and likely
indirect financial support
, and appears to be one aspect of the US government's decade-long attempt to undermine Russian society and its president, Vladimir Putin.