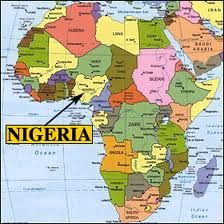 Nigeria, officially the Federal Republic of Nigeria, is a
federal
constitutional republic
comprising
36 states
. According to the CIA World Fact Book, Nigeria is slightly more than twice the size of California. The country is located in West Africa and shares land borders with the Republic of
Benin
in the west,
Chad
and
Cameroon
in the east, and
Niger
in the north. Its coast in the south lies on the
Gulf of Guinea
on the Atlantic Ocean. The above description paints a picture of how exposed Nigerian borders could be at any time. The three largest and most influential ethnic groups in Nigeria are the
Hausa
,
Igbo
and
Yoruba
. In terms of religion Nigeria is roughly split into halves between Muslims in the North and Christians in the South. However, a very small minority practice traditional religion, as often portrayed in Nigerian/African movies.
Recently, the incidences of bombings which create general insecurity in Nigeria have become frequent and much more dangerous. During the 50
th
independence anniversary celebrations, a powerful bomb exploded at the Eagle Square, killing at least 12 people and maiming others. A similar bomb exploded at a military cantonment in Abuja killing several people, leaving many others wounded. This was suddenly followed by a terrific multiple bomb blasts that left at least 143 people dead, 100 bodies were taken to a morgue at Murtala Muhammed Specialist Hospital in the city centre. In another instance, a powerful bomb detonated at the Nigeria's Police Headquarters killing about a dozen and injuring many. Then there was the United Nations' headquarters in Abuja where 22 people were killed and several others wounded following a suicide bomb attack. Just a few weeks later, another suicide bomb attack happened in a church killing 43 and injuring 72 of Christian worshipers. This month (8
th
April 2012), during the Easter ceremony, officials say at least 38 people died in a car bomb somewhere in the northern city of Kaduna. A few hours later, another bomb detonated in the central city of Jos, living tens of people wounded. The list goes on and on...