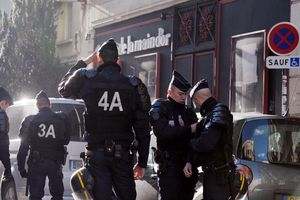 Police in France have raided properties linked to controversial comedian Dieudonne M'Bala M'Bala as part of a fraud inquiry, French media report.
They swooped on several properties owned by Dieudonne as well as the Main d'Or theatre in Paris, where he has staged some of his shows.
He is suspected of a fraudulent declaration of bankruptcy, money-laundering and abuse of company assets.
The government has vowed to make him pay fines for hate speech.
According to French media, he has transferred 400,000 euros (£331,000; $547,000) to Cameroon since 2009 while failing to pay fines totalling 65,000 euros.
Dieudonne has been convicted six times of hate speech against Jews and popularised a gesture called the "quenelle", widely regarded as an inverted Nazi salute.