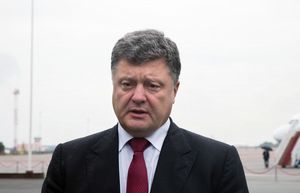 Ukraine's President Petro Poroshenko has signed a decree banning export of military and dual-use items to Russia.
Poroshenko's decree enforced the National Security and Defense Council's decision of August 27 to stop sending to Russia military and other items that may be used by the armed forces. The only exemption was granted to equipment used for research and peaceful purposes as part of international space projects.
Deeper prohibition now targets exports of dual-use items such as helicopter engines, allowed until now in a previous order from then Acting President Oleksandr Turchynov before Poroshenko came to power.
Poroshenko's move lags a week behind plans already announced by Russia's Industry and Trade Ministry that domestically manufactured defense equipment will now replace military items previously supplied by Ukraine.