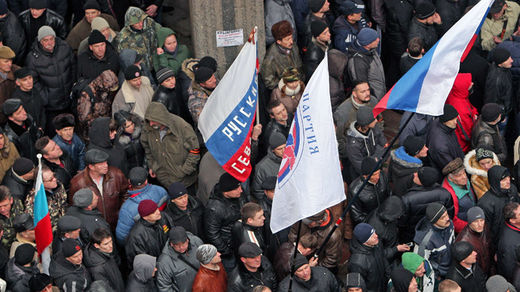 Ukraine's swift abolition of the law allowing the country's regions to make Russian a second official language has worried European MPs and officials, and has been condemned outright as a "violation of ethnic minority rights" by Russian diplomats.
The European Parliament has approved a resolution on Ukraine, which among other things calls on the country's MPs and the new government to respect the rights of minorities, particularly when it comes to the use of languages.
Ukraine's new leaders should distance themselves from extremists and avoid any provocation that might fuel "
separatist moves
," MEPs said, the parliament's press service reported. MEPs said that the new government should respect the rights of minorities in Ukraine, including the right to use Russian and other minority languages.
The resolution, proposed by six political groups in the European Parliament, urges Ukraine to ensure that its new legislation complies with the European Charter for Regional or Minority Languages.
The Ukrainian Parliament (Verkhovna Rada) abolished the 2012 law "On State Language Policy" the day after it voted to dismiss President Viktor Yanukovich. The law allowed the country's regions to use more official languages in addition to Ukrainian if they were spoken by over 10 percent of the local population. Thirteen out of Ukraine's 27 regions, primarily in Eastern Ukraine, then adopted Russian as a second official language. Two Western regions introduced Romanian and Hungarian as official languages.