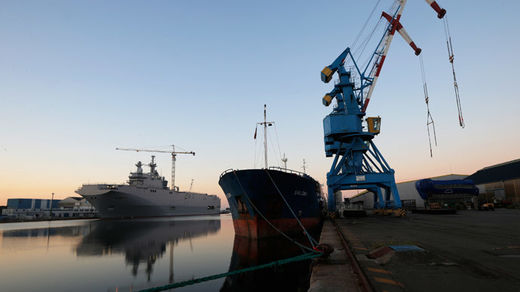 A 400-strong Russian crew is manning a French-built Mistral-class warship as it conducts sea trials. It comes after Paris announced the possible cancellation of the contract due to the conflict in Ukraine.
The Vladivostok left the harbor of Saint-Nazaire in western France on Saturday for the ship's fifth training and trial trip. The warship is manned by some 400 Russian officers and sailors, who had arrived in France to learn how to helm this kind of vessel.
The number of crew far exceeds the 170 necessary for Mistral-class ships, but the Russians are preparing to have at least two ships eventually and are therefore preparing more sailors to man them.
The trial was meant to start Wednesday, but was postponed by several days for technical reasons. The Vladivostok is scheduled to have a total of six trials, before it is handed over by the French shipbuilders to Russia later in November.