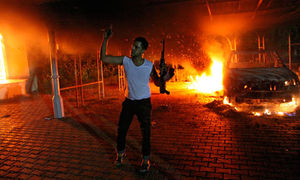 The US mission in Benghazi that came under attack by militants on September 11 was mainly
a secret CIA operation
, the
Wall Street Journal
reports, shedding new light on the deadly assault.
President Barack Obama's administration has faced a storm of pre-election questions about why there was not more security at the US consulate where four Americans, including ambassador Chris Stevens, were killed on September 11.
The
Wall Street Journal
said on Friday the mission was mainly a CIA operation, adding that of the 30 American officials evacuated from Benghazi following the assault, just seven worked for the State Department.
It also identified the two security contractors killed in the attack - former Navy SEALs Tyrone Woods and Glen Doherty - as working for the Central Intelligence Agency and not the State Department.
In a break from tradition, it said CIA director David Petraeus did not attend the ceremony when the coffins arrived back on American soil in order to conceal the CIA operation in eastern Libya.