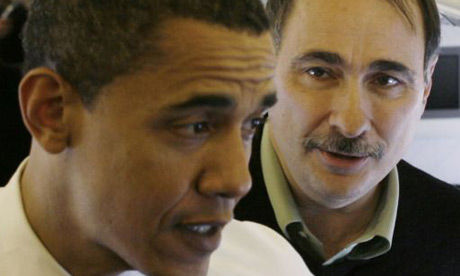 By hiring long-time Obama spokesmen Robert Gibbs and David Axelrod, the cable news network clarifies its function
Last month,
MSNBC
's Al Sharpton conducted
a spirited debate
about whether Obama belongs on Mount Rushmore or instead deserves a separate monument to his greatness (just weeks before replacing frequent Obama critic Cenk Uygur as MSNBC host, Sharpton
publicly vowed
never to criticize Barack Obama under any circumstances: a vow he has faithfully maintained). Earlier that day on the same network, a solemn discussion was held, in response to complaints from MSNBC viewers, about whether it is permissible to ever allow Barack Obama's name to pass through one's lips without prefacing it with an honorific such as "President" or "the Honorable" or perhaps "His Excellency" (that
really did happen
).
Yesterday, Chris Matthews - who infamously confessed that listening to Obama (sorry: President Obama) gives him a "thrill going up his leg" -
hosted another discussion
, this one involving former Obama campaign aide and MSNBC contributor Joy Reid, about whether the Honorable President should be mounted on Mount Rushmore (Matthews restrained himself by explaining that "I'm not talking about Mt. Rushmore but perhaps the level right below it", but then shared this fantasy: "If [Obama] were hearing us talking about him maybe mounting Mount Rushmore, getting up there with the great presidents...what would he be thinking? 'That's exactly what I'm doing?'".
A Pew poll found
that
in the week leading up to the 2012 election, MSNBC did not air a single story critical of the President
or a single positive story about Romney - not a single one - even as Fox aired a few negative ones about Romney and a few positive ones about Obama. Meanwhile, Obama campaign aides who appeared on MSNBC were typically
treated with greater deference
than that shown to the British Queen when one of her most adoring subjects is in her presence for the first time.
Surveying this assembled data, one does not need to be a veteran cable news executive to see what MSNBC has been so sorely lacking: people who loyally defend President Obama. Thankfully, MSNBC is now boldly fixing that glaring problem; they began two weeks ago with
this
:
"Former White House press secretary Robert Gibbs has become a contributor for MSNBC. Rachel Maddow introduced Gibbs as a new member of her network's stable in the final minutes before President Obama's State of the Union address on Tuesday night. . . . Gibbs was White House press secretary from 2009 to early 2011, when he left to become a senior campaign adviser for Obama's re-election."
I wonder: does someone who goes from being an Obama White House spokesman and Obama campaign official to being an MSNBC contributor even notice that they changed jobs?
But MSNBC wasn't content merely to hire Obama's former Press Secretary; today they did
this
:
"David Axelrod, the former White House senior advisor and senior strategist for President Obama's 2008 and 2012 campaigns, has joined NBC News and MSNBC as a senior political analyst, the networks announced today. . . . Like Gibbs, Axelrod will appear across the networks' programming."
Impressively, David Axelrod left the White House and actually managed to find the only place on earth arguably more devoted to Barack Obama. Finally, American citizens will now be able to hear what journalism has for too long so vindictively denied them: a vibrant debate between Gibbs and Axelrod on how great Obama really is.