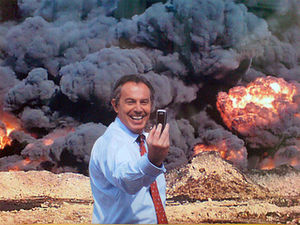 Tony Blair attributes his success as a conflict mediator to his ability to absorb the "sense of pain" felt by participants and his skill in transmitting raw emotions from one side to the other.
The former prime minister says mediators can only bring opponents together if they can understand their suffering on an "empathetic level".
Blair was appointed in 2007 as envoy for the Middle East Quartet of the US, EU, UN and Russia - which aims to mediate a peace process in the Israel-Palestine conflict - after his success in brokering a political settlement in Northern Ireland.
In a new foreword to the latest volume of diaries by Alastair Campbell, which focus entirely on the Northern Ireland peace process, Blair writes that the main participants in the negotiations became his friends because "I had inside me something of the passions they felt inside them".
Campbell, whose diaries are published this weekend, likens Blair to a marriage guidance counsellor. In an interview for Saturday's
Guardian
, the former Downing Street communications director says: "Tony's genius was to be like a Relate counsellor. It was like he was absorbing all this angst and anger and bitterness and hatred and the rest of it. He was somehow able to make both sides feel that he kind of got it - he really did understand it."