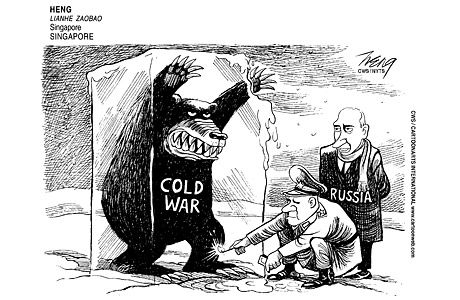 Considering the relative lull which seems to be taking place in the Ukraine, this might be a good time to look at the impact which the dramatic developments in the Ukraine have had upon the internal political scene in Russia and what that, in turn, could mean for the international (dis)order. In order to do that, I would like to begin by a short summary of a thesis which I have already mentioned in the past (for a discussion please see
here
,
here
,
here
and
here
):
Setting the Russian part of the stage
First, some bullet-style reminders on topics previously covered on this blog:
There is no real Parliamentary opposition in Russia. Oh, not at all because "Putin is a dictator" or because "Russia is not a democracy", but simply because Putin has brilliantly managed to either co-opt or defang any opposition. How? By using his personal authority and charisma to promote an agenda which the other parties could not openly oppose. Formally, opposition parties do, of course, still exist, but they completely lack credibility. This might eventually change with the new Law on Political Parties.
The only "hard" opposition to Putin in modern Russia are the various openly pro-US individuals (Nemtov, Novodvorskaia, etc) and their associated movements and parties. At best, they represent something in the range of 5% (max!) of the population.
Putin did a "judo move" on his real opponents (more about them later) by using the strongly "presidential Constitution" adopted in 1993 to basically concentrate all the power in his hands.
The *real* "opposition" to Putin and his project can only be found *inside* the Kremlin, the "United Russia" party and some influential figures. I refer to this real opposition as the "Atlantic Integrationists" (AI) because their key aim is to integrate Russia into the AngloZionist worldwide power structure.
The *real* power base of Putin is in the Russian people themselves who support him personally, the All-Russian People's Front, and in the group which I call the "Eurasian Sovereignists" (ES) whose primary aims is to develop a new, multi-polar, world order, to to break free from the current AngloZionist controlled international financial system, to re-orient as much of the former USSR as possible towards an integration with the East, and to develop of the Russian North.