What is it that really "scared the hell" out of the Anglo-Americans?

Could Ukraine become an area of cooperation between Russia and Europe? Could European countries break free?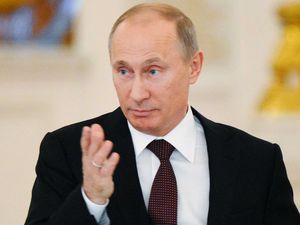 Concerning Ukraine, it now appears that the fury shown by the Anglo-Americans (that seems really too excessive and reckless even considering recent standards) is due not simply to the danger of losing Ukraine, but to the danger of losing Europe.
This issue was brought to the forefront in a speech given by the Russian president Vladimir Putin in the Armenian capital Yerevan on Dec 2:
"The events in Ukraine, they remind me less of a revolution than of a pogrom. And strange as it is, this all has little to do with Ukraine-EU relations... As I already said, everything that is happening is not directly related to cooperation between Ukraine and the European Union..." http://eng.kremlin.ru/transcripts/636
Trilateral Agreement
I have the impression that Putin is not just aiming at "taking back" Ukraine from the West. Actually he intends to use the Ukraine issue in a very subtle way to establish a trilateral agreement - EU (or at least part of it), Ukraine, Russia.