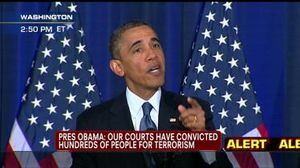 Imagine if at some point during the 1990s or 1980s the President of the United States had given a speech. And this was his speech:
My fellow Americans, I've been regularly shooting missiles into people's houses in several countries. I've wiped out families. I've killed thousands of people. Hundreds of them have been little children.

I've killed grandparents, wives, daughters, neighbors. I've targeted people without knowing their names but because they appeared to be resisting an occupation of their country. I've killed whoever was too near them. Then I've shot another missile a few minutes later to kill whoever was trying to help the victims.

I don't charge these people with crimes. I don't seek their extradition. I don't even try to kidnap them. And I don't do this to defend against any imminent threat. I don't make you safer by doing this. It goes without saying (although the people in the countries I target keep saying it) that I'm generating more new enemies than I'm killing. But I urge you to remember this: All but four of the people I've killed have been non-U.S. citizens.