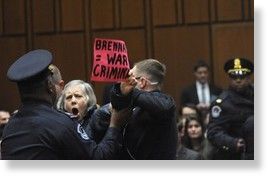 President Obama adopted most of President Bush's counter-terrorism policies, argues John Kiriakou - the former CIA official who blew the whistle on the agency's torture practices and is now set to go behind bars for it.
After 9/11 Kiriakou served as the chief of counter-terrorist operations in Pakistan. Now he is heading to prison, having been sentenced to two-and-a-half years.
Despite that, he says he is proud to have played a role in outlawing torture. Voting for Obama, Kiriakou believed that it would bring positive change - but it never came, he told RT. "I never believed I would be going to prison under a President Obama. Never."
RT
: You were convicted of revealing the identity of an agent to a freelance reporter who, by the way, never even published it. You said you regretted sharing the name of the agent, of the officer, that you apologized for it. But you also said it was not the reason the government went after you. Why do you think the government went after you?
John Kiriakou
: I've never believed that my case was about a leak. I've always believed my case is about torture. When I went on ABC News in December 2007 and I said that not only was the CIA torturing prisoners, but that the torture policy was an official US Government policy that was approved at the very top, by the President of the United States himself, the CIA filed what's called "a crimes report" against me the next day with the Justice Department. The Justice Department never stopped investigating me from December of 2007 until I was finally arrested in January 2012. So to say that this case is a result of a name that was found in attorney's brief at Guantanamo is just simply not true.