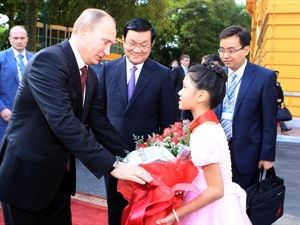 An old friend is never forgotten. After the collapse of old ideologies and Cold War patron-client relations, Russia and Vietnam are now rebuilding robust commercial, industrial and strategic ties.
Relations have "stood the test of time, having lived through the numerous tragic events of the 20th century, drastic changes in the world as well as in our countries", Russian President Vladimir Putin wrote in an article published in Vietnam's state media ahead of his November 12 state visit in Hanoi. He later quoted Vietnamese independence hero Ho Chi Minh, saying the deceased revolutionary's words still provided "spiritual instruction" for both nations' peoples.
Rhetoric aside, Putin and his Vietnamese counterpart, Truong Tan Sang, signed 17 bilateral agreements for enhanced strategic and energy cooperation. The bilateral deals will boost Moscow's role in the Association of Southeast Asian Nations' (ASEAN) buoyant and integrating economies. They will also insert Russian influence into escalating territorial disputes in the South China Sea that pit Vietnam against China.