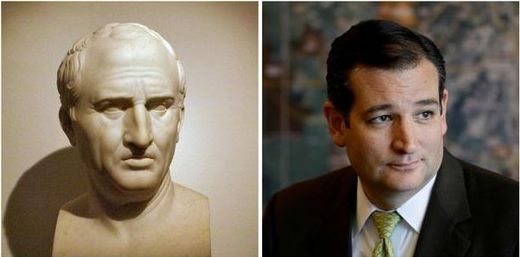 Ted Cruz (R - Texas) begins his speech delivered on the Senate floor Nov. 20th, 2014 with "The words of Cicero - powerfully relevant 2,077 years later," and then proceeds to recite Cicero's speech "
In Catilinam
(Against Catiline)" delivered to the Roman Senate in 63 B.C. with some modifications to fit his purpose. During this period in Roman history there was martial law, accusations of high treason, and the specter of civil war.
America today is increasingly becoming like the - now lost - Roman empire.
After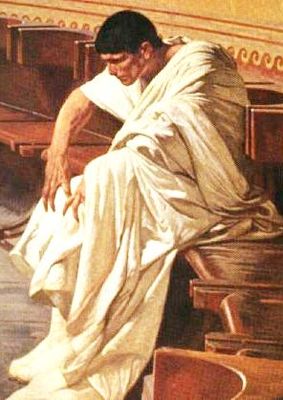 Lucius Sergius Catiline lost an election to Marcus Tullius Cicero for Rome's highest office of consul, Cicero claimed that Catiline conspired to murder him and attempt a
coup d'état
. Cicero presented to the consul a letter, allegedly written by Catiline, that was found and presented as evidence of the conspiracy. Martial law was declared, and Catiline was denounced in the Senate - a triumph about which Cicero never tired of reminding his peers and readers (Catiline went into exile and soon after died in battle with his army). This is the official version of events where Cicero is generally hailed as a remarkable orator and a model for democracy that is still widely taught to this day.
There is much more to this Cicero character and how the Cataline conspiracy became Rome's 9/11. You can listen to a discussion on the subject on this
SOTT Talk Radio broadcast
. A more in depth analysis of the situation will be featured in the next installment of Laura Knight-Jadczyk's
Secret History
series.
Anyway, back to Ted Cruz. Catiline, a Popularis, was an advocate for the poor. He called for the cancellation of debts and openly backed land redistribution. Cicero, on the other hand, was aligned to the Optimates ("Best Men") who wished to preserve the aristocracy's power. Cicero created a law banning such populist gestures. In Cruz's speech, he aligns himself with Cicero and paints Obama as a modern day Catiline. As if Obama was not (s)elected by, and is not working for the 1% that enjoys the fruit of the labours of the masses of ordinary humanity.
Cruz delivers quite the inflammatory speech and makes sure to include the threats implied in Cicero's original speech.