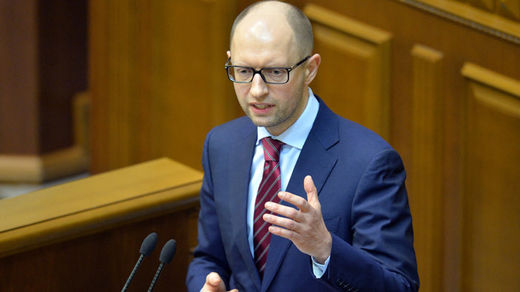 Ukraine's new Prime Minister, opposition leader Arseny Yatsenyuk, has promised the government would do its best to avoid a default, a difficult task as the country's treasury is empty and the economy is in disarray.
Yatsenyuk says he expects an EU/IMF economic stabilization package soon, but didn't give any specifics on timing.
Strengthening ties with the European Union and the International Monetary Fund will remain a priority as Ukraine rebuilds, Yatsenyuk said on Thursday in Kiev, Itar-Itass reported.
Yatsenyuk said negotiations with Russia would continue, and he considers the neighboring country
"a partner".
The IMF failed to come through with a loan of $10-15 billion last August, and it remains to be seen what offer they will come up with for the new government. But in December Ukraine signed a $15 billion loan deal with Russia. The first $3 billion was paid to Ukraine in December, but the second installment of
$2 billion
, is postponed until Moscow deems Ukraine has formed a
legitimate
government.