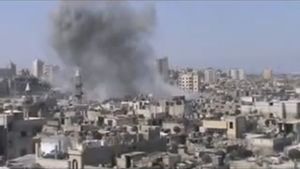 Special U.N. envoy Kofi Annan acknowledged in an interview published Saturday that the international community's efforts to find a political solution to the escalating violence in Syria have failed.
Annan also said that more attention needed to be paid to the role of longtime Syrian ally Iran, and that countries supporting military actors in the conflict were making the situation worse.
"The evidence shows that we have not succeeded," he told the French daily Le Monde.
Annan, the special envoy for the United Nations and the Arab League, is the architect of the most prominent international plan to end the crisis in Syria, which activists say has killed more than 14,000 people since March, 2011.
His six-point plan was to begin with a cease-fire in mid-April between government forces and rebels seeking to topple the regime of President Bashar Assad. But the truce never took hold, and now the almost 300 U.N. observers sent to monitor the cease-fire are confined to their hotels because of the escalating violence.