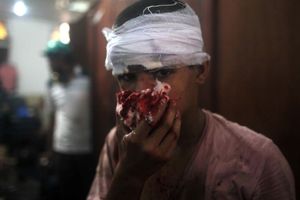 This marks a tragic turning point, from which it will take Egypt years to recover
The Egyptian crucible has broken. The "unity" of Egypt - that all-embracing, patriotic, essential glue that has bound the nation together since the overthrow of the monarchy in 1952 and the rule of Nasser - has melted amid the massacres, gun battles and fury of yesterday's suppression of the Muslim Brotherhood. A hundred dead - 200, 300 "martyrs" - makes no difference to the outcome: for millions of Egyptians, the path of democracy has been torn up amid live fire and brutality. What Muslim seeking a state based on his or her religion will ever trust the ballot box again?
This is the real story of
today's bloodbath
. Who can be surprised that some Muslim Brotherhood supporters were wielding Kalashnikovs on the streets of Cairo? Or that supporters of the army and its "interim government" - in middle-class areas of the capital, no less - have seized their weapons or produced their own and started shooting back. This is not Brotherhood vs army, though that is how our Western statesmen will mendaciously try to portray this tragedy. Today's violence has created a cruel division within Egyptian society that will take years to heal; between leftists and secularists and Christian Copts and Sunni Muslim villagers, between people and police, between Brotherhood and army. That is why Mohamed el-Baradei resigned tonight. The burning of churches was an inevitable corollary of this terrible business.