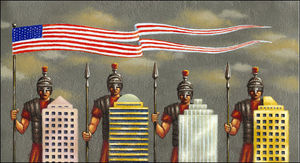 American Foreign Policy - Have our war lovers learned anything?
Over the past four decades, of all the reasons people over a certain age have given for their becoming radicalized against US foreign policy, the Vietnam War has easily been the one most often cited. And I myself am the best example of this that you could find. I sometimes think that if the war lovers who run the United States had known of this in advance they might have had serious second thoughts about starting that great historical folly and war crime.
At other times, however, I have the thought that our dear war lovers have had 40 years to take this lesson to heart, and during this time what did they do? They did Salvador and Nicaragua, and Angola and Grenada. They did Panama and Yugoslavia, and Afghanistan and Iraq. And in 2012 American President Barack Obama saw fit to declare that the Vietnam War was "one of the most extraordinary stories of bravery and integrity in the annals of military history".
1
So, have they learned nothing? When it comes to following international law, is the United States like a failed state? The Somalia of international law? Well, if they were perfectly frank, the war lovers would insist that the purpose of all these interventions, and many others like them, was to keep the atheists out of power - the non-believers in America's god-given right to rule the world - or to at least make life as difficult as possible for them. And thus the interventions were successful; nothing to apologize for; even the Vietnam War achieved its purpose of preventing that country from becoming a good development option for Asia, a socialist alternative to the capitalist model; precisely the same reason for Washington's endless hostility toward Cuba in Latin America; and Cuba has indeed inspired numerous atheists and their alternatives for a better world.