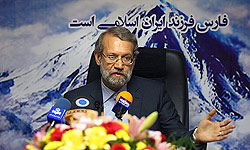 Iranian Parliament Speaker Ali Larijani said the United States violated the international norms by removing the name of the Mojahedin-e Khalq Organization (MKO, also known as the MEK, NCR and PMOI) from the list of terrorist groups.
"The United States suddenly prepares a ground to strike the Monafeqin (Hypocrites, as they are called in Iran) grouplet from their terror list, and they, in fact, disrespected international norms and human criteria by such actions," Larijani told FNA on Sunday.
He said Washington's claims about war on terrorism as well as promotion of democracy and human rights are no more than empty words which meet no action. "As a matter of fact, they (Americans) are looking for servants to obey their orders and if then their actions fall in the domain of terrorism, they won't care."
"Americans took similar measures in Afghanistan and they continue doing so now," Larijani went on saying.
He said the US delisting of the MKO revealed once again to the Iranian nation that "Americans are an accomplice of those who assassinated Iran's leaders and our scholars".