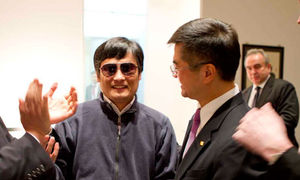 Chinese activist now pleads for help to leave China with family as US denies officials relayed threats from authorities
Blind Chinese activist
Chen Guangcheng
has pleaded for help to let him leave the country with his family, with a US-brokered deal for his future unravelling within hours of his leaving the Beijing embassy where he had taken shelter.
Chen said he never asked to leave
China
in his six days at the mission, which followed his incredible escape from a brutal 19-month regime of illegal house arrest. But he said he only left the embassy because US officials told him Chinese authorities would send his wife and children back to their home province - where they have been watched around the clock and harassed by a team of 100 guards - if he remained inside. He added that, at one point, an American official told him his wife would have been beaten to death - a claim denied by the US.
"I think we'd like to rest in a place outside of China," Chen told Associated Press, in an interview from a hospital room in the capital. "Help my family and me leave safely."
His appeal was in stark contrast to the US secretary of state Hillary Clinton's statement hours earlier, which said the handling of his stay and departure "reflected his choices and our values". She said that China had offered Chen understandings that he could pursue higher education in a safe environment. "Making these commitments a reality is the next crucial task," added Clinton, who arrived in Beijing on Wednesday morning. A friend said Barack Obama was due to make a statement on Chen's case as part of the deal, and the activist initially told his lawyer that he had "received clear assurances".