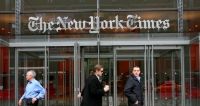 The
New York Times
has essentially become a "propaganda megaphone" to peddle the establishment's narrative - especially when it comes to war - charged foreign correspondent Daniel Simpson, who resigned from the paper in disgust. According to Simpson, the paper, which is often lambasted and ridiculed by conservatives and libertarians for its blatant "liberal" bias, is actually just a propaganda tool for the ruling establishment.
In an
explosive interview with the Kremlin-funded RT
media broadcaster, the former
Times
correspondent, who was based in the Balkans during his stint at the newspaper, offered an inside look at how it all works.
What appears to have bothered him more than anything was how the supposed paper "of record" was so determined to sell the Iraq war to the American people, even if it meant basically lying or repeating government lies to do so.
"It seemed pretty glaringly obvious to me that the 'news fit to print' was pretty much the news that's fit to serve the powerful," Simpson explained, citing the warmongering over Iraq as a prime example.
"The way that the paper's senior staff think is exactly like those in power - in fact, it's their job to become their friends."