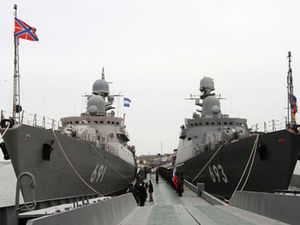 The four major Russian Navy fleets will hold a joint exercise in late January in the Mediterranean and Black seas. It will be the biggest such event in decades.
Commands for the Northern, Baltic, Black Sea and Pacific fleets have been preparing for the exercises since December of last year, the Russian Defense Ministry has announced. Warships detached for the event are currently sailing to those regions.
"The primary goal of the exercise is to train issues regarding formation of a battle group consisting of troops of different branches outside of the Russian Federation, planning of its deployment and managing a coordinated action of a joint Navy group in accordance with a common plan," the ministry's information department explained.
The exercise will include several scenarios, including the loading of amphibious troops from an unprepared coast in the Northern Caucasus onto transport vessels.
The announcement comes days after the launch of the nuclear-powered submarine Vladimir Monomakh, the third Borei-class strategic submarine cruiser produced in Russia. The vessel, armed with Bulava ICBMs, will become part of the country's nuclear deterrence force after completing sea trials.
The Russian Navy's five fleets each have their own headquarters. The strongest, the Northern fleet is based in Severomorsk in north-west of the country. The Baltic fleet is based in Kaliningrad, the western Russian enclave on the coast of the Baltic Sea.