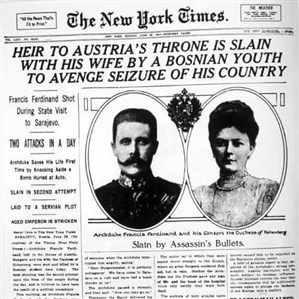 The 100-year anniversary of the most important event in the 20
th
century passed recently with predictably scant notice in the American media. The anniversary can't be that of the allied D-Day invasion of Normandy during World War II, because that event happened only 70 years ago. And it's not the anniversaries of the attack on Pearl Harbor, the moon shot, or the 9/11 attacks.
On June 28, 1914, one hundred years ago, the Archduke Ferdinand - to be the future ruler of the Austro-Hungarian Empire - was gunned down by a Serbian-government sponsored assassination team. What? A few Americans might vaguely remember this incident from their high school social studies or history classes, but is it the most important event in the 20
th
century? Yes.
The event was the spark that triggered what is now called World War I but really should be called, "The World War: Part I." The more recent and popular World War II should be called, "The World War: Part II," because the results of World War I caused World War II. Thus, World War I was historically much more important than its more heralded successor.
Of course, World War II is more popular because we have its veterans still living, because the villains vanquished were more evil than those in the First World War, and because the United States sat unrivaled as a world power after its victory in the second war. Thus, the bipartisan foreign policy elite uses World War II to show that the United States must stop any aggression overseas before it snowballs into a threat to the U.S. homeland. British Prime Minister Neville Chamberlain's appeasement of Adolf Hitler at Munich in 1938, despite Hitler's aggressive behavior in Czechoslovakia, is usually dragged out to demonstrate what not to do in foreign affairs and to illustrate that that the United States must deal very harshly with any such encroachment (for example, Vladimir Putin's recent annexation of Russophilic Crimea). Even here, Chamberlain had no choice but to appease Hitler, because Britain was not yet ready for conflict and had to catch up with Hitler's war preparations (including obtaining the air defenses that saved the British in the critical Battle of Britain).
As for the United States, if you ask any American why the Japanese bombed Pearl Harbor, you will usually get a blank stare instead of an analysis of American actions prior to the attack - the U.S. attempt to strangle the Japanese economy and military by cutting off petroleum-based exports (America was then the largest producer) in reaction to Japanese attempts to join the imperial club in East Asia, of which America and its allies were already members. Americans also conveniently forget that President Franklin Delano Roosevelt refused Japanese overtures to negotiate an end to the embargo and avoid war. FDR already had learned the false lesson of Munich that all negotiation to avoid war is appeasement.