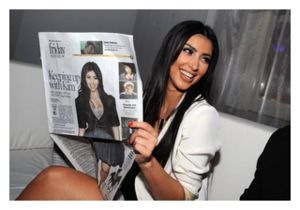 In what is said to be a damning indictment of the scientific community, the latest major breakthrough in scientific research has failed to reach the front pages of most newspapers and media outlets.
Researchers at Harvard University in America have found an instantaneous cure for Aids, Alzheimers and Cancer while also conclusively providing the true meaning of life.
However, these underwhelming breakthroughs have been over shadowed in the media by a picture of a Kardashian, who was deemed more news worthy then discoveries which will save billions of lives.
"You've got to ask yourself if curing aids, cancer and alzheimers was that big of a deal, it would be on the front page, it just would but it's not, so science people should stop moaning," explained internet and Facebook statuses expert Killian Lambert.
Researchers at Harvard pointed out that they had also discovered a way to produce harmless but vital renewable fuels while also solving all water shortages in the third world, yet it seems a picture of a Kardashian in a dress which draws the eye of the viewer to the arse area has pipped these discoveries to the post.