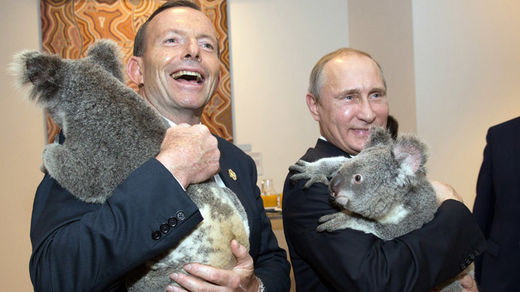 Twitter users have had a field day with Australian PM Tony Abbott's claim that he would "shirtfront" Vladimir Putin at the G20 summit over the MH17 crash - because the leaders' face-to-face encounter actually resulted in a...koala cuddle.
Yes, that's right. Social media is abuzz with photos of Abbott and Putin snuggling up to the world's cutest marsupial, even though previous statements had almost guaranteed that a scuffle was in the works.
When the soft, furry critter sunk its claws into Putin's suit, the Australian PM seemed to feel quite soft and fuzzy inside himself; a smack down shoulder charge appeared to be the last thing on his mind.
Abbott's remark came back in October, after he told journalists that he would "shirtfront" the Russian president on the sidelines of the G20 summit over the MH17 tragedy.
"I am going to shirtfront Mr. Putin - you bet I am - I am going to be saying to Mr. Putin [that] Australians were murdered, they were murdered by Russian-backed rebels," Abbott said.