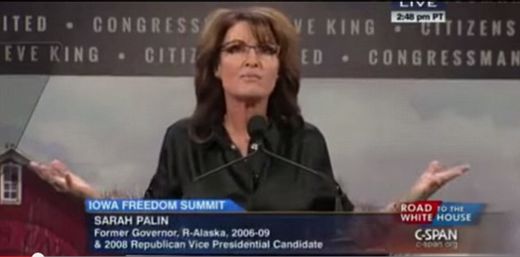 Former Alaska governor and tea party darling gave confusing address at the Iowa Freedom Summit, rambling after her teleprompter froze
The Republicans' 2008 VP nominee had previously said she was 'seriously interested' in a 2016 presidential bid, but sounded not-ready-for-prime-time
Head-scratching lines included: 'The man can only ride you when your back is bent'
Called President Obama an 'overgrown little boy, angrily shouted 'Screw the left in Hollywood!' and yelled that jihadis should 'get the hell out!'
Republican firebrand Sarah Palin is rarely at a loss for words but became unmoored on Saturday in Iowa after her teleprompter froze and left her without portions of her prepared speech.