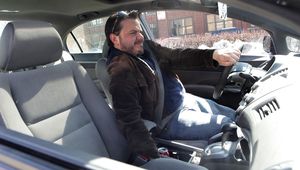 A study released Monday by neurologists at the Massachusetts Institute of Technology has concluded that human beings display their highest range of cognitive capabilities when attempting to retrieve an object accidentally dropped into the narrow space between car seats.
The groundbreaking research paper revealed that most individuals are able to perform extremely complex and otherwise unattainable feats of spatial awareness, tactile sensitivity, and problem solving when faced with reclaiming an item lost within the cramped slot between two automobile seats, or between either the driver or passenger seat and the vehicle's center console.
"While the average person only draws on about 10 percent of their maximum neural capabilities when engaging in most day-to-day challenges, our research showed that the same individual, when attempting to recover a cell phone or parking stub that has slid deep into the crack between car seats, uses nearly his or her entire brain," said professor of neuroscience and the study's lead author James DiCarlo, noting that test subjects utilized the uppermost limits of their perceptive, deliberative, and rational faculties when considering how to regain a wallet or sunglasses lying just beyond reach. "In fact, the instant that our subjects lost an item to one of a car's various crevasses, they immediately called up a battery of sensory sensitivities, planning abilities, and motor skills that the brain is, according to our studies, only able to unlock in these very scenarios."
"What we observed under these conditions represents the very pinnacle of the human brain's vast potential," DiCarlo added.