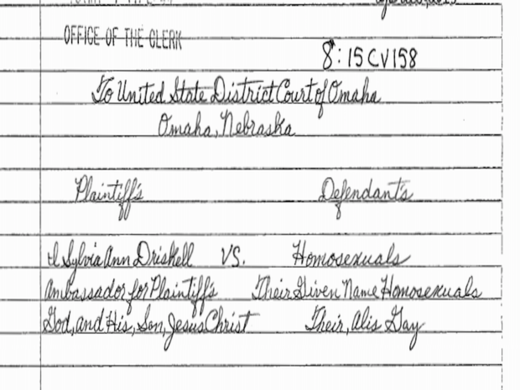 Identifying herself as an ambassador for God and Jesus Christ, a Nebraska woman has filed
a federal lawsuit against all homosexual people
on the planet
for breaking "religious and moral laws."
Sylvia Ann Driskell of Auburn argues in
a seven-page, handwritten petition
delivered to the U.S. District Court of Omaha that "homosexuality is a sin and that the
homosexuals know it is a sin to live a life of homosexuality
," according to the
Lincoln Journal Star
. "Why else would they have been hiding in the closet(?)"
The 66-year-old, who is representing herself in the lawsuit, cites
Webster's Dictionary as well as a series of Bible passages
in her letter, which is riddled with spelling and punctuation errors, the
Omaha World Herald
reports. She challenges U.S. District Judge John M. Gerrard to not "judge God to be a lier (sp)," and slams gay people as "liers (sp), deceivers and thieves" in the case, filed simply as Driskell v. Homosexuals.
"I never thought that I would see a day in which our Great Nation or our Great State of Nebraska would become so compliant to the complicity of some people('s) lewd behavior," she notes.
"It is of the Lord's mercies that we are not consumed because his compassions fail not."
Head here
to view the full petition.