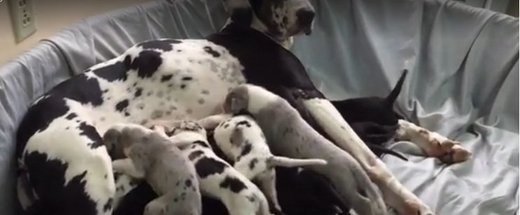 Comment: Well done, Velma!


We all know that Great Danes are among the largest breeds of dogs, so it doesn't come as a surprise that when they give birth, the average litter is 8-10 puppies. However, on December 5, 2015 a record for the largest litter of Great Danes was tied by a 4-year-old pregnant Great Dane named Velma.
Residing in Alabama, Velma shocked her owners Josh and Terri, who had been told to expect a litter of 10 pups; Velma was giving birth to an astounding 19 puppies! She delivered an average of 1 pup per hour, taking a total of 19 hours for the birthing process to be completed.