After several months of diligent effort, staff members working on Hillary Clinton's 2016 presidential campaign confirmed Wednesday they have made significant progress in conditioning her to convincingly recreate and convey a limited spectrum of emotions.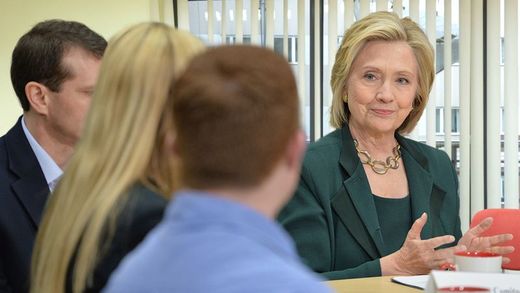 According to aides who drill the Democratic frontrunner for several hours each day on her emotional responses to a variety of stimuli, Clinton can now effectively exhibit concern, mild excitement, and incredulity. Intensive training is reportedly still underway on some of the more challenging-to-produce emotions, such as polite interest and personal warmth.
"The headway Hillary has made is really encouraging, especially when you consider what we started with," said staffer Cheryl Dumás, who later added that when she began working with Clinton, the candidate was only able to fluctuate between stony neutrality and terrifying anger. "We're very proud that she can now display a virtually indistinguishable facsimile of empathy. It's the result of a behavioral modification technique in which we rigorously reinforce any approximations of compassion that happen to flash across her face while she listens to the concerns of voters."
"We're hopeful that she'll have a functional range of 11 or even 12 emotions by the time the early primaries roll around," Dumás added.
In her current program of operant conditioning, Clinton is reportedly shown a series of images—such as a widow crying at her spouse's funeral, a family opening presents on Christmas morning, and former House speaker Newt Gingrich—designed to induce specific emotional responses, and depending on the appropriateness of her subsequent facial expressions and other body language, she is either rewarded or punished.
Staffers said they began the process by slowly and painstakingly pairing a correct reaction with a correct stimulus. They reportedly first trained the former secretary of state to reproduce a "happy" emotion by repeatedly showing her a photo of a small child playing with a kitten and then rubbing a soft cloth on her face while physically holding her mouth in the shape of a smile until, eventually, she could display a passable simulacrum of joy.