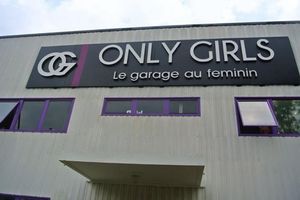 'Only Girls' is a new garage designed to make women feel comfortable, especially those who are tired of being shortchanged by deceitful mechanics. It recently opened in the Saint-Ouen-l'Aumone suburb of northwestern Paris.
The garage opened just a month ago and it has already had around 40 customers, two-thirds of which were women. The concept of an all-female garage stands to be a big hit because Only Girls aims to offer women motorists exactly what they need - respect. Many women claim to have a tough time getting their cars fixed at regular garages, because mechanics do not take women seriously and quote higher prices than they would for male customers.
"When you're a woman, it's like you've got 'sucker' tattooed on your forehead," said Sandrine Hautenne, 42. "One time, I went round to three different garages, and got three different estimates. Since then, I've sent my uncle to get estimates and guess what? The prices have dropped!"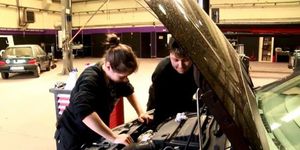 Sandrine is now a regular at Only Girls, and she's quite delighted with their service. Right from the cam belt to brake pads, a female mechanic gave her a 15-minute run down on her car. "If it had been a man, he wouldn't have explained any of this to me," she remarked.
Only Girls provides a stress-free experience and a whole lot of entertainment options for women while they wait for their cars to get fixed. The waiting room is a far cry from traditional garages, done up in mauve wallpaper, hardwood floors, velvet sofas and flickering candles. They also have a children's playroom and a beauty corner where women can get their nails done. "They're so welcoming here," said 25-year-old Jennifer Collon.