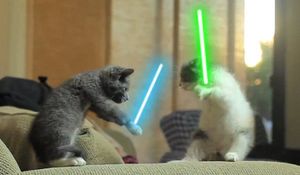 A new study finds watching cute cat videos may actually be good for you.
Indiana University researchers discovered the Internet phenomenon of watching cat videos, from Lil Bub to Grumpy Cat, does more than simply entertain;
it boosts viewers' energy and positive emotions and decreases negative feelings.
Assistant professor Jessica Gall Myrick, Ph.D., surveyed almost 7,000 people about their viewing of cat videos and how it affects their moods.
"Some people may think watching online cat videos isn't a serious enough topic for academic research, but the fact is that it's one of the most popular uses of the Internet today," Myrick said.
"If we want to better understand the effects the Internet may have on us as individuals and on society, then researchers can't ignore Internet cats anymore.