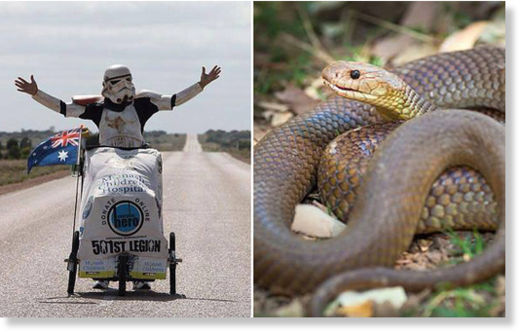 An Australian man who is trekking across the country for charity has been saved from a potentially deadly snake bite - by his Imperial Stormtrooper costume.
Australian media report that Scott Loxley, who has so far raised $40,000 (£24,000) for the Monash children's hospital in Victoria, encountered a King Brown snake on day 277 of his epic 'Storming Australia' walk as he was leaving the small town of Yalboroo in Queensland.
Mr Loxley initially thought the viper was dead and went to walk past it when it began to move and lunged to bite him on the shin.
In video on his Facebook page, he said that he had been saved from the snake's toxic venom by his plastic Stormtrooper armour:
Turns out it wasn't dead; It was a big old King Brown.

And he's lunged at me and bit me in the shin.

- Scot Loxley