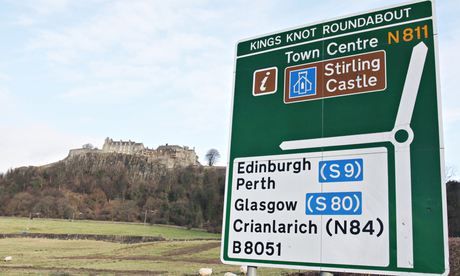 Current road signage system would also be scrapped under scheme nationalists say helps show country is 'part of Europe'
Scottish nationalist leaders will attempt this week to give the trailing yes campaign a boost by revealing a series of measures aimed at showing what an independent country would look like.
Seeking to capitalise on the arguments this week about "bullying" England and keeping the pound, they will unveil an ambitious scheme to scrap the current - English inspired - road signage system. M for motorway will be replaced with a new S - for
Scotland
and the A trunk roads will become N roads - for Nationalist in honour of the new country. Blue will be the predominant backing colour.
The scale of the scheme is enormous: Scotland has 2,174 miles of road, including the 273-mile long A9 stretching from Edinburgh to John O'Groats - known as the "spine of Scotland".
It is estimated that 58,000 signs will have to be replaced - scrapping the famous road sign font known as "Transport" with a new Celtic-tinged typeface, Proclaimer. And it could be that they may take the opportunity to renumber all of Scotland's roads, beginning at one.