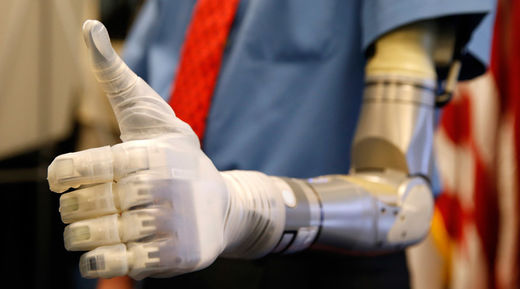 A new prosthetic hand which connects directly to the brain has been created by American scientists, providing a "near-natural" sense of touch. The developers claim their new invention could revolutionize the lives of people with missing or paralyzed limbs.
The prosthetic hand developed by scientists at the Defense Advanced Research Projects Agency (DARPA) could not only 'feel' things being touched but the scientists could also control the artificial limb with thoughts, the creators of the new device said in a
press-release
.
The invention is set to become the world's first prosthesis to be controlled directly via the brain as well as one of the few that could deliver tactile feedback.
The DARPA's prosthesis control system consists of two chips embedded in the wearer's brain, connecting it to the set of pressure-sensitive torque motors placed in the artificial hand, Engadget reports.
The chips, which are only 1mm wide, contain several electrodes and are placed in the person's motor cortex (the part of the brain controlling arm and hand movements), and sensory cortex (the brain area that receives and identifies signals resulting from different tactile sensations).