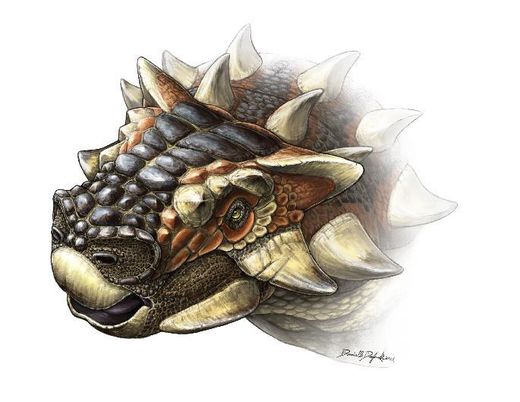 The Gobi Desert of Late Cretaceous Mongolia was the place to be if you were one of the armoured dinosaurs called ankylosaurs. Besides the badlands of southern Alberta, the Gobi Desert has the highest number of ankylosaur species that lived together at the same time - and now a new family member has just been identified.
The new species,
Zaraapelta nomadis
, was discovered in 2000 by a team led by Phil Currie, and is named today in a paper by Victoria Arbour, Demchig Badamgarav and Philip Currie published in the
Zoological Journal of the Linnean Society
. The name
Zaraapelta
is a combination of the Mongolian and Greek works for "hedgehog" and "shield" in reference to its spiky appearance, and
nomadis
in honour of the Mongolian company Nomadic Expeditions, which has facilitated paleontological fieldwork in the Gobi Desert for almost two decades.
Zaraapelta
is known from a well-preserved skull that is missing the front of the snout. Like some of the other ankylosaurs from the Gobi Desert, the top of its skull was bumpy and spiky.
Zaraapelta
is even more ostentatious than the other Mongolian ankylosaurs, with an elaborate pattern of bumps and grooves behind the eye. At the back of its skull there are distinctive horns with a prominent ridge along the top. The skull is part of the collections of the Mongolian Paleontological Center in Ulaanbaatar.