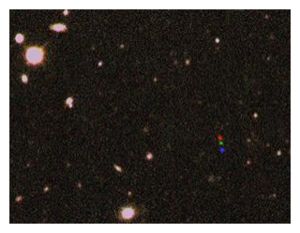 A surprise monster may be lurking in our solar system. A newly discovered dwarf planet has grabbed the crown as the most distant known object in our solar system - and its orbit hints at a giant, unseen rocky world, 10 times the mass of Earth and orbiting far beyond Pluto.
The dwarf planet, for now dubbed 2012 VP113 because it was spotted in images taken in November 2012 - is an interesting discovery in itself.
Scott Sheppard
of the Carnegie Institution for Science in Washington DC and his colleagues found that it is a lump of rock and ice 450 kilometres wide and lies at 80 astronomical units from the sun at its closest approach (1 AU is Earth's distance from the sun).
That's twice as far as the most famous dwarf planet,
Pluto
, which is 2340 kilometres wide and also beats the previous record holder, a 1000-kilometre-wide planetoid called Sedna, discovered in 2003, with a closest approach of 76 AU out.
Objects orbiting this far from the sun, in the "inner Oort cloud", are useful to probe the early solar system. That's because they lie too far away to be perturbed by the gas planets, but too close to the sun to be affected by the gravity of other stars in our galaxy - so their orbits and behaviour are thought to be almost unchanged since they first formed. "Once we find more objects in this region, we'll be able to start to strongly constrain the possible formation scenarios," says Sheppard.