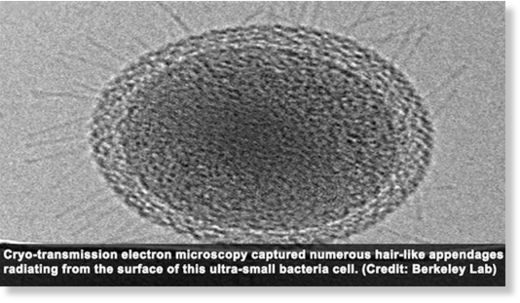 Scientists have taken the first ever extensive microscopy images of ultra-small bacteria, which are so far thought to be the smallest life forms in existence.
The bacteria have an average volume of 0.009 cubic microns (a micron is one millionth of a meter), 150,000 of which could be placed on the tip of a human hair.
Ultra-small bacteria's presence has been under debate for some twenty years, but until now they lacked a comprehensive electron microscopy and DNA-based description.
The research was carried out by a group of scientists from the US Department of Energy's Lawrence Berkeley National Laboratory and the University of California, Berkeley, and was published in the February 27 edition of the journal
Nature Communications
.
"These newly described ultra-small bacteria are an example of a subset of the microbial life on earth that we know almost nothing about,"
said the co-corresponding author of the research, Jill Banfield, a senior faculty scientist in the earth sciences division of Berkeley Lab.