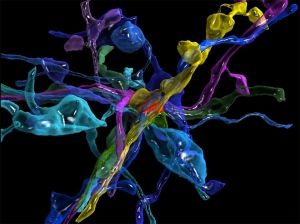 Six years might seem like a long time to spend piecing together the structure of a scrap of tissue vastly smaller than a bead of sweat. But that is how long it has taken a team led by cell biologist Jeff Lichtman from Harvard University in Cambridge, Massachusetts,
to digitally reconstruct a tiny cube of mouse brain tissue.
The resulting three-dimensional map is the first complete reconstruction of a piece of tissue in the mammalian neocortex, the most recently evolved region of the brain.
Covering just 1,500 cubic microns, it is still a far cry from reconstructing all 100 billion or so cells that make up the entire human brain. But Christof Koch, president of the Allen Institute for Brain Science in Seattle, Washington, notes that the various technologies involved will speed up "tremendously" over the next decade: "I would call this a very exciting promissory note," he says.