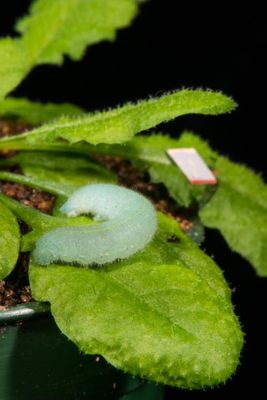 As the cabbage butterfly caterpillar takes one crescent-shaped bite at a time from the edge of a leaf, it doesn't go unnoticed.
This tiny Arabidopsis mustard plant
hears its predator loud and clear as chewing vibrations reverberate through leaves and stems, and it reacts with chemical defenses.
Plants have long been known to detect sound, but why they have this ability has remained a mystery.
University of Missouri experiments mark the first time scientists have shown that a plant responds to an ecologically relevant sound in its environment.
"What is surprising and cool is that
these plants only create defense responses to feeding vibrations and not to wind or other vibrations in the same frequency as the chewing caterpillar
," said Heidi Appel, an investigator at MU's Bond Life Sciences Center and senior research scientist in the Division of Plant Sciences in the College of Agriculture, Food and Natural Resources.
Appel partnered with Rex Cocroft, an MU animal communication expert who studies how plant-feeding insects produce and detect vibrations traveling through their host plants.
"
It is an ideal collaboration, that grew out of conversations between two people working in different fields that turned out to have an important area of overlap
," said Cocroft, a professor of Biological Sciences in MU's College of Arts and Science. "At one point we began to wonder whether plants might be able to monitor the mechanical vibrations produced by their herbivores."